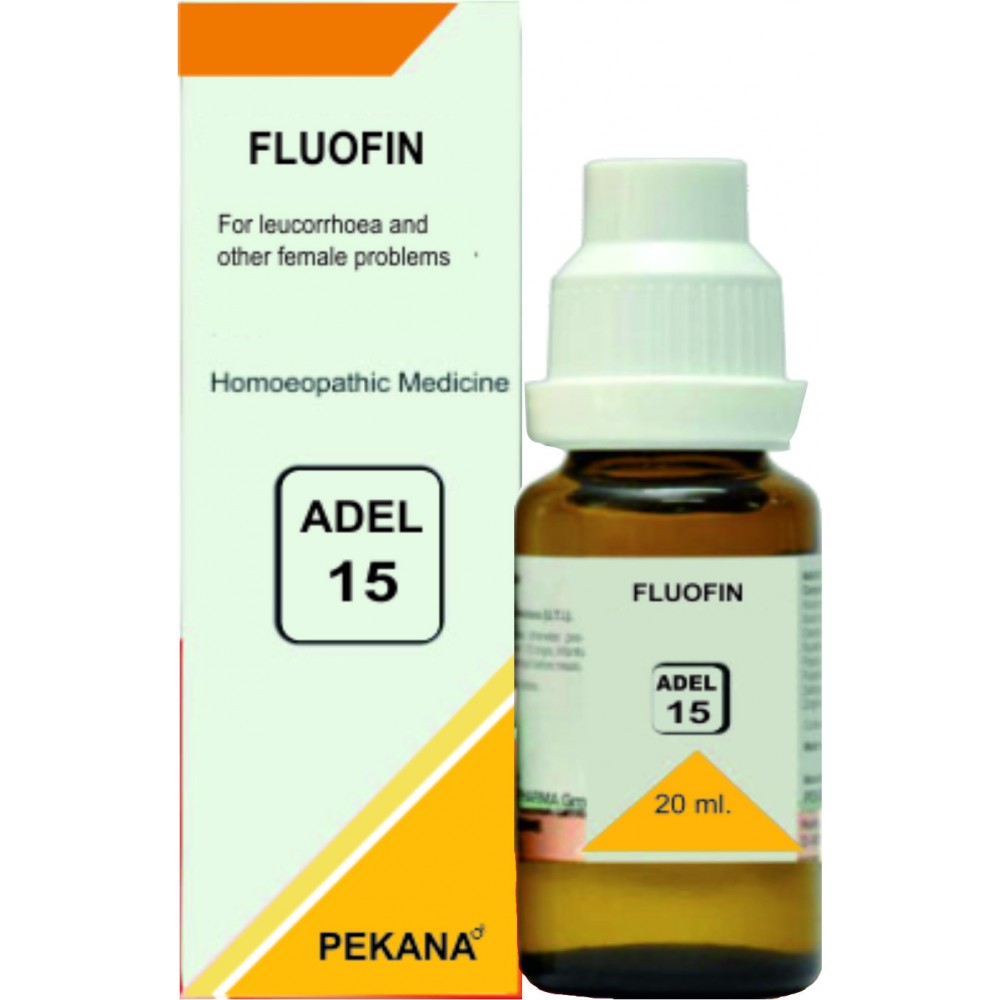 ADEL 15 FLUOIN DROPS 20ml
Drops called ADEL 15 (FLUOFIN) have been successfully used to treat other female-related health issues such as leucorrhoea (vaginal discharge).
INGREDIENTS: Acidum sulfuricum 4X, Calcium fluoratum BX, Hydrastis canadensis 1 OX, Kreosotum 6X, Lamium album 1 X, and Pulsatilla 6X are some of the other ingredients.
In most cases, in conjunction with climacteric states and general weakness, acidum sulfuricum is a well-proven remedy for women who experience bleeding and sharp wounding of the vaginal mucous.
One of the best lymphatic remedies, calcium fluoratum heals in addition to all other inflamed areas of the body with consistency. It is commonly used to treat milky vaginal fluor in combination with breast pain.
Helonias dioica is the treatment of choice for women who are overworked and exhausted; it relieves a number of unpleasant conditions in the uterine region that are accompanied by pains in the back and pelvic bones; these women are moody and unstable but feel better when they are busy.
It is proven and certified for woman's yellow fluor states, climacteric fluor appearances, wounds, and sharp liquids coming out of the uterus. Hydrastis canadensis acts with efficacy to all mucous membranes and is a very effective matter for chronically catarrh.
The uterus region is particularly helped by the action of Kreosotum, which treats many catarrhal conditions. Inflammations in the vaginal zone cause unpleasant-smelling, sharp, yellow-colored fluor, itching, and burning pains, which control this particular part.
In all of Europe, you can find the ancient, well-known healing plant known as lamium album, which has long been used to treat flu and problems with the female genitalia.
The well-known plant, Pulsatilla, has particular healing properties for women because it has a wide range of applications across the body, starting with catarrhal conditions everywhere but especially in the uterus region, where it reliably controls many unpleasant conditions.
RECOMMENDED DOSAGE (Unless otherwise prescribed): (Unless otherwise prescribed) RECOMMENDED DOSAGE
Adults: 3 times daily, 15–20 drops in a quarter cup of water.
Attributes
Brand
Adel Pekana
Container Type
Bottle
Shelf Life
Minimum 36 months
Remedy Type
Homeopathic
Country of Origin
Germany
Form Factor
Drops
For Use By
Women / Female
Suitable For
Veg / Vegetarian
Price
₹ 250