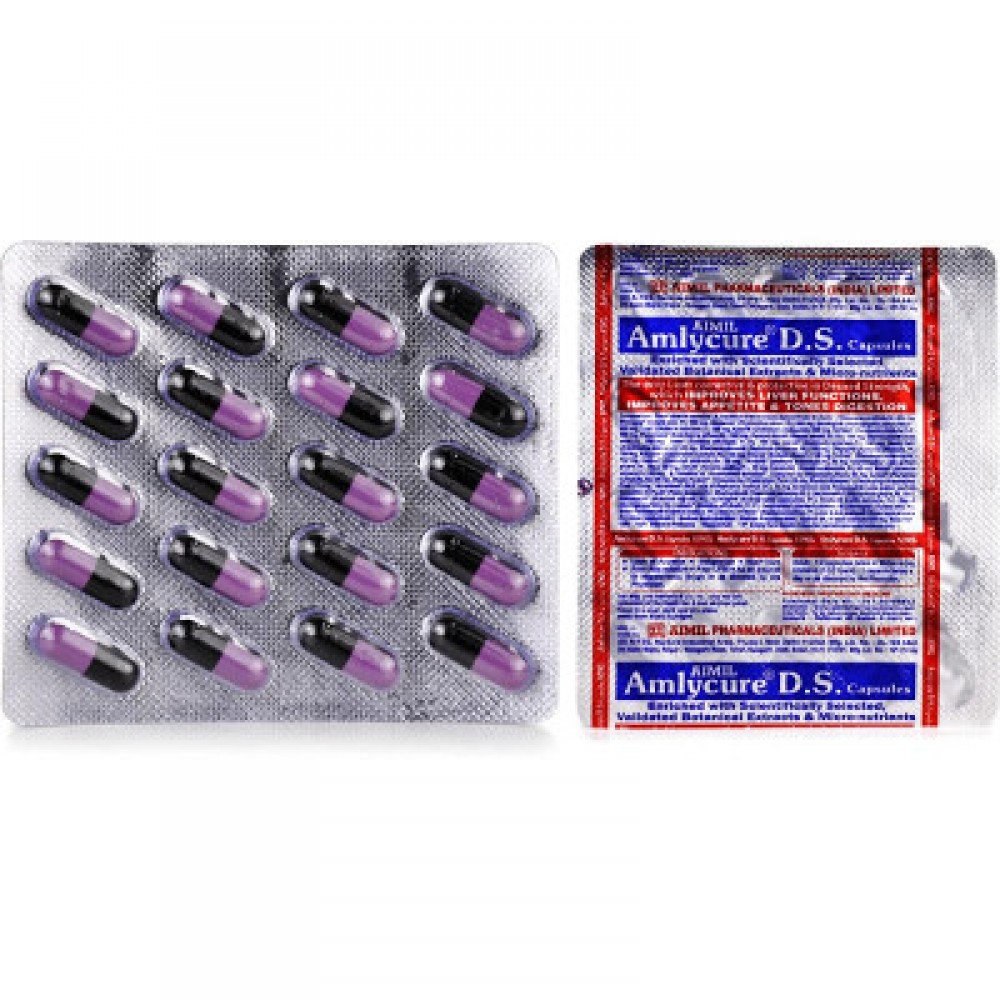 Aimil Amlycure D.s. Capsule (20caps) Liver Problems, Viral Hepatitis, Jaundice, Gastritis, Digestive System, Piles
a capsule of Amlycure DS
The medication Amlycure DS Capsule is used to treat a variety of conditions, including piles, gastroenteritis, digestive problems, and liver enlargement.
Amlycure DS Capsule contains the following ingredients as active ingredients: Bhringaraja, Bhuiamla, Chitrak, Ghritikumari, Guduchi, Haritaki, Jeerak, Jhau, Kachur, Kalipath, Kalmegh, Kasni, Kasondi, Kutaki, Makoi, Moolishar, Neem Part, Nishoth, Pitpapra, Punnarva, Punnarva
Amlycure DS Capsule works by scavenging free radicals, encouraging pancreatic juice secretion, and inhibiting gluconeogenesis and glycogenolysis. It also stimulates the growth of bone-forming cells, lowers serum transaminase levels, reduces HIV virus resistance, treats balding and graying of the hair, and rejuvenates the liver and kidneys. It also inhibits DNA polymerase, boosts the immune system, reduces pain
exhibiting antifungal activity, demonstrating scavenging activity, treating multiple medical conditions, treating or preventing different medical conditions, activating the cell-mediated immune mechanisms, lowering blood glucose levels, controlling blood sugar levels, treating various other ailments, energizing and strengthening the body.
Liquiritin disperses the melanin due to the presence of prostaglandin formation and cyclooxygenase activity, inhibits the production of prostaglandins and cyclooxygenase activity, inhibits the growth of viruses, corrects bodily secretions, produces cytoprotection action against gentmyceen-induced toxicity, activates detoxification enzymes, reduces thioacetamide-induced hepatic fibrosis, and
Ingredients and Composition of Amlycure DS Capsule
These are the salts that make up the active ingredients in Amlycure DS Capsule:
Guduchi
Bhringaraja
Bhuiamla
kalmegh
Tulsi
Kasni
Haritaki
Punnarva
Rhonda Chini
Ghritikumari
Jeerak
Part of Neem
Pitpapra
Sharpunkhamool
Kalipath
Vidang
Chitrak
Kachur
Nishoth
Jhau
Yashtimadhu
Kasondi
Makoi
Kutaki
Puntadi Mandoor
Shwet parrot
Bhasma Shankh
Moolishar
Uses of Amlycure DS Capsule
The following illnesses, conditions, and symptoms are treated, controlled, prevented, and improved with Amlycure DS Capsule:
Issues with the liver
Gastritis
Internal organs of
growth of the liver
PILES
Unhealthy liver
Flatulence
Diabetes
elevated cholesterol
Allergy rhinitis
Irritable bowels
Gout
Lymphoma
Ringworm
Alopecia
Spleen
Jaundice
Hepatitis
Breathing Issues
Dysentery
Flu
Fever
Symptoms Of The Liver And Fever
illnesses of the upper respiratory system
infected with HIV
Cold, the
Cough
Acne
headache
gum disease
Viruses and Microbes
Malaria
Hepatotoxicity
Ulcers
Inflammation
DIARRHOEA
Gastroenteritis
skin conditions
Candidiasis
ASTHMA
urological conditions
Leukorrhea
Rheumatism
Encephalitis
Itching
Arthritis
Bronchitis
COLIC
Constipation
Wounds
LAWN DAMAGE
diseases of the blood
Burns
Frostbite
Mild Digestive Conditions
Dyspepsia
nausea in the morning
Leprosy
Vision Issue
Epistaxis
stomach worms
Anorexia
Biliousness
Continual Skin Conditions
urologic conditions
Influenza
An enlarged liver
the spleen growing larger
Chest Pain
anxiety in the heart
Uterine Discharge
urological conditions
abdominal discomfort
Urinary Issues
Astringent
Carminative
Antioxidant
Anti-Spermatogenic
Anti-bacterial
Cancer-Preventive Action
Scabies
infected with ringworm
infected with hookworms
Dermatitis
Muscle Pain
maladies relating to the skin
Wrong kind of worms
bleeding issues
diseases of the abdomen
Ankylosing spondylitis
DIARRHOEA
infection with bacteria
Infections with fungi
Influenza Viruses
Convulsions
Indigestion
respiratory system disease
Urethral Disorder
disease of the liver
Skin conditions that persist
the presence of inflammation
traumatic times
Fevers
Hepatitis A Viral Acute
Eczema
Vitiligo
kidney conditions
a lack of iron
expansion of the liver
Spleen conditions
infections of the bladder
urinating in pain
Heartburn
Working, Pharmacology, and Mechanism of Action of Amlycure DS Capsules
Amlycure DS Capsule improves the patient's condition by performing the following functions:
Scavenging free radicals, preventing the production of gluconeogenesis and glycogen, promoting the development of bone-forming cells, reducing HIV virus resistance, and lowering serum transaminase levels.
treating hair loss and graying, revitalizing the liver, and improving the kidneys.
DNA polymerase inhibition.
Immune system stimulation
swelling and pain are going down.
Hepatic enzyme levels in serum are decreased, blood sugar levels are decreased, antimicrobial activity is produced, ulcerogenic activity is suppressed, expression of cyclooxygenase is blocked, analgesic action is present, several tumour cell lines are blocked, and mast cell-mediated immediate allergic reactions are suppressed.
accelerating the healing of wounds, preventing the spread of viruses, controlling blood sugar levels, and preventing the growth of microorganisms, cancer cells, and cancer cells in general, as well as treating a variety of other conditions.
vigor and physical fortification.
scavenging actions, antifungal activity, and the treatment of various illnesses.
addressing a range of medical issues.
addressing various medical issues or preventing them.
Blood sugar levels are reduced, the immune system is stimulated, and highly effective anti-acid secretory and antiulcer activity is produced.
blood purification and various illnesses are treated.
liver protection and immune response modification.
Fever reduction and improvement of pelvic blood flow.
uses the chemical curcumin in it to function.
enhancing the body's peristaltic motion.
destroying bacteria while preventing their growth.
By preventing the production of prostaglandins and cyclooxygenase, as well as by shielding the skin from oxidative damage and dispersing melanin, moisturizers also prevent the growth of viruses and the oxidative damage they cause.
the body's secretions being corrected.
Detoxification enzymes are activated, hepatic fibrosis caused by thioacetamide is reduced, and free radical scavenging activity is present. These actions prevent oxidant-mediated damage to deoxyribonucleic acid sugars, produce cytoprotection against gentmyceen-induced toxicity, and produce cytoprotection action.
It works by stimulating the immune system and destroying cancer cells with the aid of chemicals contained within.
enhancing the kidneys' capacity for function.
Renal blood flow and urine production are increased.
By reducing stomach hyperacidity and stopping loose stools.
stopping the development of bacteria.
Amlycure DS capsule side effects
This is not a complete list of all possible side effects that could result from taking Amlycure DS Capsule; some of them may be uncommon but serious. If you experience any of the following side effects, especially if they do not go away, talk to your doctor.
Diarrhea
the inability to eat
Vomiting
Rash
headache
Rough Nose
Amlycure DS Capsule Warnings & Directions for Use
Tell your doctor about all of your current medications, over-the-counter products (such as vitamins, herbal supplements, etc.), allergies, pre-existing conditions, and current health conditions (such as pregnancy, impending surgery, etc.) before using this medication. Some health conditions may make you more susceptible to the side-effects of the medication. Take as directed by your doctor or adhere to the directions printed on the product insert. Dosage is based on your condition.
the use of alcohol
Responses to allergens
Immune system diseases
instances of bleeding
diseases of the blood
bleeding issues
Attributes
Brand
Aimil
Container Type
Blister Package
Remedy Type
Ayurvedic
Country of Origin
India
Form Factor
Capsule
Price
₹ 150