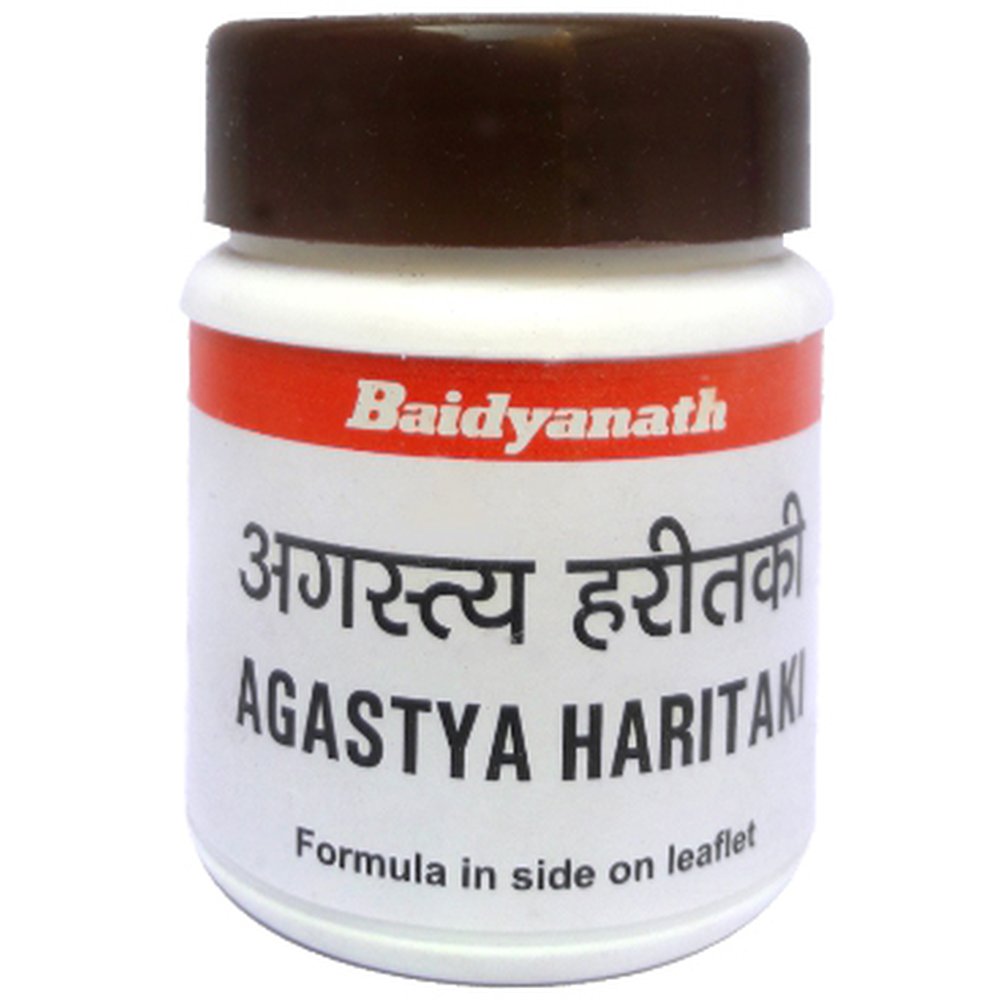 Baidyanath Agastya Haritaki (50g) : Acts well in Asthma and Other Chronic Respiratory Conditions
Properties
Weight
60 (gms)
Dimensions
3-by-3-by-7 millimeters
About Agastya Haritaki
Agastya Haritaki is a good lung tonic, with benefits for upper respiratory tract illnesses like the common cold, allergic rhinitis, chronic sinusitis, cough from all underlying causes, asthma, and hiccups, as well as for abdominal conditions like loss of appetite, irritable bowel syndrome, and hemorrhoids.
Ingredient of Agastya Haritaki
Indian-born Bael, Aegle Marmelos
Premna Serratifolia, also known as Agnimantha (Arani) and Premna Mucronata,
Shyonaka Oroxylum Indicum
Suaveolens Stereospermum – Patala
(Beech wood/Kasmari) Gmelina Arborea – Gambhari
Indian Nightshade, Solanum Indicum
Xanthocarpum Solanum – Kantakari
Gangeticum Desmodium – Shalaparni
Prishnaparni – Uraria Picta
Going by the name of Tribulus Terrestris
Kaunch seeds from Mucuna Pruriens
Shankhpushpi: Convolvulus pluricaulis
Hedychium sparcatum, also known as Kapoor Kachri
A Sida Cordifolia-Bala
Gajapippal, also known as Scindapsus Officinalis,
Apamarga, Achyranthes Aspera
Root of the long pepper, Piper longum-Pippali
Zeylanica Plumbago – Chitrak
Serratum Clerodendrum – Bharangi
Racemosa-Inula Pushkarmool
Jau (barley grain) Hordeum vulgare
Chebulic Myrobalan, also known as Terminalia Chebula-Haritaki
Decoction Water
Clarified butter, or cow's ghee
soybean oil
Jaggery(Gur)
Long pepper, or Piper longum-Pippali, fruit
Honey
Therapeutic Indications of Agastya Haritaki
different underlying causes of cough
Asthma and breathing problems
Bronchitis
Cold, the
Allergy rhinitis
sinusitis, a persistent sinus infection
Hiccup
TB-related deterioration
reduction in appetite
Tastelessness
Constipation syndrome
syndrome of malabsorptive
Phthisis
Haemorrhoids
Ahead-of-Schedule Hair Graying
Wrinkles
A sporadic fever
Numerous urinations and polyuria
Debility
Benefits & Medicinal Uses of Agastya Haritaki
Agastya Haritaki is beneficial for people with long-term respiratory issues because it improves digestion, eases breathing, eases chest congestion, lessens asthma attacks, acts as a respiratory tonic, and strengthens the lungs.
Bronchitis
The main symptom of bronchitis, thickened mucus, can be lessened by using this medication. Agastya Haritaki contains a number of ingredients known for their anti-inflammatory action, which helps reduce inflammation of the lining of the bronchial tubes and exerting soothing effects. It also reduces fatigue, a mild fever, shortness of breath, and chest discomfort.
Cough
It also helps with dry persistent or chronic cough, but it should be taken with warm milk in such cases. Agastya Haritaki reduces inflammation, irritation, and provides relief from the cough. It is used as a common medicine for cough of various underlying causes, but characterizing by thick mucus, which is difficult to cough up.
Asthma & Breathing Difficulty
A well-made Agastya Haritaki offers lifelong benefits to patients with asthma and allergies by strengthening the lungs and enabling them to tolerate irritants without inducing asthma attacks, reducing the frequency of asthma attacks.
It dilates the airways, lessens mucus production, and aids in easier breathing when a patient experiences frequent breathing difficulties, and it can also be used to lessen symptoms and their severity.
Agasthya Rasayanam is also helpful in these situations; it should be taken in the evening after sunset and the second dosage should be repeated at late night. Many people have breathing difficulties or cough at night that interfere with sleeping. Other symptoms are wheezing, shortness of breath, and persistent cough attacks.
Allergic Rhinitis (Hay Fever)
It also has anti-allergic action, which also helps reducing symptoms of hay fever, but the outcomes are more promising when it is used in conjunction with Turmeric or its preparations (Haldi), Black Pepper (Kali Mirch), or Haridra Khand.
Dosage & Administration of Agastya Haritaki
500 mg to 1 gram for infants (up to 12 months old).
Toddler (Age: 1 to 3 grams, 1 to 3 years.
3 to 5 years old in preschool; 3 to 5 grams
5 to 12 years old; elementary school age; 5 to 7.5 grams
Teenagers (13–19 years old): 7.5–15 grams
Adults (19–60 years old): 10–20 grams
Elderly (over 60 years old): 10 grams
5- to 10-gram pregnancy
breastfeeding — 10 grams
60 grams (divided) per day is the maximum dosage possible.
with warm water twice daily
Safety Profile of Agastya Haritaki
Agastya Haritaki is probably safe when used in individuals with VATA and KAPHA dominant manifestations because the majority of its ingredients can be used for an extended period of time, if not for life.
Side Effects of Agastya Haritaki
Due to Terminalia Chebula's laxative effect in this formulation, mild loose stools are a common side effect of Agastya Haritaki.
When taken with milk, heartburn and burning sensation in the abdomen can be avoided, but loose stools can still happen. It is digestive, has a higher potency toward heat, and stimulates acid secretion in the stomach, which likes to increase the PITTA manifestation. Therefore, some patients with dominance of PITTA manifestation can experience rare side effects like heartburn, burning sensation in the abdomen, loose stools with burning sensation, etc.
Terms and Conditions
Before purchasing this medication, we have assumed that you sought medical advice and are not using it for self-medication.
Attributes
Brand
Baidyanath
Remedy Type
Ayurvedic
Country of Origin
India
Price
₹ 75