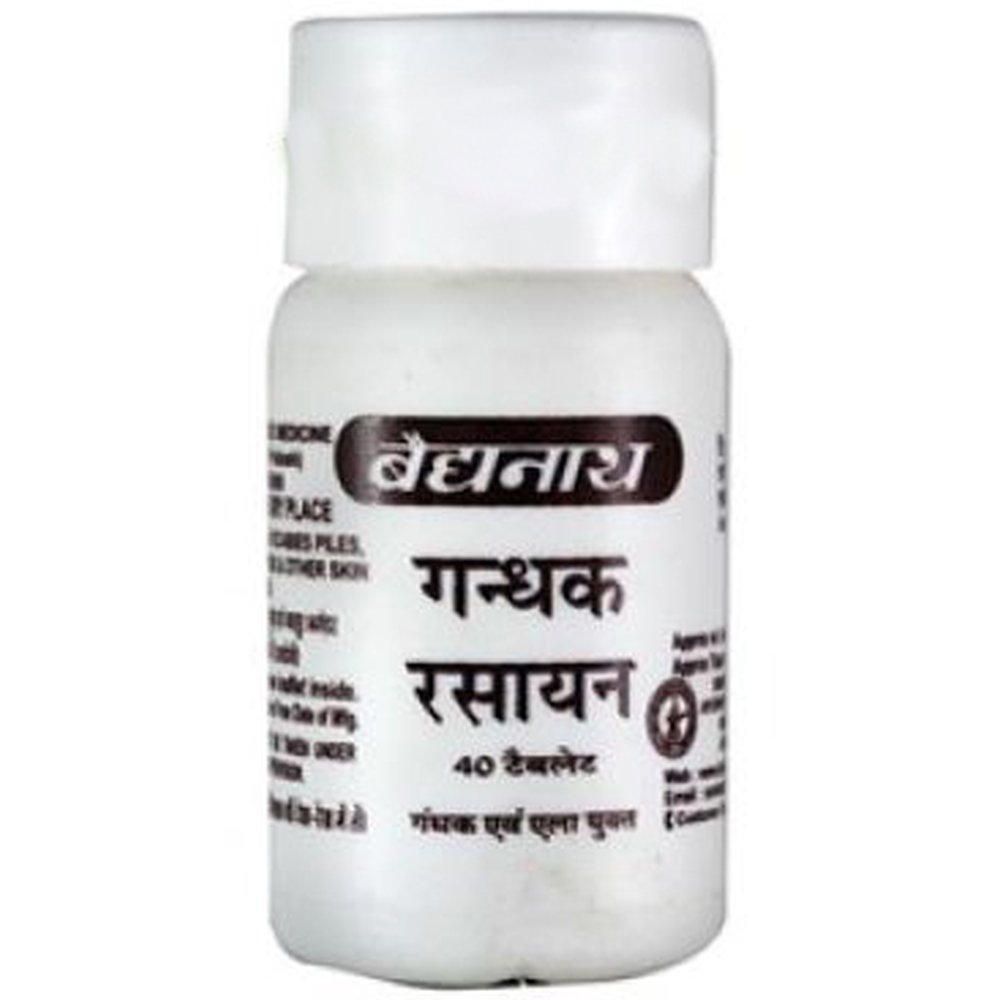 Baidyanath Gandhak Rasayan (40tab) : Helps In Urticaria, Hives, Scabies, Acne, Pimples, Boils, Skin Rash, Pyorrhea
Properties
Weight
24 (gms)
Dimensions
Dimensions: 3.7 x 3.7 x 7.6 cm
About Gandhak Rasayan
Sulphur/Sulfur is known as "Gandhak" in Sanskrit and Hindi due to its strong peculiar rotten-egg like smell; it is a non-metallic element found in nature. There are four varieties of Sulphur viz. red, yellow, white, and black; of these, the red and black are not currently available. Yellow variety is used for internal use; white variety is used for external use.
Ingredients of Gandhak Rasayan
Decoction of chaturjat
Tinospora cordifolia – Giloy Decoction
Termsinalia chebula Haritaki Decoction
Phyllanthus emblica or Indian Gooseberry Decoction, Amla
Decoction of vibhitaki, or bellirica
Rhizome juice from ginger (Zingiber Officinale)
Eclipta alba (bhringraj) juice
Medicinal Properties of Gandhak Rasayan
Following are some of Gandhak Rasayan's medicinal qualities.
Primary Action
Antibacterial
Antimicrobial
Antiviral
Wide-ranging antibiotic
Anti-inflammatory
Demulcent
Antipruritics
Secondary Action
Anthelmintic
mild effects of a digestive stimulant
Aphrodisiac
Anti-leprosy
Antioxidant
(Minor effects) antipyretic
A painkiller that eases soft tissue tenderness and pain
Adaptogenic
Blood Cleanser
Therapeutic Indications of Gandhak Rasayan
The following health issues can benefit from Gandhak Rasayan.
Skin & Hairs
(As a result of any underlying pathology) An itching and burning sensation
Angioedema, hives, and urticaria
Eczema
Psoriasis
Leprosy (as a complementary therapy; it is ineffective on its own)
Boils
Scabies
breakouts of acne
Dandruff
Head lice infestations
Worm ring
Lungs & Airways
illnesses of the upper respiratory system
Inflammatory nasal discharge or rhino-sinusitis
respiratory infections brought on by bacteria that cause breathing problems
Teeth & Gums
Pyorrhea
gum discomfort
Gum diseases that cause inflammation (periodontitis and gingivitis)
Men's Health
pus in the seminal fluid can cause oligospermia or infertility.
Benefits & Medicinal Uses of Gandhak Rasayan
The main medicinal uses and advantages of Gandhak Rasayan are discussed below. It is effective in treating all diseases that share the common symptom of burning sensation, including urinary tract infections, burning sensation in the hands and feet, burning sensation in the skin, itching, and burning sensation of the tongue.
Urticaria or hives and angioedema
Gandhak Rasayan is the drug of choice in ayurveda for this condition, which causes a small red spot to appear on the skin as a result of an allergic reaction to allergens and causes itching and occasionally burning sensation on the skin. However, sometimes, it may not work alone, so your doctor may also suggest other remedies, such as Jasad bhasma and Haridra Khand. If burning becomes worse, then Giloy Satva, Praval Pisht
Scabies
Gandhak Rasayan helps internally with scabies rashes and itching, but you also need to apply neem oil locally or make a paste with neem leaves and turmeric (Curcuma Longa) to treat the infection.
Acne and pimples
Gandhak Rasayan, which is frequently used in conjunction with Shankh bhasma and Mukta Sukti Bhasma or Pishti, helps to reduce acne and pimples by purifying the blood, removing obstructions, and halting secondary infections.
Dosage of Gandhak Rasayan
The safest dose of Gandhak Rasayan is between 250 mg and 500 mg twice or three times per day, but the dosage can change depending on age, health status, and other factors.
125 to 250 mg as a supplemental dose
125 to 1000 grams as a therapeutic dose
125 to 500 mg is the safest dosage.
Up to 2 grams is the maximum daily dosage.
Precautions For Gandhak Rasayan
Changes in preparation techniques or ingesting raw sulfur can cause a number of harmful effects, but preparing Gandhak Rasayan strictly in accordance with ayurvedic principles makes it POSSIBLY SAFE.
The following side effects may occur when Gandhak Rasayan is taken in excess (2 grams per day).
No stools at all
abdominal pain along with loose stools
Bloating
upset stomach
Pregnancy & Breastfeeding
Gandhak Rasayan is not known to be safe or effective during pregnancy or breast-feeding, so it is best to avoid using it during these times or to speak with your primary care physician or ayurvedic physician before doing so.
Terms and Conditions
Before purchasing this medication, we have assumed that you sought medical advice and are not using it for self-medication.
Attributes
Brand
Baidyanath
Remedy Type
Ayurvedic
Country of Origin
India
Form Factor
Tablet
Price
₹ 106