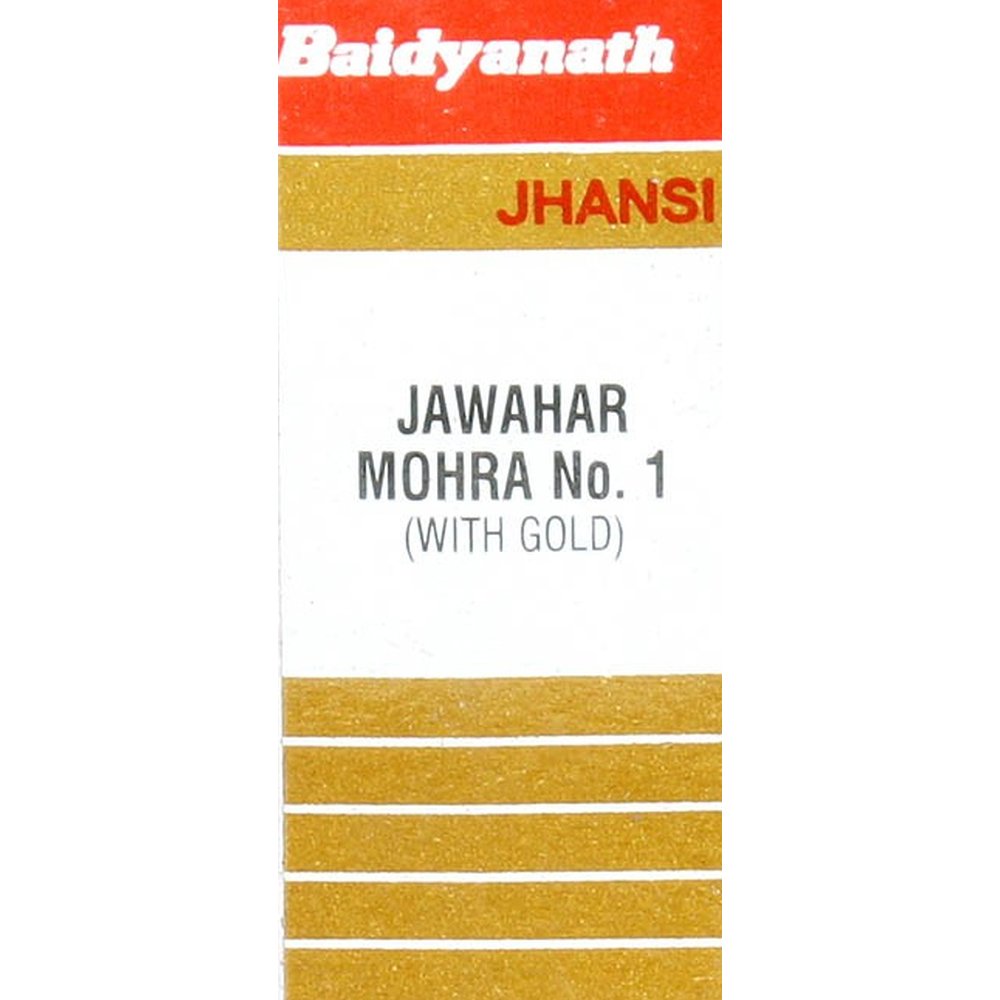 Baidyanath Jawaharmohra No 1 (10tab) : Cardiac Tonic, Provides Nourishment to the Heart, Brain Nerves, and Blood Vessels
Properties
Weight
11 (gms)
Dimensions
Dimensions: 2.7 x 2.7 x 6.5 cm
About Jawaharmohra No 1
A powerful cardioprotective drug used in ayurveda, jawahar mohra is a great treatment for people with heart conditions like tachycardia, heart palpitations, heart failure, heart enlargement (cardiomegaly), and angina pectoris (angina pain).
Ingredients of Jawaharmohra No 1
Pishti Manikya
Panah Pishti
Moti (Mukta) Pishti
Prashti Praval
Bhasma Shringa
Pishti Sangeyashab
Trinket Mani Pishti, aka Kaharva Pishti
Bhasma Swarna
Raupya (Rajat) Bhasma
Ariyal Daryai
Abresham
Delphinium denudatum, aka Jadbar (Nirvisha)
(Musk) Kasthuri
Amber
Gulab Ark's Rose Water
Medicinal properties Jawaharmohra No 1
Following are some of Jawahar Mohra's medicinal qualities.
Potential Action for Cardioprotection
Antianginal
Antacid
Antibacterial
Anticancer
Anticonvulsant
Antidepressant
Anti-hypertensive
Anti-inflammatory
Antimicrobial
Antioxidant
Anti-stress
Antiulcerogenic
digestion-enhancing drug
Febrifuge
Immuno-modulator
muscle-relaxing drug
Tonic in general
Therapeutic Indications of Jawaharmohra No 1
The following conditions and signs respond favorably to Jawahar Mohra treatment:
Cardiomyopathy
cardiac arrest
chest fluttering
Tachycardia
Cardiomyopathy, or enlarged heart
Pain from angina pectoris
Depression
Anxiety
Dementia
loss of recall
mental exhaustion brought on by excessive worrying or thinking
Insomnia
Schizophrenia
psychological harm
Restlessness
Menorrhagia
Benefits & Medicinal uses of Jawaharmohra No 1
It strengthens the heart muscles, nerves, mind, and brain, which reduces restlessness brought on by heart or mental illnesses. It also lessens stress, aggression, irritability, and other negative emotions. Jawahar Mohra also calms the mind and lessens mental fatigue brought on by excessive thinking or worrying.
Cardiomyopathy
Cardiomyopathy can benefit from jawahar mohra because of the ways it works:
The heart muscles become stronger as a result.
The heart's muscles contract less often as a result.
It lessens rigidity and helps the heart muscles regain their natural elasticity.
When used in conjunction with Terminalia Arjuna Bark Powder or Ashwagandha and Arjuna Ksheer Pak, Jawahar Mohra is effective in treating cardiomyopathy and easing its symptoms, including restlessness, swelling, coughing, fatigue, and chest pain.
Dosage of Jawaharmohra No 1
Jawahar Mohra should be taken as directed.
for kids, 30 to 60 mg
Adults: 125–250 mg
Older adults: 60 to 125 mg
The maximum dosage is 750 mg spread out over 24 hours or per day.
Side effects of Jawaharmohra No 1
Due to the presence of heavy metals in this medication, self-medication could be dangerous.
Follow the doctor's advice and take this medication exactly as directed, for a short time.
Serious poisonous effects could result from overdosing.
When pregnant, nursing, or with children, it is best to avoid.
Store in a dry, cool location away from children's reach and sight.
Terms and Conditions
Before purchasing this medication, we have assumed that you sought medical advice and are not using it for self-medication.
Attributes
Brand
Baidyanath
Remedy Type
Ayurvedic
Country of Origin
India
Form Factor
Tonic
Price
₹ 810