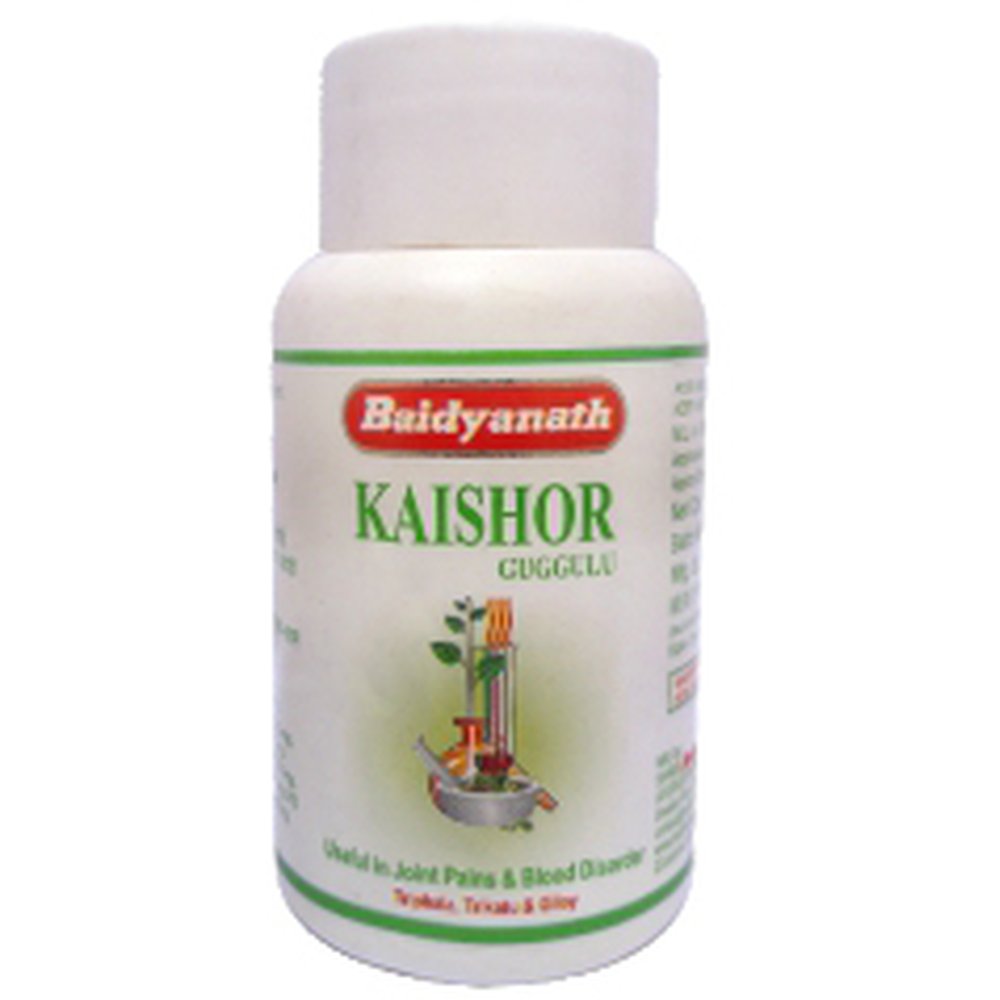 Baidyanath Kaishor Guggulu (80tab) : used for blood purifier, raised uric acid, mild to severe attacks of gout, inflammatory diseases, wounds, abdominal diseases
Also known as
KISHORE GUGUL, KISHORE GUGUL
Properties
Weight
40 (gms)
Dimensions
90 x 4.4 x 4.4 centimeters
About Kaishore Guggulu
An ayurvedic guggul formulation called Kaishore guggulu, also known as kishore guggul, is used to treat inflammatory diseases, wounds, abdominal illnesses, constipation, indigestion, carbuncles, raised uric acid, mild to severe attacks of gout, and other conditions.
Ingredients of Kaishor Guggulu
Guduchi or Giloy?
Amalaki, or Amla
Bibhitaki
Haritaki
Guggulu Shuddha
Shunthi
The spice black
The long pepper, pipali
Vidanga
Nisoth
DATINI MOOL
Medicinal Properties of Kaishor Guggulu
Adoptogenic
Analgesic
Anti-bacterial
anti-diabetic
Anti-inflammatory
Anti-arthritis
not bloated
Anti-microbial
Antioxidant
Carminative
Detox
digestion-enhancing drug
gentle laxative
Therapeutic Indications of Kaishor Guggulu
Gouty arthritis and elevated uric acid levels
acne vulgaris or both
Chronic pain in the wrist
Bleeding or cuts
inflamatory conditions
Regular bowel movements
Bursitis is an inflammation of a bursa that typically affects the shoulder.
inflammatory diseases of the muscles, cramps, or stiffness
irregular periods.
Sprains
fever brought on by a joint condition
Tendonitis (tendons inflamed)
Fibromyalgia
Hepatitis B virus
Ankylosing spondylitis
Stress injuries or injuries from repetitive motion
With thick, yellow sputum from a persistent cough
any joint disorder along with a lack of appetite or consumption
Carbuncles
Skin conditions like psoriasis and eczema.
bleeding issues
Health Benefits & Uses of Kaishor Guggulu
With its ability to improve digestion and remove toxins from the body by correcting the functions of the stomach and intestines, Kaishore Guggulu is a potent herbal combination that can be used to improve metabolism in the body.
Raised uric acid or gout
The preferred treatment for gout is kaishore guggulu, which is caused by the body producing too much uric acid and the kidneys excreting it less effectively.
Both conditions respond well to Kaishore guggulu, which regulates the metabolism, controls uric acid production, and regulates the kidneys' handling of uric acid.
Fibromyalgia
Even though yograj guggul is the best treatment for fibromyalgia, some ayurvedic doctors combine it with yograj guggul for even better results. Kaishore guggulu works on VATA and PITTA, reduces inflammation and muscle spasm, and also lessens muscle tenderness and shifting pain.
Boils, wounds and Carbuncles
Kaishore guggulu helps in the treatment of boils and carbuncles because of its anti-biotic, anti-inflammatory, and anti-microbial properties.
In addition to lowering blood glucose levels and addressing the issue of cellular resistance to insulin, Kaishore guggul also relieves infection, swelling, and pus discharge from carbuncles, which is a common condition in which they develop.
Acne vulgaris
While the effects of Kaishore guggulu on hormones are still unknown, it is a good blood purifier, anti-bacterial, and anti-inflammatory, which makes it helpful in getting rid of acne and pimples. In about 70% of cases, it also prevents recurrence of the acne.
Eczema & psoriasis
Local application of 777 oil or charm rog nashak oil is advised in conjunction with kaishore guggul to further enhance its efficacy in treating eczema and psoriasis along with other ayurvedic medications.
Dosage of Kaishor Guggulu
Kaishore guggulu powder: Twice daily, 500 mg to 1 gram
Kaishore guggulu tablets: Preferably with lukewarm water, take 2 to 4 tablets twice daily.
Dietary restrictions while taking Kaishor Guggulu
Don't eat fatty or spicy foods.
Eat less fried and processed food.
Eat nothing when you are bloated.
Citrus fruits and other sour foods should not be consumed.
Salt consumption should be decreased.
Avoid long-distance relationships and strenuous exercise.
Steer clear of the sun and alcohol.
precautions
But even though most people find kaishore guggulu to be safe and tolerable, there are some situations where it can have negative effects.
Acidity (rare; only occurs if you've previously had gastritis, GERD, or an ulcer)
When combined with punarnava for gout, frequent urination is more common (rare with kaishore guggulu, but common due to the diuretic action of punarnava)
When breastfeeding, mothers-to-be should only take kaishore guggulu if necessary and under the guidance of an ayurvedic doctor.
Kaishore guggulu should not be administered to children under the age of five.
Terms and Conditions
Before purchasing this medication, we have assumed that you sought medical advice and are not using it for self-medication.
Attributes
Brand
Baidyanath
Remedy Type
Ayurvedic
Country of Origin
India
Form Factor
Tablet
Price
₹ 155