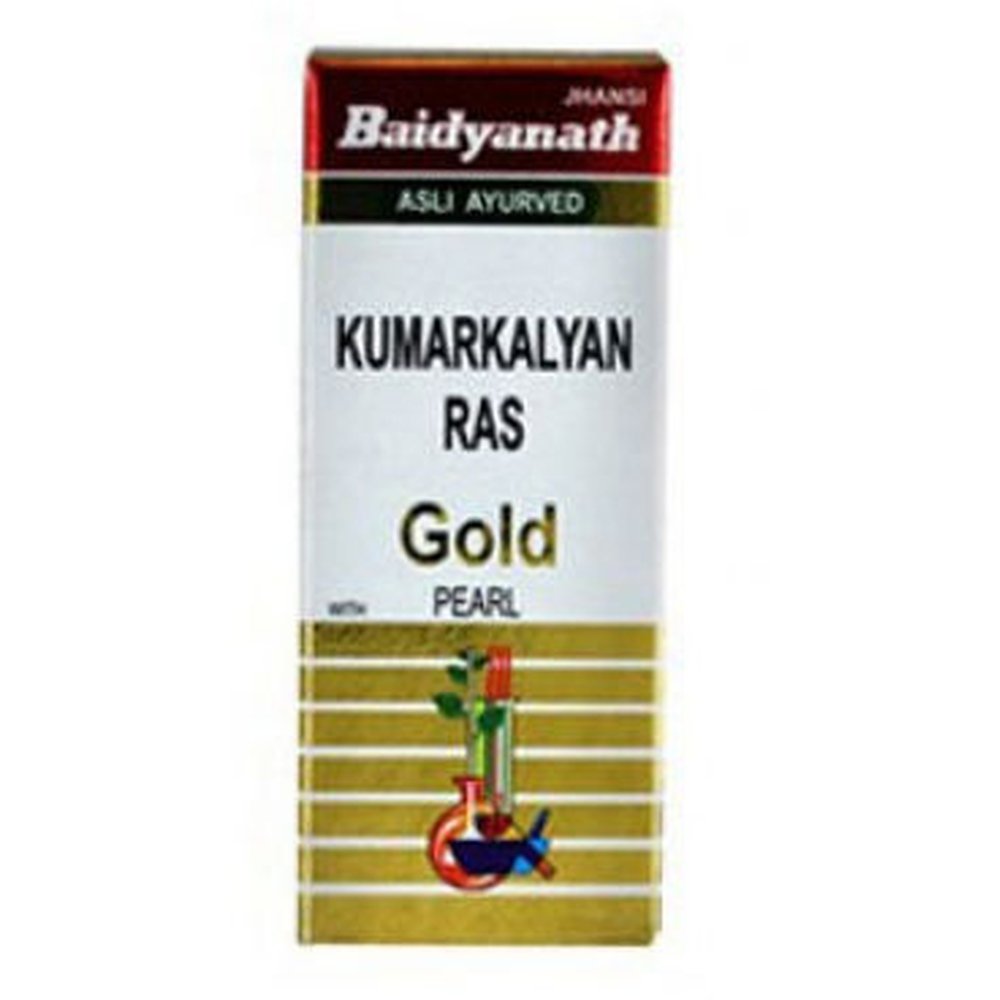 Baidyanath Kumar Kalyan Ras (Swarna Moti Yukta) (10tab) : Reduces Mild To High Temperature, Cough, Jaundice, Asthma, Indigestion And Diarrhea in Children
Also known as
Kolyan Rasa, Kumar
Properties
Weight
11 (gms)
Dimensions
Dimensions: 2.7 x 2.7 x 6.5 cm
About Kumar Kalyan Ras (Swarna Moti Yukta)
An ayurvedic pediatric medication known as Kumar Kalyan Ras (also spelled Kumarkalyana Rasa) is used to treat fever, breathing issues, chronic cough, jaundice, rickets, bone weakness, diarrhoea, loss of appetite, underweight, and congenital heart diseases.
In ayurveda, Kumar Kalyan Ras is a general medicine for children who are weak or suffer from recurrent infections and pneumonia. It helps in brain development, increases bone strength, provides energy, and boosts immunity. It is also very helpful if your child is recovering from a condition. Kumar Kalyan Ras ensures the child's overall development.
Ingredients of Kumar Kalyan Ras (Swarna Moti Yukta)
R. Sindoor
Pishti Moti
Bhasma Swarna
Abhrak
LOHAH BHASM
Makshik Swarna Bhasma
Juice from aloe
Chemical Composition of Kumar Kalyan Ras (Swarna Moti Yukta)
calcareous carbonate
Gold
Magnesium
Iron
Copper
Medicinal Properties of Kumar Kalyan Ras (Swarna Moti Yukta)
Immunostimulatory (produces immunity without regard to specificity)
Alterative
Adaptogenic
Antitussive
Mucolytic
Anti-asthmatic
beneficial and energizing for the heart
Antibacterial
Anti-inflammatory
Anticonvulsant
Antioxidant
Antipruritics
Anti-stress
Antitussive
Antiulcerogenic
digestion-enhancing drug
Carminative
Demulcent
Modest febrifuge
minimal antiemetic
Hemoglobin levels are raised by haematinics.
Red blood cell production is aided by hematogenic substances.
Hepatoprotective
Indications of Kumar Kalyan Ras (Swarna Moti Yukta)
Weakness on the Body or Nerves
delayed benchmarks
bone brittleness or rickets
Continued Fevers
breathing issues or asthma in children
Cough that won't stop
Anaemia
Jaundice
diarrhea that returns frequently
the inability to eat
Underweight
birth defects of the heart
Benefits & Medicinal Uses of Kumar Kalyan Ras (Swarna Moti Yukta)
All diseases affecting infants and children, including those affecting the lungs, brain, heart, liver, bones, and muscles, can benefit from Kumar Kalyan Ras, which was created by ancient ayurvedic scholars.
Tridosha VATA, PITTA, & KAPHA are the three humors that need to be balanced, and Kumar Kalyan Ras does just that. It also strengthens the body, improves children's mental awareness and alertness, boosts their immunity, and boosts their brainpower.
Recurrent Respiratory Infections
However, seasonal illnesses can occur 5 to 9 times a year in children; in these cases, no additional treatment is required. However, in some children, respiratory infections occur too frequently, such as every 15 days or once a month; in these cases, Kumar Kalyan Ras is also beneficial. Kumar Kalyan Ras enhances and builds immunity against several bacteria and viruses, which ultimately protects children from recurrent infections. In such a case, Kumar Kalyan Ras should be given with food.
Muscle Weakness (Hypotonia) in Children
In ayurveda, Kumar Kalyan Ras is used for all of these underlying diseases because it gives strength to muscles, improves neurological coordination, and increases muscle tone. Ashwagandha and milk are the best adjuvants for Kumar Kalyan Ras in such diseases. Other remedies may also be necessary depending on symptoms. Hypotonia is defined as decreased muscle tone, which may have several underlying causes, including congenital hypotonia, muscular dystrophy, or cerebral palsy.
General Child Weakness & Debility
Arvindasava is an appropriate adjuvant for Kumar Kalyan Ras for this purpose. Since many children lose their appetite and weight after a prolonged illness, Kumar Kalyan Ras along with Arvindasava is also very helpful in such cases. Kumar Kalyan Ras is also effective in general physical weakness or debility in children. It enhances digestion, appetite, and promotes general well-being.
Dosage & Administration of Kumar Kalyan Ras (Swarna Moti Yukta)
With water, take one or two tablets per day.
Precautions of Kumar Kalyan Ras (Swarna Moti Yukta)
Due to the fact that this medication contains purified Mercury as an ingredient, self-medication with it could prove to be dangerous.
Follow the doctor's advice and take this medication exactly as directed, for a short time.
Serious poisonous effects could result from overdosing.
Maintain a distance from children's eyes and reach.
Keep the items in a cool, dry area.
Terms and Conditions
Before purchasing this medication, we have assumed that you sought medical advice and are not using it for self-medication.
Attributes
Brand
Baidyanath
Remedy Type
Ayurvedic
Country of Origin
India
Form Factor
Ras
Price
₹ 1