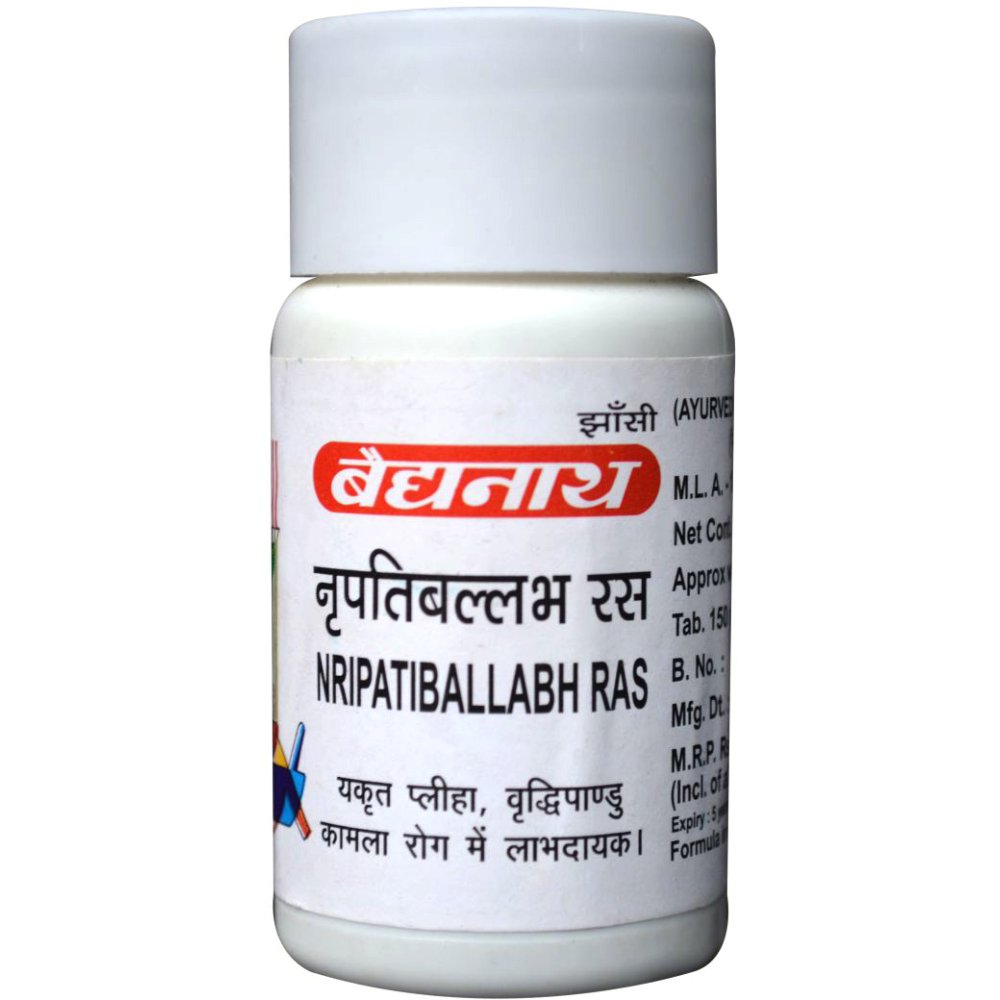 Baidyanath Nripatiballabh Ras (80tab) : For Headache, Reduces Mild To High Temperature, Skin Diseases, Indigestion, Liver Diseases, Diarrhea, Joint Pain
Also known as
Ras Nripati Vallabh
Properties
Weight
38 (gms)
Dimensions
Dimensions: 3.7 x 3.7 x 7.6 cm
About Nripatiballabh Ras
Mercury, also known as Rasa in Ayurveda, is a heavy metal that is liquid at room temperature and is used in Ayurveda only after proper detoxification, according to classical Ayurvedic texts. Nripatiballabh Ras is a herbomineral-metallic Ayurvedic medicine and is a Ras Aushadhi.
The combination of mercury with other medicinal ingredients enhances the therapeutic efficacy of medicine due to the Yogvahi property of Parad, and first Kajjali is made from purified Parad and Gandhak. As these medications contain heavy metals, it is better to avoid them. Ras Aushadhi are fast acting, nourish the entire body, and have tonic, aphrodisiac, rejuvenative, anti-aging, wound-healer, and antimicrobial effect.
When Grahan Shakti, or the grasping power of the intestine, is lost, it results in malabsorption, loose, foamy stools, and possible abdominal pain. In Ayurveda, Grahni Roga is treated with drugs that boost the digestive system's assimilation and power. One of these drugs is called Nripatiballabh Ras.
Ingredients of Nripatiballabh Ras
Rasa Shuddha (Parada)
Shaddha Gandhaka
Bhasma Lauha
Bhasma Tamra
Bhasma Abhraka
Bhasma Lauha
Tankana for "tanka shuddha"
Jatiphala
Lavanga
Muhammad Abda
Hingu
Tvak
Sukshmaila's Ela
Tejapatra
Shveta Jiraka's Ajaji
(Yavani) Yamani
Shunthi Vishva
Lavana Saindhava
Maricha
(Amalaki) Dhatri Svarasa
Indications of Nripatiballabh Ras
Many different diseases can benefit from its use.
Fever
skin conditions
headache
Burning in the chest
syndrome of malabsorptive
Ascites
stomach lump
Gastro-enteritis
Condition Ama
Splenomegaly
Janudice
Indigestion
enlarged prostate
liver conditions
PECTORIS ANGINA
Lumbar Pain
Sciatica
Pain from colic
Pain, Pelivc
Constipation
Cough
ASTHMA
Rheumatism
Filariasis
Edema
Tumor
Goitre
cervix lymphadenitis
Dyspepsia
Sciatica
Helminthiasis
Taeniasis
Gout
Fistula
Syphilis
DIARRHOEA
Haemorrhoids
urological conditions
persistent fever
Lassitude
Laziness
Vertigo
Sensation of Burning
Rhinitis
Urticaria
Poisoning
diseases of the blood
Muscle Thigh Tightness
tooth conditions
Anorexia
Thirst
Dosage of Nripatiballabh Ras
It is traditionally taken with black pepper powder, one or two tablets, once or twice a day, before or after food, or as prescribed by an ayurvedic physician.
Precautions of Nripatiballabh Ras
Due to the presence of heavy metals in this medication, self-medication could be dangerous.
Follow the doctor's advice and take this medication exactly as directed, for a short time.
Serious poisonous effects could result from overdosing.
When pregnant, nursing, or with children, it is best to avoid.
Maintain a distance from children's eyes and reach.
Keep the items in a cool, dry area.
Terms and Conditions
Before purchasing this medication, we have assumed that you sought medical advice and are not using it for self-medication.
Attributes
Brand
Baidyanath
Remedy Type
Ayurvedic
Country of Origin
India
Form Factor
Ras
Price
₹ 123