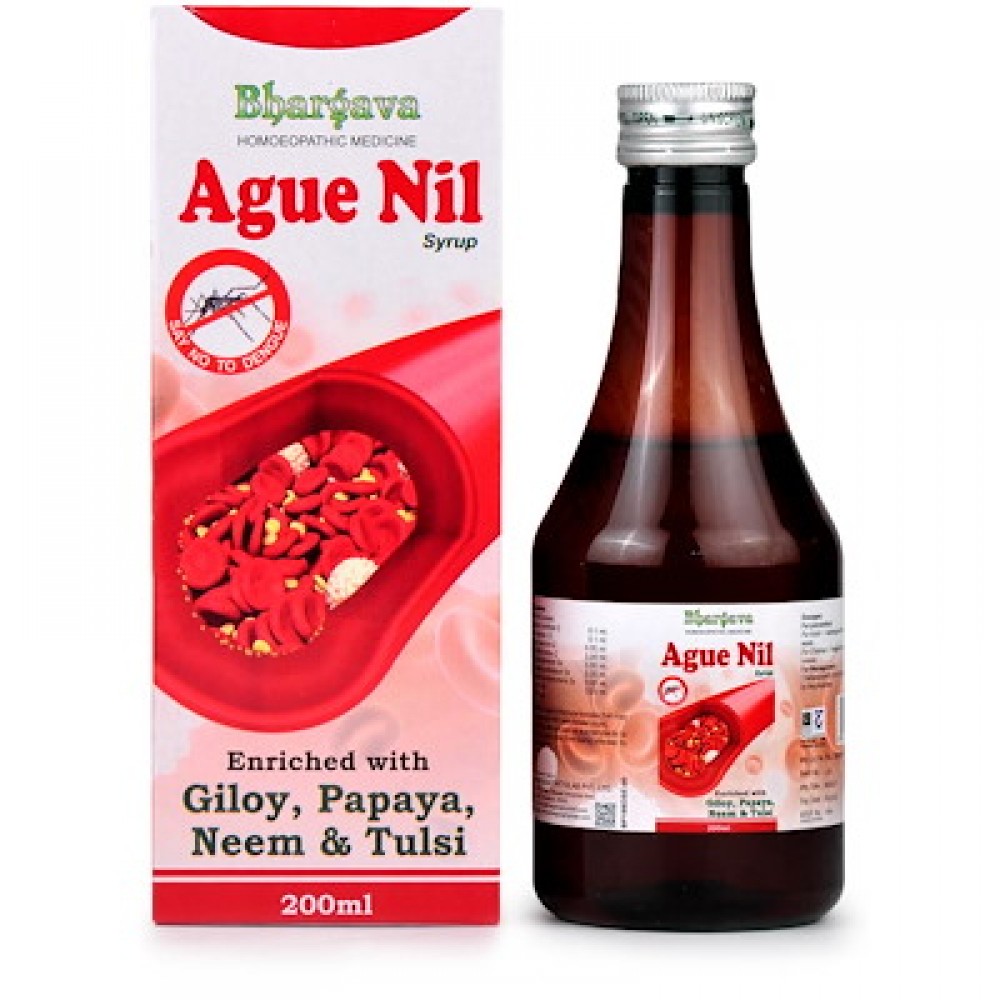 Dr. Bhargava Ague Nil Syrup with Giloy, Papaya, Neem and Tulsi (200ml) – Powerful Immune Booster, Protect from Dengue Virus, high temperature
increases immunity so that it can fight off infections and other virulent diseases.
Ague Nil Syrup by Dr. Bhargava Reference
disturbances in the circulation that cause slouching and dullness
breathing difficulties, drowsiness, and a feeling of euphoria
Dr. Bhargava's Ague Nil Syrup's ingredients
Sanctum Ocimum Q
Idica Azadirachta
3-fold rus tox
3 times Eupatorium
3x Gelsemium Semp
3x Belladonna
Dr. Bhargava's Ague Nil Syrup's composition in action
Ocimum Sanctum Q: It relaxes the body, balances blood sugar, and eases chest discomfort.
Azadirachta Idica Q: It is frequently prescribed for a wide range of complaints, particularly those involving the eyes, the digestive system, and skin conditions.
Rhus tox 3x: The indications for this remedy include skin effects, rheumatic pains, mucous membrane affections, and fevers of the typhoid variety.
Eupatorium Per 3x: Eupatorium acts primarily upon the gastro-hepatic organs and bronchial mucous membrane, relieving the pain in limbs and muscles that accompany some forms of febrile disease, such as malaria and influenza.
Gelsemium Semp 3x: With stupor, dizziness, and faintness, as well as a chill and a lack of thirst along the spine, bilious remittent high body temperature.
Belladonna 3x: a high feverish condition that is relieved by coughing and is characterized by the relative absence of toxicity, lack of thirst, cutting pain across the body, and stitches in the left side of the abdomen.
Useful hints:
Adult: Twice daily, 1 tablespoon.
Half the adult dose for children
Important Information: use as directed by a physician
Attributes
Brand
Bhargava Phytolab
Container Type
Bottle
Shelf Life
Long Life
Remedy Type
Homeopathic
Country of Origin
India
Form Factor
Syrup
Suitable For
Veg / Vegetarian
Price
₹ 160