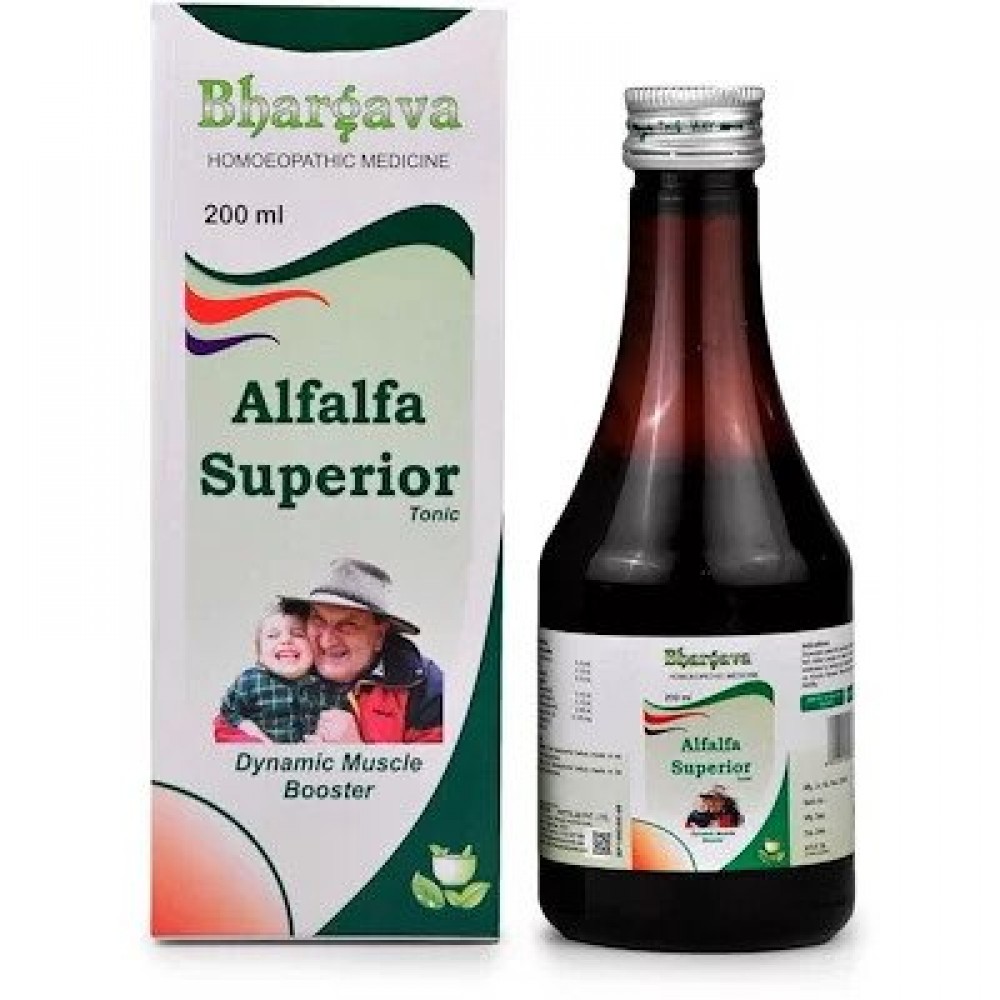 Dr. Bhargava Alfalfa superior tonic (200ml)-Nutrient Tonic, Energy Booster, Tones Up Appetite, Removes Weakness
Bhargava Alfalfa Superior Tonic eases fatigue, a state of debilitated body, and muscular rheumatism and is recommended for growing children, teenagers, and elderly people.
Bharagava Alfalfa Superior Tonic's Benefits
giving the protein shortages a boost
improving protein synthesis and metabolism
Muscle breathing getting more intense
by provoking nerve cells, you can tone up the muscle tissue.
Bhargava Alfalfa Superior Tonic Other Indications
nutritious food that fosters growth.
If you're pregnant or nursing, take a supplement.
Excellent nerve and kidney tonic.
Anaemia cure and stress reliever.
aging healthily.
Bhargava Superior Alfalfa Tonic's ingredients
Formic acid Q
Cattle Q
Asave sativa Q
Shatavari Q
Officinal Cinchona Q
Canadensis Hydrastis Q
Phos 2X five
Aspects of the Bhargava Alfalfa Superior Tonic's Composition
Alfalfa Ø: The "toning up" of the appetite and digestion, which leads to significantly increased mental and physical vigor and weight gain, is one way that alfalfa positively influences nutrition.
Avena sativa Ø: Best for debility, weakness after exhausting diseases, and useful in sleeplessness. Has a selective action on the brain and nervous system, favorably influencing their nutritive function.
Hydrastis can. Ø: People who are easily fatigued, have weak digestion, weak muscles in the neck and scalp, and have weak muscles in their muscles.
Cinchona off. Ø: Debilitation, weakness due to depletion of vital fluids, exhausting discharges, slow digestion, hunger without appetite, and a longing for undigested food.
Useful hints:
Adult: Twice daily, 1 teaspoon
Children: Before meals or as prescribed by a doctor, take one teaspoon.
Important Information: use as directed by a physician
Attributes
Brand
Bhargava Phytolab
Container Type
Bottle
Shelf Life
Long Life
Remedy Type
Homeopathic
Country of Origin
India
Form Factor
Tonic
Suitable For
Veg / Vegetarian
Price
₹ 128