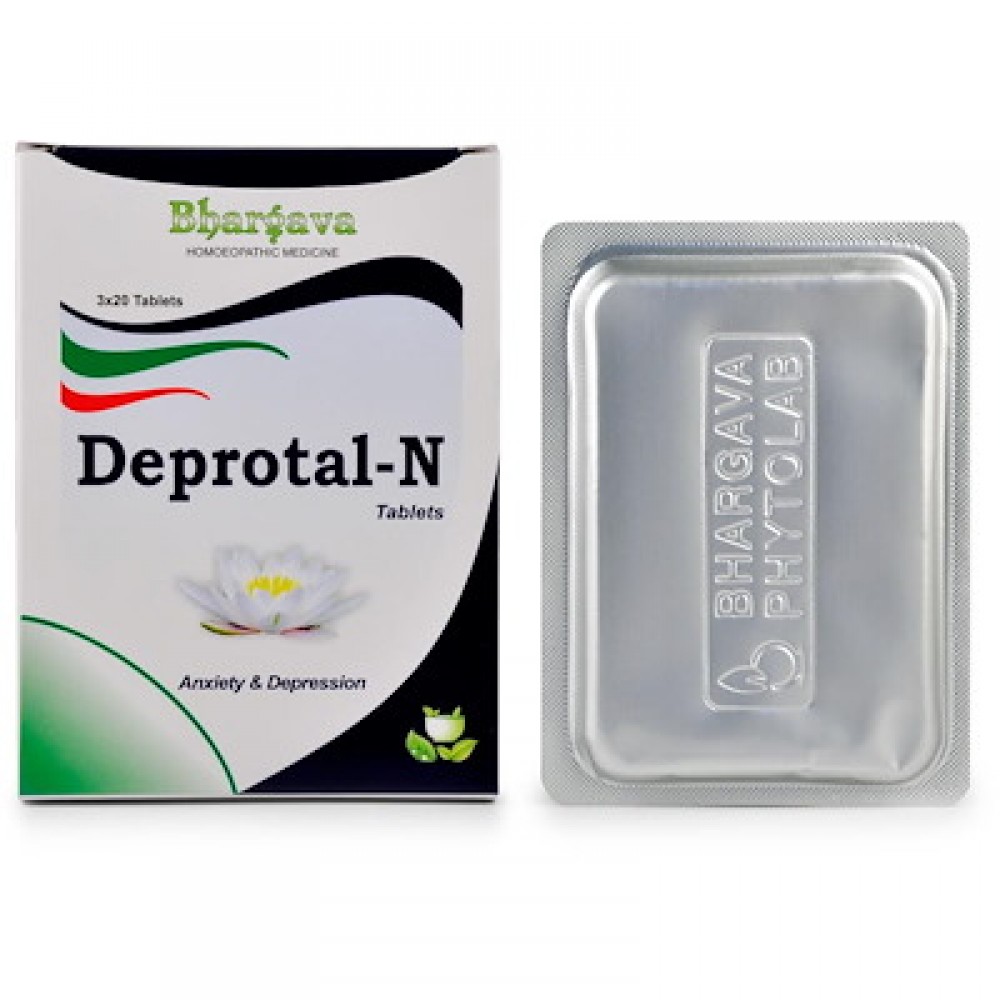 Dr. Bhargava Deprotal – N Tablets (60tab)-Helps in Sleeplessness due to Stress, Relieve Anxiety, Nervousness
Deptrotal N – Relieves mental fatigue and lifts the spirits while reducing stress and anxiety.
Deprotal-N Tablets by Dr. Bhargava: Indications
It assists with mild to moderate depression, tension, nervousness, stress, anxiety, mood swings, irritability, and exhaustion brought on by too much mental or physical work.
Additional Uses for Deprotal-N Tablets by Dr. Bhargava
normalizes bodily processes and calms anxiety
calming and sedative effects
alleviates depression
eliminates depression
Deprotal-N Tablets by Dr. Bhargava are composed of
Chinese chamomile
The Oat Grass
Nasturtium aconitum
phosphoric acid magnesium
Belladonna
phosphoric acid ferrum
incarnate Passiflora
Dr. Bhargava Deprotal-N Tablets' composition's mechanism of action
Chamomilla officinale: Chamomila reduces cortisol levels, which lessens the sensation of stress.
Avena sativa: helpful for all types of nervous conditions, such as chronic anxiety, insomnia, and exhaustion.
Aconitum napellus: stimulates the central nervous system and works well in cases of fear, anxiety, restlessness of the body and mind, and emotional and physical tension.
Magnesium Phosphoricum: It has a calming effect on the muscles, which releases spasmodic muscle contractions. It also has an impact on the nerve centers, which nourishes the brain and relieves fatigue.
Belladonna: enhances mental dullness, sleepiness with poor sleep quality, and convulsive behavior.
Ferrum phosphoricum: relieves depression, restlessness, restlessness, irritability, and nervousness.
Passiflora incarnata: Gamma amino butyric acid (GABA), which is present in higher amounts in the brain when passionflower is taken, helps you feel more relaxed by reducing the activity of some brain cells.
How to Use: Twice daily administration of 1 tablet, or as otherwise prescribed by a doctor
Important Information: use as directed by a physician
Attributes
Brand
Bhargava Phytolab
Container Type
Blister Pack
Shelf Life
Long Life
Remedy Type
Homeopathic
Country of Origin
India
Form Factor
Tablet
Suitable For
Veg / Vegetarian
Price
₹ 240