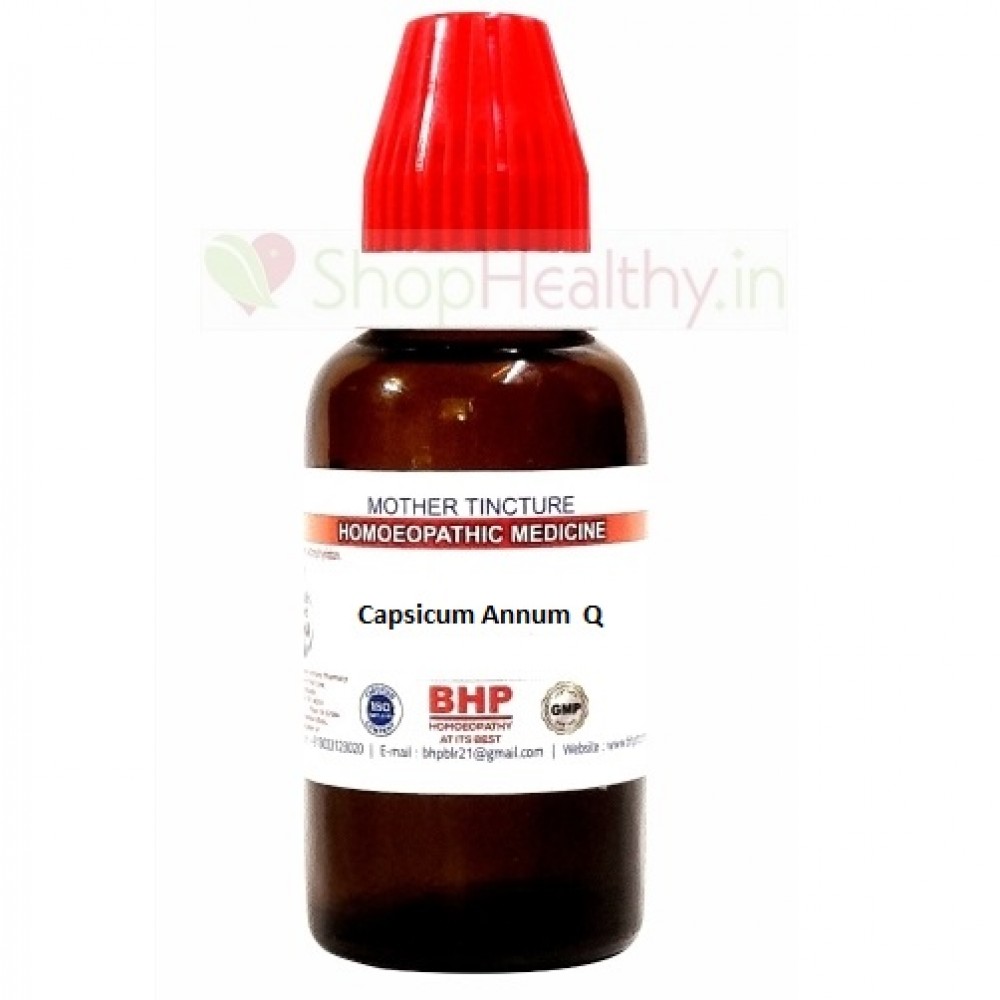 BHP Capsicum Annum 1X(Q) Mother Tincture (30ml)
**BHP Cayenne Annuum
Cayenne pepper**, common name
BHP Capsicum Annuum symptoms and causes
Capsicum Annuum has a noticeable effect on sore throats, causing burning, smarting, and pain that radiates to the ears like pepper in the throat.
It is effective for smokers' and drinkers' sore throats, coughs that cause pain in various body parts, and chronic hoarseness that is accompanied by a constricted feeling, burning, and intense soreness.
Alcoholics' weak digestion and stumbling are found to benefit from capsicum annum.
problems with the stomach and intestines, such as dyspepsia, flatulence, and a sinking feeling.
When the stool contains blood and mucus, it is also a treatment for dysentery.
Thirst and shuddering are always present after every stool.
Hemorrhoids accompanied by anus pain should also be treated with capsicum annum.
As if pepper had been sprinkled on them, hemorrhoids protrude and throb in agonizing pain.
It helps with homesickness, which manifests as red cheeks, insomnia, and back pain after stools.
Myalgia, aching, and jerking muscles are all conditions that are treated by capsicum annum.
It is appropriate following withdrawal for regular drinkers.
It has an impact on the mucous membranes and causes a tightening sensation.
One of the treatments for petrous bone inflammation is this.
Older people who fear even the smallest draft and have their energy depleted by poor living and mental work are good candidates for capsicum annum.
Additionally, every inflammatory process has a clear propensity for suppuration.
Mind
A desire for the past is caused by nostalgia.
Red cheeks and insomnia are signs of homesickness.
Almost a noble sadness, a sweet melancholy.
Sensitive.
Socially awkward but does not withdraw.
prone to offense.
disorders brought on by emotional elation.
emotional closure
without emotion.
aversion to irregularities in routine.
stress and depression
Clumsy, indolent; eventually lack of interest; cravings for stimulants.
body's disorganization
Fear of the police, criticism and/or censure, and trouble.
sensitive to sound when cold.
Kids who are unreasonable and capricious.
Alcoholism.
Generalities
Cold, sluggish, and obese
Applying cold causes more stinging pains (Ars).
full of chill and burning.
sluggish, exhausted, and fragile.
Nothing happening.
seeks the greatest results with the least amount of effort
Motion phobia, which gets better.
Continued movement will be better.
Heat makes things better and worse.
Ulcers.
coughing causes pain in any location.
beverages and food
Desire: spice, liquor, and coffee.
Head
Coughing gets worse with a burst.
coughs while holding head still.
Anxiety and nausea from a migraine.
Motion relieves headaches, while rest makes them worse.
Eye
Lachrymation (watery eyes) and burning during coughing
Ear
Middle ear infection called mastoiditis with sharp pain.
ears that continually swell.
Nose
Red with a cold, hot tip.
Flu and cold symptoms include burning and piercing sneezing.
Face
Neuralgia: Going to sleep causes sharp, stinging pains that travel along the nerve.
By blowing air, burning pains become worse.
diffuse flushing, cheek, and nose redness.
cheeks and nose have tiny red veins, similar to those in alcoholics.
Mouth
tongue tip in particular, burning
A mouth infection known as stomatitis
Throat
Burning pain and dark redness are symptoms of inflammation, and coughing makes the pain worse.
Hoarseness.
When you cough, hot, acrid air rises from your throat and tastes bad.
Stomach
After eating, burning discomfort worsens.
Heartburn.
coffee-induced nausea
Before, during, and after diarrhea and colds, there is intense thirst.
Abdomen
Colic that is vile.
food pipe is on fire.
Colitis.
Rectum
With a stuffy face and hemorrhoids.
Rectal pain that is burning.
Tenesmus, which is a persistent urge to urinate,
Having drunk, requiring.
Bladder
The tenesmus (regular urination)
Coughing, increased urination, and urethral orifice burning
Gender of a man
Scrotum coldness, testicular atrophy, and loss of sensibility.
aching erections every night.
genitalia of women
irregular menstruation accompanied by pain in the left ovary.
perturbations in the climate.
Cough
Evening coffee makes things worse; cold water makes things better.
Back
Sciatica and lumbago.
Coughing causes pain.
backwards-dropping cold water sensation.
Extremities
Coughing causes pain.
As you start to move after a period of rest, your stiffness will improve.
Hip joint pain that radiates to the feet gets worse when you cough or touch.
Sleep
With emotions, homesickness, and coughing, sleeplessness gets worse after midnight.
past-related dreams
During sleep, as though dropping from a great height (Thuja).
Skin
stinging, burning, and itching
Flabby.
Capsicum Annuum BHP side effects
Although there are no such side effects, it is still important to take each medication according to the instructions.
Even if you are taking other forms of medication, such as those obtained through allopathy, ayurveda, etc., it is safe to take the medication.
The effectiveness of other medications is never hampered by homeopathic remedies.
BHP Capsicum Annuum dosage and guidelines
Take 10 drops three times daily in 1/4 cup of water.
We advise you to use medical advice when taking.
the use of BHP Capsicum Annuum with caution
If you take medication, make sure to wait 15 minutes between eating and taking it.
Consult a homeopathic doctor prior to use if you are pregnant or nursing.
While taking medication, refrain from consuming alcohol or tobacco.
Rules and Regulations
The effectiveness of homeopathic remedies varies depending on the conditions and should be used based on symptom similarity.
Essential Details
Use only after speaking to a licensed medical professional.
Attributes
Brand
BHP (Bangalore Homoeo Pharmacy)
Container Type
Glass Bottle
Shelf Life
5 Years From Date Of Manufacturing
Remedy Type
Homeopathic
Country of Origin
India
Homeo Forms
Mother Tincture
Potency
1X (Q) / Mother Tincture
Price
₹ 100