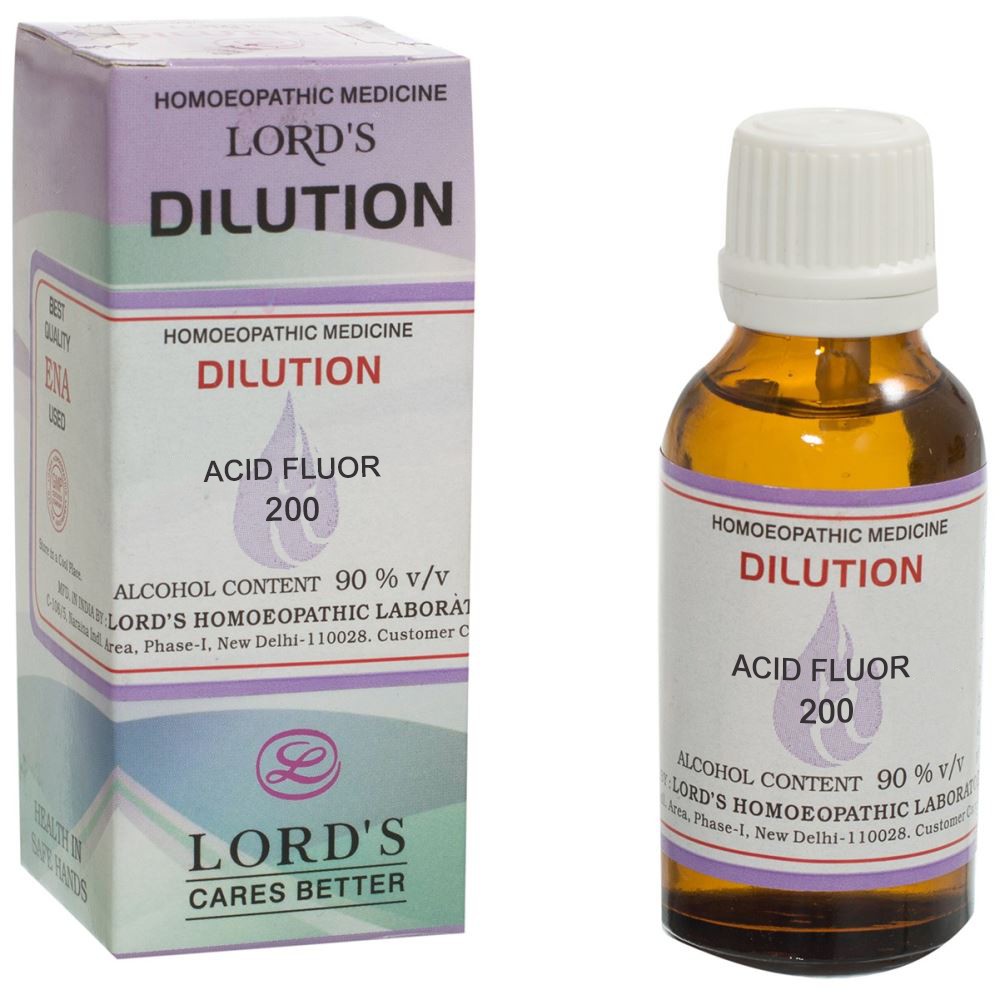 Lords Acid Fluor 200 CH (30ml) : For Varicose veins, ulcers, hair fall, bone caries, enlarged prostate
Also known as
Acid fluoride, fluoric acid
Properties
Potency
200 CH
Weight
84 (gms)
Dimensions
2-by-2-by-7 millimeters
About Lords Acid Fluor
Fluoric Acid is effective in treating early tooth decay, old cases of nightly fevers that come on periodically, complaints of old age or the prematurely aged, with weak, distended blood vessels, and hob-nailed liver in alcoholics. Fluoric Acid is particularly adapted to chronic diseases, acts particularly upon lower tissues, and is indicated in bedsores, ulcerations, varicose veins, and ulcers.
Mind
Typically, crude means unrefined.
Materialistic.
Don't worry about awareness or discipline; just live to enjoy life.
not being able to accept responsibility
Domineering.
Selfish.
aggressive and insensitive.
family and friends are disliked or ignored.
strong concern for one's health
Generalities
Warmblooded.
Agg. Summer, heat, warm weather, and warm things.
Amel. Cold, outside in the cold air.
affects teeth, connective tissue, bones, and benign growths called exostoses.
remedy for syphilis.
Head
headache caused by holding back a discharge or not going to the bathroom.
There are bald patches.
Alopecia.
Dry, tangled hair snaps off in chunks.
Eye
Ear
Head bending backwards, hearing impairment.
Nose
Coryza is abundant, watery, and tabular.
Teeth
Rapid caries and dark discoloration
Teeth have a warm sensation.
Fistulas.
Throat
Painful, aggr. breathing in cold air.
Stomach
Tightening clothing is one of the symptoms.
Food and drinks
Desire: Cold beverages, energizing foods, and strong seasonings
Agg.: Fish.
Rectum
vomit caused by warm beverages.
Chest
Backwards bending, oppression.
Back
Extremities
skeletal decay
Necrosis.
varicose veins that hurt.
(Thuj, Sil, Graph, Calc) Nails are distorted, growing too quickly, and are weak.
pains from arthritis.
(Med, Puls, Sulph) exposes feet while in bed at night.
Male genitalia
a strong desire for sexual activity, even in older people.
Exhibitionism: being naked in public.
sexual activity that is abnormal.
Priapism makes people unable to sleep.
violent and uncomfortable nighttime erections.
(Agn, Calad) Impotence following overindulgence
seminal discharge that occurs without consent, such as when a woman is touched.
prostate gland that is enlarged.
Sweat has a strong odor.
Female genitalia
extreme desire
Nymphomania.
Uterus with prolapsus.
Skin
Fistula, Abscess
Eruptions and hard, horny skin (Ant-c, Graph).
heat, bedsores, etc.
Itching in isolated areas and at skin openings like the rectum.
Cicatrizations itch, are red, and hurt.
Sleep
Sleeplessness.
is awakened by erections and sexual thoughts.
Side effects of Lords Acid Fluor
Although there are no such side effects, it is still important to take each medication according to the instructions.
Even if you are taking other forms of medication, such as those obtained through allopathy, ayurveda, etc., it is safe to take the medication.
The effectiveness of other medications is never hampered by homeopathic remedies.
Dosage and rules while taking Lords Acid Fluor
Three times per day, mix five drops in a half cup of water.
The globules can also be used as medicine; take them as directed by your doctor, usually three times per day.
We advise you to use medical advice when taking.
Precautions while taking Lords Acid Fluor
If you take medication, make sure to wait 15 minutes between eating and taking it.
Consult a homeopathic doctor prior to use if you are pregnant or nursing.
While taking medication, refrain from consuming alcohol or tobacco.
Terms and Conditions
The effectiveness of homeopathic remedies varies depending on the conditions and should be used based on symptom similarity.
Attributes
Brand
Lord's
Remedy Type
Homeopathic
Country of Origin
India
Homeo Forms
Dilution
Potency
200 CH / 200CH
Price
₹ 95