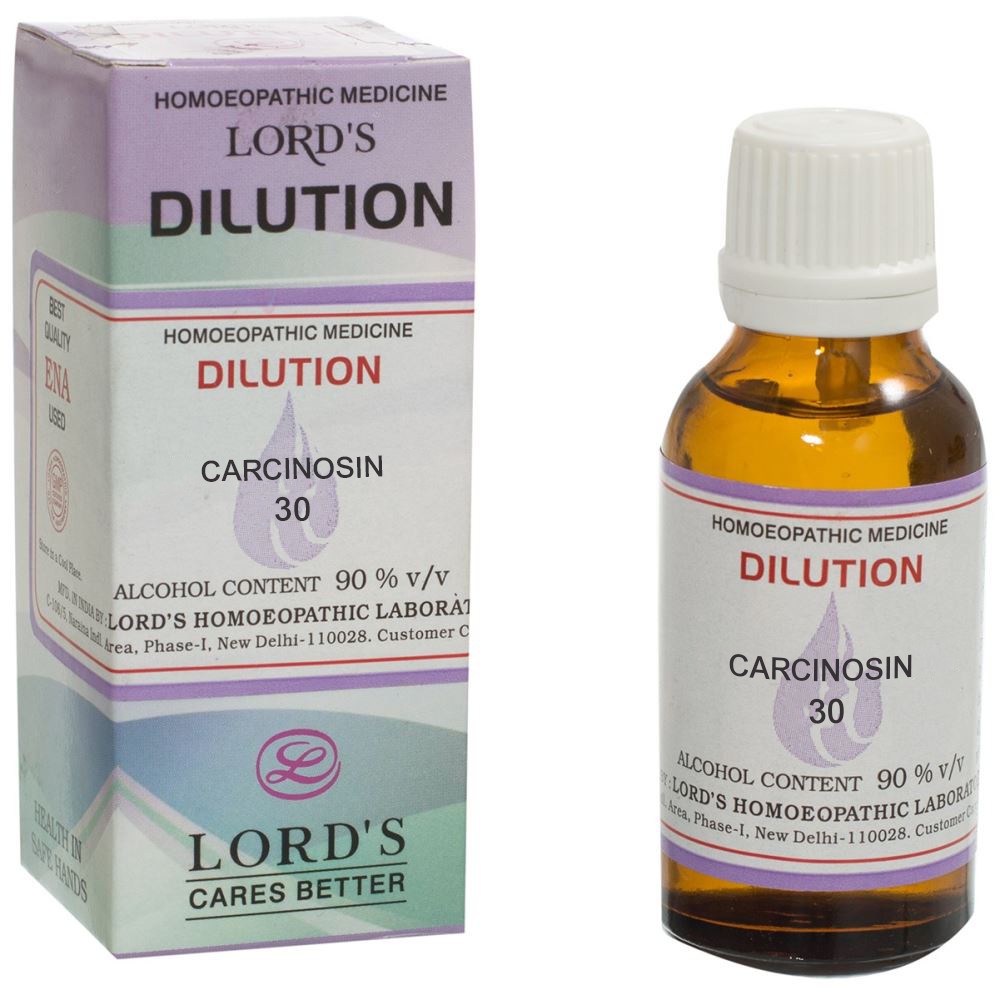 Lords Carcinosin 30 CH (30ml) : Enlarged mammary glands, infections, gases, Ovarian cystst
Also known as
Carcinosi
Properties
Potency
30 CH
Weight
84 (gms)
Dimensions
2-by-2-by-7 millimeters
Lords Carcinosin (Dilution)
Common name: a Carcinosinum/Carcinoma nosode
Causes and symptoms for Lords Carcinosin
Indigestion, gas buildup in the stomach and bowels, and numerous joint pains can all be caused by carcinosin.
According to J.H. Clarke, M.D., the drug carcinosin is said to positively affect and change any situation in which a history of carcinoma can be elicited or the disease's symptoms can be observed.
With severe pain and gland induration, carcinoma of the mammary glands and uterine carcinoma have both been known to be affected by carcinosinum.
When all other symptoms are present, carcinosinum significantly reduces bleeding and pain.
a severe chronic illness that causes wasting and weakness in the body.
Mind
– Emotional, PASSIONATE people who have strong desires, push themselves, work hard, have strong sex desires (from a young age), and express their feelings passionately and honestly.
Fastidiuos, a need for structure and management in life
– Untidiness makes it impossible to sleep.
– Wanderlust, unhappiness, and restlessness.
– Highly responsible, devout, and conscientious
– Expectancy.
– Insecurities about oneself.
– PRECOCITY (smart or talented individuals who achieve much more quickly than is typical)
– SYMPATHETIC, affable, sensitive to the suffering of people, animals, and the environment.
– Concern for others: Terrible events have a significant impact.
– An attempt to win over others.
– The fear of not being loved or accepted.
– SENSORY TO REPRIMANDS, EVEN MORE SO IN CHILDREN.
– Disorders caused by scolding and rudeness.
– Hold back their feelings of hurt and repression; yield; accept all suffering unadvocatedly.
– Repression-related illnesses such as excessive parental control, prolonged childhood suffering, rigorous education, and early adult responsibility.
– EASILY OFFENDED, intolerant of inconsistency, and hostile to consolation.
– Aversions to heights, canines, failure in exams, and thunderstorms.
– Concerns for others' and one's own health (cancer).
– Receptive to the arts, nature, and sensual impressions.
Thunderstorms are my favorite (Sepia).
– Carcinosin loves dancing and is sensitive to music and rhythm (Sepia).
– Music can make people feel worse and even make them cry.
– Sluggish mental growth: prone to distraction; challenging to focus.
Generalities
Warm-blooded, but heat and cold tend to make them worse.
Sea, little sleep, and evening are better.
– Made worse by immunization.
aggravation occurs every 7 days between the hours of 1-6 pm, especially between the hours of 5 and 6.
– Mononucleosis (excessive levels of monocytes in the blood, particularly in cases of glandular fever)
– Neurodermitis, a form of dermatitis characterized by persistent itching in specific localized areas, particularly the forearms, the back of the neck, and the outer portion of the ankle.
– Severe inflammatory illnesses in childhood (pneumonia, whooping cough).
– Childhood illnesses that develop too soon, later than puberty, are absent, are extremely severe, or both.
beverages and food
– Aversion and desire for the same food can change over time.
– A craving for sweet, salty, sour, chocolate, sugar, fat, and raw potatoes.
– Repulsions: salt, fruit, potatoes, milk.
Eggs are worse.
Vertigo
– Elevations.
Head
– Asthma is sometimes followed by migraines.
– A tightening sensation in the brain.
Deep inside the brain, pulsing
– Right side of headache becomes worsened prior to storm.
Pain above the eyes on the forehead; better outside.
Eye
– A blue sclera (the eyeball's outer, white layer).
– Constant winking and blinking.
– Tics.
– Twitching
Nose
The hay fever.
– Coryza persistente.
– Sinusitis
Face
– Acne.
Twitches, particularly in the brows and eyelids.
– Grimaces (a hideous, contorted expression on a person's face, usually conveying disgust, agony, or wry amusement)
Mouth
– Aphra.
Throat
Before speaking, there was more scraping.
– A lump-like sensation.
Stomach
– Stomach aches or butterflies.
– Motion sickness when driving.
Abdomen
Pressure, bending forward, and warm beverages are better for constriction pain.
– Baby colic, flatulence, and abdominal distention.
Rectum
even without desire, severe constipation.
– Stools that are rock-hard and dry.
– Rectal pain that is burning.
genitalia of women
High level of sexuation.
Children being masturbated.
– Dysmenorrhea, cramping, and pain that feels labor-like.
– Worse on the right, ovarian cysts.
– Abdominal fibroids.
– Endometriosis
Respiratory
– Early onset asthma brought on by fear, for better or worse at sea.
– Morning cough was worse, I undressed, shaved, stretched my neck, and yawned.
– Chronic pneumonia and long-standing whooping cough.
Chest
– Breast enlargement prior to menstruation.
– Mastitis that persists.
Extremities
– Muscle trembling and itching that is worse on the arms and thighs.
Warmth can relieve rheumatic pain, which is a slow-moving condition.
– Weakness, deteriorated lower limbs, improved motion.
Sleep
– Startle awake as if startled.
– Having trouble falling asleep due to thoughts, waking up often (especially at 4 am), and then having trouble falling back to sleep.
– Has dreams about trying to find someone.
Skin
– Dark brownish skin tone.
– MOLES, coffee-colored pigmentation spots.
– Keloid
– Sternum, upper back, and face with acne.
Boils are uncomfortable and burning.
– Eczema, exacerbated by milk, between the shoulder blades and on the sternum.
– Itching that gets worse when you undress.
– Warts on the foot soles, lips, abdomen, backs of hands, fingers, and fingernails.
Side effects of Lords Carcinosin
Although there are no such side effects, it is still important to take each medication according to the instructions.
Even if you are taking other forms of medication, such as those obtained through allopathy, ayurveda, etc., it is safe to take the medication.
The effectiveness of other medications is never hampered by homeopathic remedies.
Dosage and rules while taking Lords Carcinosin
Three times per day, mix five drops in a half cup of water.
The globules can also be used as medicine; take them as directed by your doctor, usually three times per day.
We advise you to use medical advice when taking.
Precautions while taking Lords Carcinosin
If you take medication, make sure to wait 15 minutes between eating and taking it.
Consult a homeopathic doctor prior to use if you are pregnant or nursing.
While taking medication, refrain from consuming alcohol or tobacco.
Terms and Conditions
The effectiveness of homeopathic remedies varies depending on the conditions and should be used based on symptom similarity.
Attributes
Brand
Lord's
Remedy Type
Homeopathic
Country of Origin
India
Homeo Forms
Dilution
Potency
30 CH / 30CH
Price
₹ 80