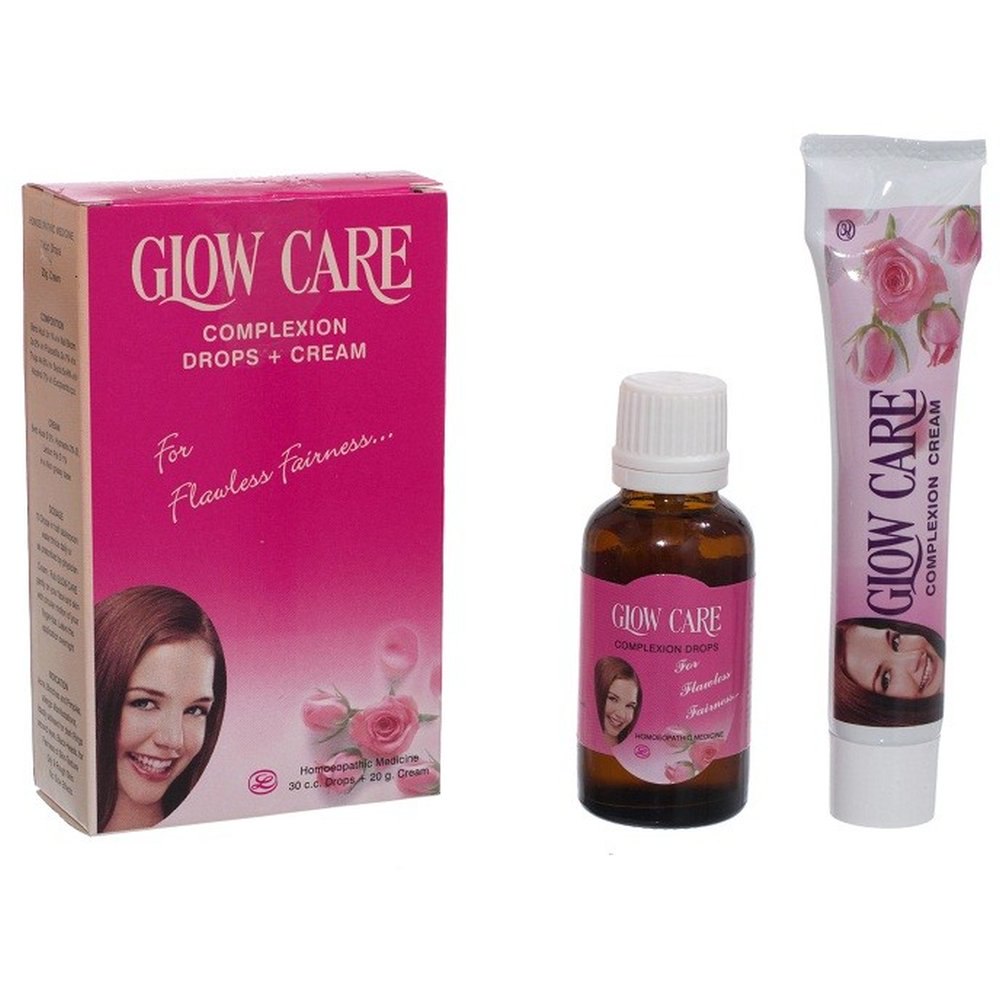 Lords Glow Care Complexion Pack (Drops+Cream) (1Box) : For Acne, Pimples, Removing Dark Rings Around Eyes, Fairness of Skin
Also known as
Glow Car Pck, Glow Care Complex Pck
Properties
Weight
127 (gms)
Dimensions
7, 3.5, and 11.5 centimeters
Glow Care Complexion Pack (Drops+Cream)
Indication of Glow Care Complexion Pack (Drops+Cream)
Black heads and acne-related blotches
ideal for getting rid of eye area dark rings
Skin's overall radiance
Action of Composition used in Glow Care Complexion Pack (Drops+Cream)
DROPS:
Kalium brom 3x: Kali bromatum is effective in treating moist eruptions with slightly elevated, smooth, red patches similar to urticaria but with hardened bases similar to erythema nodosum, itching at night in bed and in a warm environment, and appearing winter.
Berberis aquifolium 2x: Acne, blotches, and pimples are reduced in frequency and severity, and the complexion is cleared.
Puls Nig. 2x: acne during adolescence.
Thuja Occ 4x: Blotches and freckles, strong, sweet-smelling perspiration, only on covered parts, worse after scratching, extremely sensitive to touch, and coldness on one side.
Sepia 5x: During the climacteric period, brown discoloration of the skin, primarily chloasma
alcohol 7% by volume, with q.s. excipients
CREAM:
Berberis Aquifolium Q: skin that is dry, rough, and scaly is made clearer, and acne, blotches, and pimples on the face are reduced.
Hydrastis Q: excessive sweating and unclean skin
Ledum pal. Q: Crunchy eruptions around the nose and mouth, red pimples on the forehead and cheeks that sting when touched.
Dosage of Glow Care Complexion Pack (Drops+Cream)
Drops: Three times per day, or as directed by a doctor, combine 10 drops in a half-tablespoon of water.
Cream: Apply glow care cream to your face and skin by gently massaging it in with your fingertip motions and leaving it on all night.
Terms and Conditions
Before purchasing this medication, we have assumed that you sought medical advice and are not using it for self-medication.
Attributes
Brand
Lord's
Remedy Type
Homeopathic
Country of Origin
India
Form Factor
Cream
Price
₹ 190