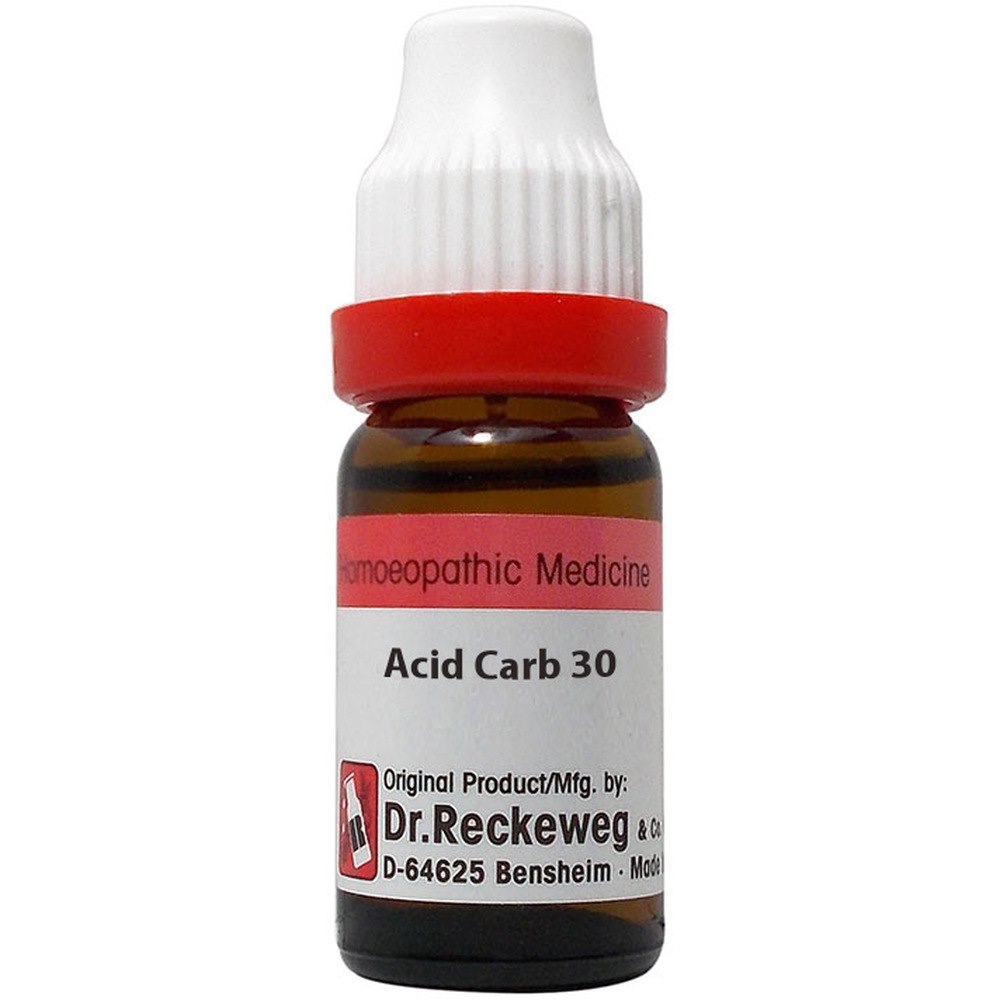 Dr. Reckeweg Acid Carbolicum 30 CH (11ml) : For skin eruptions, flatulence, Bed sores, sore throat, headache
Also known as
Acryl carb
Properties
Potency
30 CH
Form
Liquid
Weight
40 (gms)
Dimensions
3, 2, 3, and 7.4 millimeters
About Dr. Reckeweg Acid Carbolicum
Carbolic acid affects the central nervous system primarily, causing stupor, paralysis of sensation and motion, a weak pulse, shallow breathing, and death from paralysis of the respiratory centers.
The symptoms of the stomach, which include terrible pains that come and go suddenly, abscesses that are brought on by physical exertion, putrid discharges, spasmodic coughs, and arthritis, are also important. Carbolic acid helps with these symptoms as well as fatigue on both the body and mind, a disinclination to study, and headache like a band.
Mind
susceptible to smells
impatient and irritable.
an anxiety of getting sick.
Absent-minded.
dislike of mental effort
Generalities
following a bee sting, anaphylactic shock.
Weakness.
Fainting and collapsing
Aggregate reading
Discharges: burning, offensive.
Right ear in particular developed an abscess after exercising.
diseases that are cancerous and infectious.
Food and drinks
Desire: stimulants and alcohol.
Head
forehead and temples have a tight sensation, as if they were being squeezed by a rubber band.
Smoking, green tea, pressure, and a binding head cause headaches; menstruation is also a contributing factor.
Eye
severe numbness around the right eye.
Nose
a strong odor.
inflammatory discharges.
Face
Cyanotic (skin discoloration in the blue or purple range) and pale around the mouth and nose.
bee stings swelling up.
Mouth
tongue swelling as a result of a bee sting.
unpleasant breath
tongue that feels tingly and hot, like a thousand pins.
Throat
Right side of throat aching; dark red.
burning and prickling.
forcing liquids through the nose due to burning dryness and difficulty swallowing.
Stomach
Distention that is vile.
Cancer, alcoholism, seasickness, and pregnancy-related nausea and vomiting.
Olive-green, dark-colored vomit.
Abdomen
Often noticeable in one area of the bowels, painful flatulence.
Rectum
Stools that are offensive and bloody.
Constipation.
Urine
Dark, nearly black, and almost green.
Female genitalia
A displacement of the uterus. Cervical erosion.
discharges that are offensive and unpleasant.
Children with leucorrhea.
Back
painful low back that travels to the thighs.
Extremities
avalanche of vesicles.
Lower body weakness
Sleep
Skin
Vesicles that itch, rub, and then hurt with a burning sensation.
variola, a small pox-like disease that is malignant.
a bed sore.
blunt objects cause deep wounds.
Side effects of Dr. Reckeweg Acid Carbolicum
Although there are no such side effects, it is still important to take each medication according to the instructions.
Even if you are taking other forms of medication, such as those obtained through allopathy, ayurveda, etc., it is safe to take the medication.
The effectiveness of other medications is never hampered by homeopathic remedies.
Dosage and rules while taking Dr. Reckeweg Acid Carbolicum
Three times per day, mix five drops in a half cup of water.
The globules can also be used as medicine; take them as directed by your doctor, usually three times per day.
We advise you to use medical advice when taking.
Precautions while taking Dr. Reckeweg Acid Carbolicum
If you take medication, make sure to wait 15 minutes between eating and taking it.
Consult a homeopathic doctor prior to use if you are pregnant or nursing.
While taking medication, refrain from consuming alcohol or tobacco.
Terms and Conditions
Homeopathic medicines have a variety of uses and are prescribed based on symptom similarity; it is assumed that you have sought medical advice before purchasing this medication and are not self-medicating.
Attributes
Brand
Dr. Reckeweg
Remedy Type
Homeopathic
Country of Origin
Germany
Homeo Forms
Dilution
Potency
30 CH / 30CH
Price
₹ 125