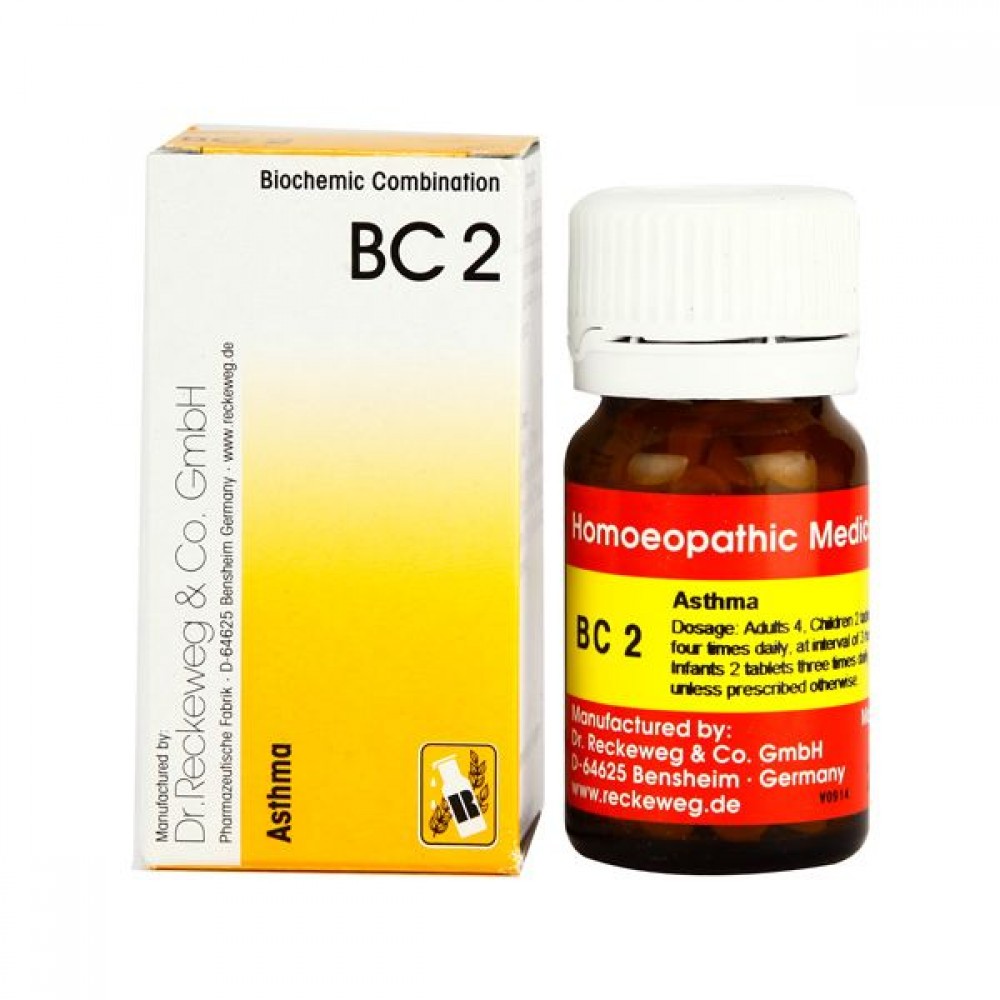 Dr. Reckeweg Bio Combination 2 (BC 2) Tablet 20gm
The Dr. Reckeweg Bio-Combination 2 Tablet is a powerful treatment that effectively reduces the signs and symptoms of bronchial asthma, gasping irregular pulse, and breathlessness with spasmodic cough and difficulty lying down. It also effectively reduces cough and flatulence.
Important elements:
Kalium phosphate
phosphoric magnesium
Muriatic acid, natrum
Vitamin Sulfur
Major advantages:
a method that successfully treats bronchial asthma
Convulsive tickling cough is effectively treated by this medication.
reduces the issue of food- or exercise-induced dyspnea
reduces excessive yellow sputum and irregular, gasping heartbeat
useful for treating lungs that are spasmodically complaining but don't produce mucus
Applying Instructions:
The recommended dosage for children is half of the adult dosage or as directed by the doctor, and for adults, it should be four tablets every three hours or four times per day.
Observations on safety
Before using, closely examine the label.
During the course, refrain from consuming alcohol or tobacco.
Keep children's reach away from this.
use as directed by a physician
When taking the medication, keep strong mouth odors like those from coffee, onions, hing, mint, camphor, and garlic to a minimum.
Avoid taking any other medications within 30 minutes of eating or drinking.
Attributes
Brand
Dr. Reckeweg
Container Type
Bottle
Shelf Life
Long Life
Remedy Type
Homeopathic
Country of Origin
Germany
Form Factor
Tablet
Suitable For
Veg / Vegetarian
Price
₹ 170