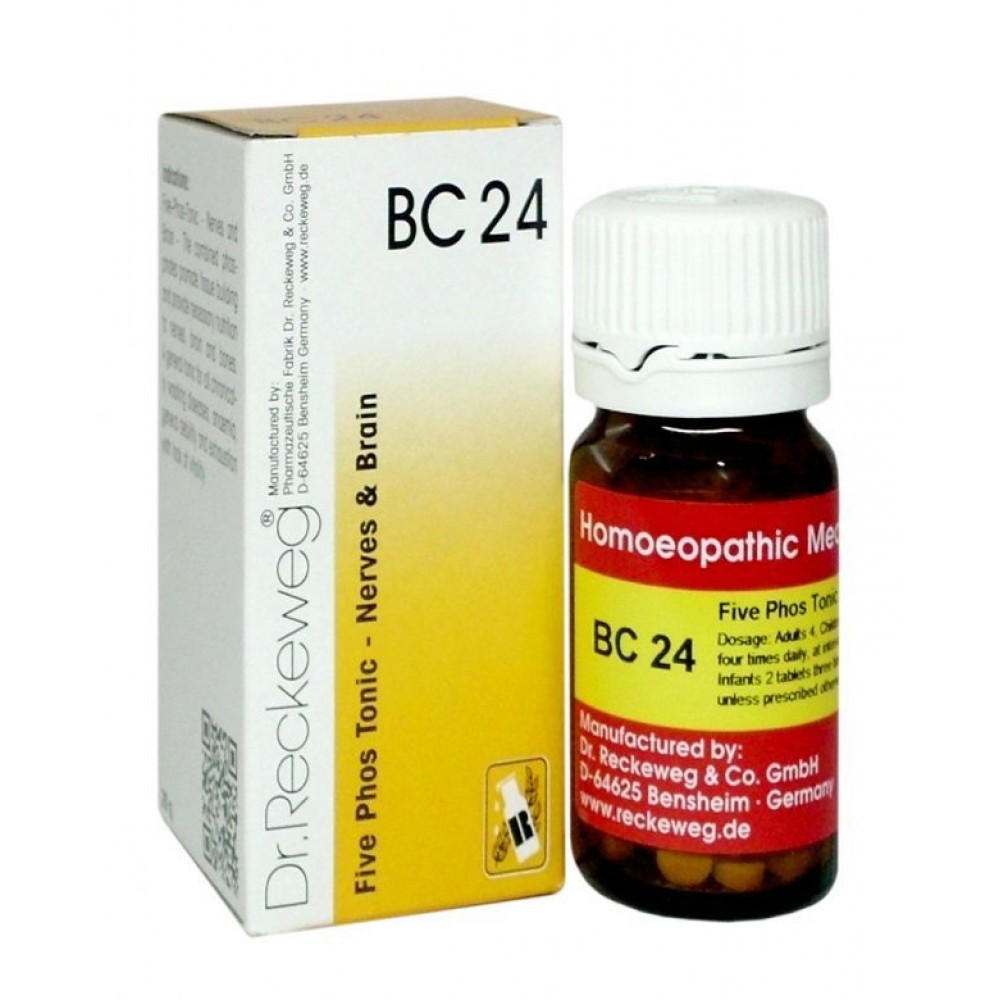 Dr. Reckeweg Bio Combination 24 (BC 24) Tablet 20gm
Dr. Reckeweg Bio-Combination 24 Tablet is a homoeopathic health tonic that supports overall health and well-being. It is useful in treating sleep and digestive disorders, as well as nervous exhaustion, muscle weakness, and body pain. It also helps in reversing the effects of diseases like anemia, which cause debility and weakness.
Important elements:
phosphoric acid cacarea
phosphoric acid ferrum
Kalium phosphate
phosphoric magnesium
Nitrophosphorus, a.
Major advantages:
nourishment for the bones, brain, and nerves, as well as support for tissue growth
reduces general exhaustion, sluggishness, and debility
It eases fatigue, irritability, migraine headaches, muscle spasms, stress, and depression.
enhances gastrointestinal health and encourages regular bowel movements
prevents women's post-childbirth weakness
gives the cells life and energy by promoting oxygenation of the cells.
Useful instructions
Children should only take 2 tablets twice daily or as directed by a doctor, while adults should take 2 to 4 tablets, four times daily.
Observations on safety
Before using, closely examine the label.
Keep children's reach away from this.
use as directed by a physician
Limit your intake to that which is advised.
Keep your items somewhere dry and cool.
Don't expose yourself to the sun and heat.
Attributes
Brand
Dr. Reckeweg
Container Type
Bottle
Shelf Life
Long Life
Remedy Type
Homeopathic
Country of Origin
Germany
Form Factor
Tablet
Suitable For
Veg / Vegetarian
Price
₹ 185