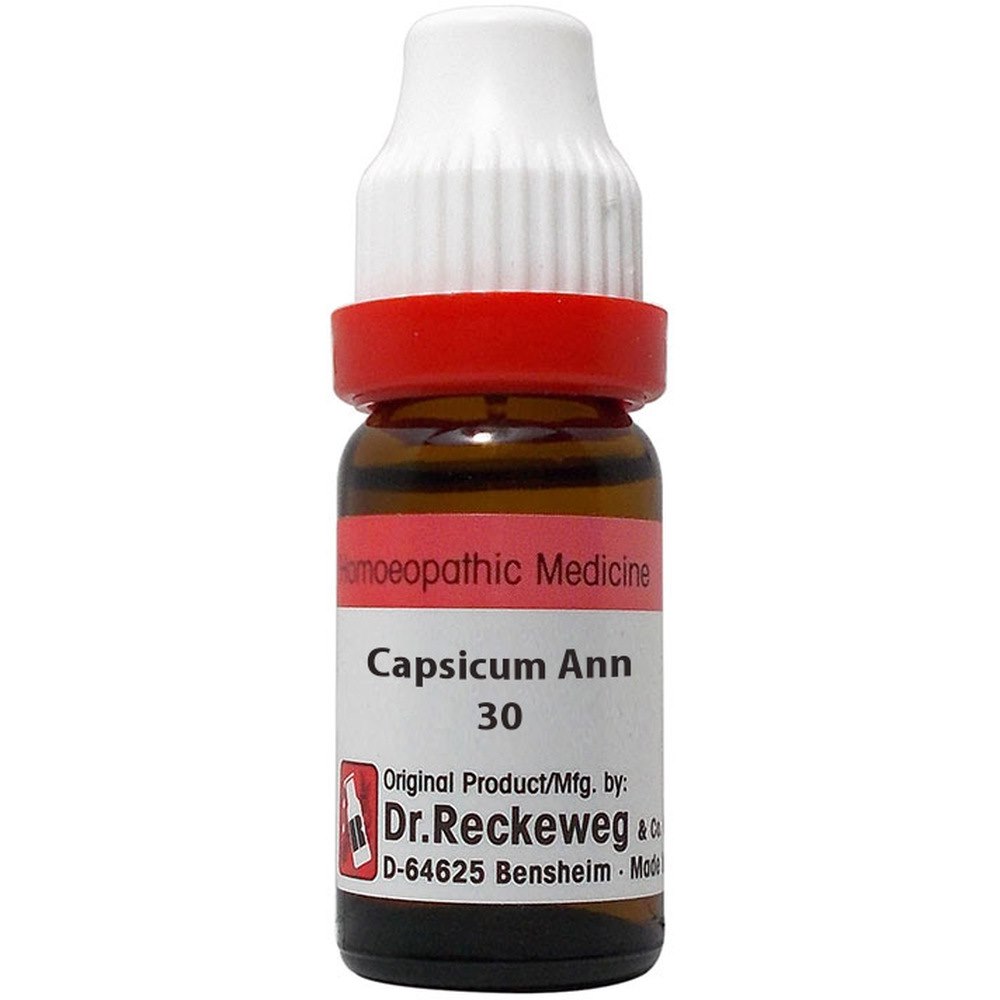 Dr. Reckeweg Capsicum Annuum 30 CH (11ml) : Sore throat, Hoarseness, ear infection, piles, homesick, alcoholics
Also known as
Cayenne Ann
Properties
Potency
30 CH
Form
Liquid
Weight
40 (gms)
Dimensions
3, 2, 3, and 7.4 millimeters
Dr. Reckeweg Capsicum Annuum
Common name: Pepper Cayenne
Causes and symptoms for Dr. Reckeweg Capsicum Annuum
Capsicum Annuum has a noticeable effect on sore throats, causing burning, smarting, and pain that radiates to the ears like pepper in the throat.
It is effective for smokers' and drinkers' sore throats, coughs that cause pain in various body parts, and chronic hoarseness that is accompanied by a constricted feeling, burning, and intense soreness.
Capsicum annum is effective in treating the prostration and poor digestion of alcoholics, as well as gastro-intestinal issues like dyspepsia, which is characterized by flatulence and a sinking feeling in the pit of the stomach, as well as dysentery, which is characterized by bloody, mucus-filled stools and trembling after each drink.
Indications for Capsicum Annuum include hemorrhoids with soreness in the anus, hemorrhoids that protrude and cause burning pain after urinating that feels like pepper was sprinkled on them, and hemorrhoids that cause drawing pain after bowel movements. It is also beneficial for homesickness that causes red cheeks and insomnia.
Myalgia, aching, and jerking muscles are all conditions that are treated by capsicum annum.
One of the treatments for inflammation of the petrous bone, it affects the mucous membranes and causes a feeling of constriction, making it suitable after the withdrawal of habitual alcoholics.
The best candidates for capsicum annum are older people who have lost all energy, especially through mental work and poor living, have bleary eyes, are unresponsive, fear even the smallest drafts, and have a clear propensity to suppurate in every inflammatory process.
Mind
NOSTALGIA is the desire for the past.
-HOMESICKNESS, characterized by flushed cheeks and insomnia.
-A sort of noble sadness with a sweet melancholy.
– Receptive.
– Unconfident when making new friends, but doesn't avoid them.
– Easy to offend.
-Illnesses resulting from intense emotion.
– Suppresses feelings.
– Absence of emotion.
– Resistance to anything that disrupts the status quo.
– Anxiety and depression
– Clumsy, indolent, eventually loses interest and craves stimulants.
-A body that is unclean.
– Apprehension about encountering the police, being in trouble, and criticism or censure.
– Hearing noises easily when cold.
– Unruly, intransigent kids.
– Drinking.
Generalities
– Chubby, overweight, and cold
– Pains that burn more when applying cold (Ars).
-Shivering to the core.
– Slow, worn out, and frail.
Absence of response
– Aims for the greatest results with the least amount of effort
– An aversion to motion that gets better.
Continued movement will be better.
– Cold is worse; heat is better.
– Ulcers
– Pain caused by coughing, anywhere.
beverages and food
– Want: coffee, alcohol, and pepper.
Head
– Hurting in the bursts and worse coughing.
Coughs while holding head on.
– A migraine that causes nausea and forgetfulness.
-Movement helps headaches; rest makes them worse.
Eye
– Eye watering and burning while coughing.
Ear
– A middle ear infection called mastoiditis with sharp pain.
– Ear infections that persist.
Nose
Red but cold; hot on the tip.
– Flu and cold symptoms, including burning and ferocious sneezing.
Face
Neuralgia is characterized by small, needle-like pains that run along the nerve and are made worse by touch and sleep.
– Air drafts make burning pains worse.
– Flushing, flushing, and diffuse redness.
– Tiny veins of redness on the cheeks and nose, similar to those in alcoholics.
Mouth
– Burning, particularly at the tongue tip.
A mouth infection known as stomatitis
Throat
– Inflammation that causes burning pain, dark redness, and coughing up more pain.
– An acrid voice.
– When you cough, hot, pungent air that tastes bad rises from your throat.
Stomach
– Burning discomfort is exacerbated by food.
— Acid reflux.
– A caffeine-induced nausea.
– Extreme thirst prior to, during, and following diarrhea and a chill.
Abdomen
– Colic that burps.
– Food pipe burning.
• Colitis
Rectum
– Face congestion and hemorrhoids.
– Rectal pain that is burning.
Tenesmus, or the persistent urge to urinate.
– Urging following a drink.
Bladder
Tenesmus, which causes frequent urination
– Coughing, burning in the urethral orifice, and increased urination.
Gender of a man
– Scrotum coldness, testicular atrophy, and loss of sensibility.
– Agonizing erections every night.
genitalia of women
– An irregular menstrual cycle accompanied by pain in the left ovary.
– Unrest in the climate.
Cough
Evening coffee makes things worse; cold water makes things better.
Back
– Sciatica, back pain.
– Coughing causes pain.
– Backwards descent of cold water feeling.
Extremities
– Coughing causes pain.
– After resting and beginning to move, stiffness gets worse; continued movement makes it better.
– Hip pain that radiates to the feet and gets worse when touched or coughed.
Sleep
Because of emotions, homesickness, and coughing, sleeplessness gets worse after midnight.
– Reminiscence-based dreams.
– While dozing off, as if dropping from a height (Thuja).
Skin
– Stitching, burning, and itching.
– Flabby
Side effects of Dr. Reckeweg Capsicum Annuum
Although there are no such side effects, it is still important to take each medication according to the instructions.
Even if you are taking other forms of medication, such as those obtained through allopathy, ayurveda, etc., it is safe to take the medication.
The effectiveness of other medications is never hampered by homeopathic remedies.
Dosage and rules while taking Dr. Reckeweg Capsicum Annuum
Three times per day, mix five drops in a half cup of water.
The globules can also be used as medicine; take them as directed by your doctor, usually three times per day.
We advise you to use medical advice when taking.
Precautions while taking Dr. Reckeweg Capsicum Annuum
If you take medication, make sure to wait 15 minutes between eating and taking it.
Consult a homeopathic doctor prior to use if you are pregnant or nursing.
While taking medication, refrain from consuming alcohol or tobacco.
Terms and Conditions
Homeopathic medicines have a variety of uses and are prescribed based on symptom similarity; it is assumed that you have sought medical advice before purchasing this medication and are not self-medicating.
Attributes
Brand
Dr. Reckeweg
Remedy Type
Homeopathic
Country of Origin
Germany
Homeo Forms
Dilution
Potency
30 CH / 30CH
Price
₹ 115