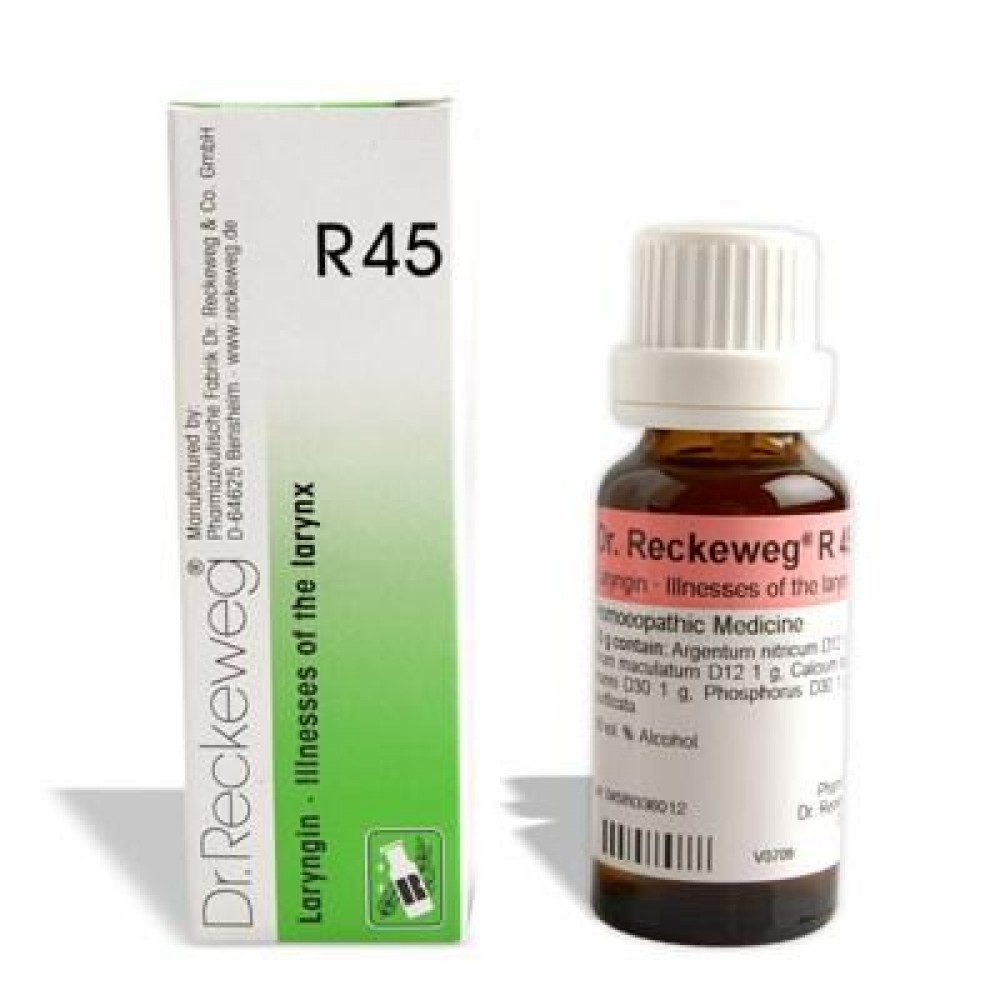 Dr. Reckeweg R45 Illnesses Of The Larynx Drops 22ml
DR. R45 RECKEWEG
Laryngeal illness causing hoarseness of voice
INDICATIONS
Hoarseness, which can affect actors, teachers, singers, and public speakers, as well as laryngitis with a wound-like sensation.
Can be used in conjunction with other medications to treat influenza, hysterical ball, laryngeal tuberculosis, and nervous system disorders.
Principal Ingredients' Mode of Action
Argentum nitricum: Specific action on the mucus in the larynx, lessens hoarseness and pains of the larynx (singers, teachers, actors, orators, etc.), and reduces catarrh of the larynx and irritation of the vocal chords which manifest after excessive stress on the voice.
Arnica: reduces inflammation and mitigates the effects of excessive stress and vocal chord injury.
Arum maculatum: reduces laryngitis, the feeling of a wound, and catarrh in the back of the mouth.
Calcium carbonicum Hahnemanni: Specifically indicated for non-painful hoarseness of the kind that occurs when nerves are paralyzed (Nervus recurrens).
In the aforementioned professions, this remedy is considered to be indispensable due to its quick and long-lasting efficacy as well as its ability to build up the larynx's defenses with continued use.
How to Use: * To treat a long-term condition, take 10-15 drops in a little water three times per day.
* Frequent doses, between 10 and 15 drops every five to ten to fifteen minutes, are advised in cases of hoarseness and excessive vocal strain.
Important Information: use as directed by a physician
Attributes
Brand
Dr. Reckeweg
Container Type
Bottle
Shelf Life
Long Life
Remedy Type
Homeopathic
Country of Origin
Germany
Form Factor
Drops
Suitable For
Veg / Vegetarian
Price
₹ 250