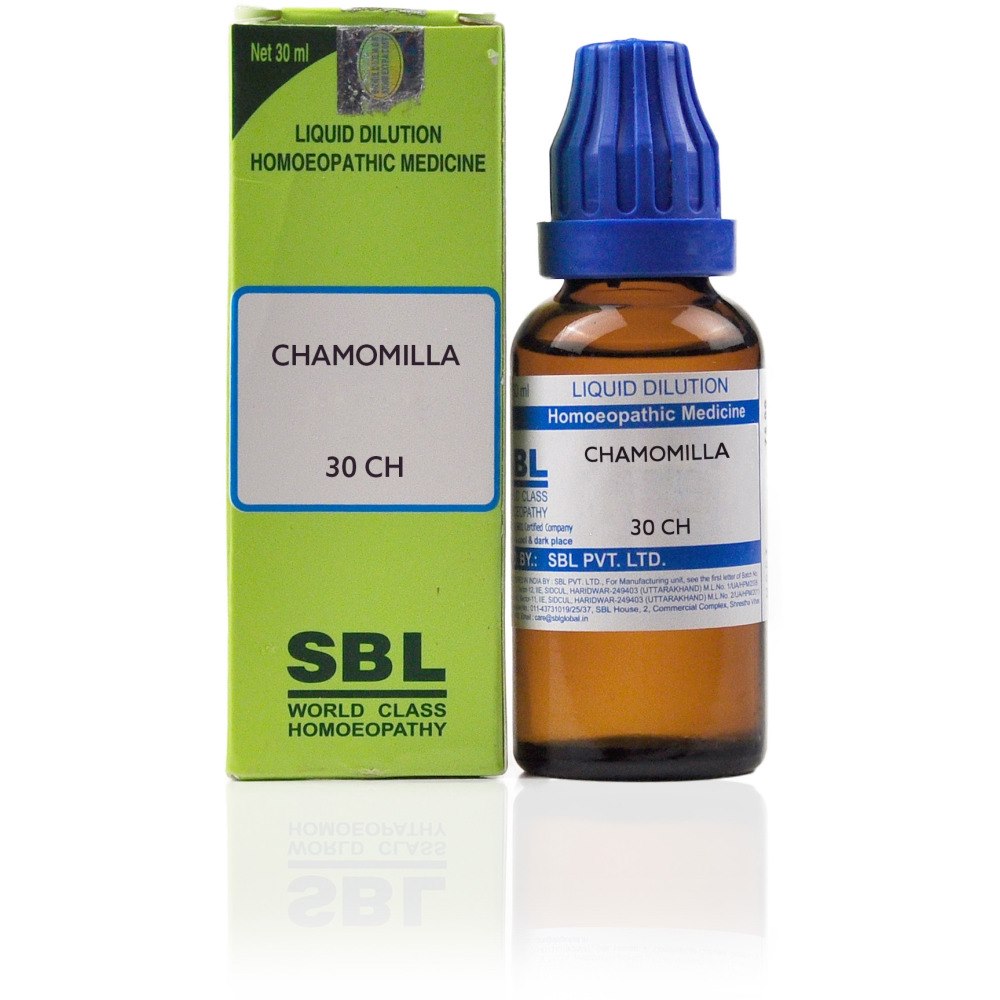 SBL Chamomilla 30 CH (30ml) : Children complaints, colic, toothache, Stiff joints, all pains, sciatica
Also known as
Cham
Properties
Potency
30 CH
Form
Liquid
Weight
82 (gms)
Dimensions
3.5 cm by 3.5 cm by 9.5 cm
CHAMOMILLA (German Chamomile)
The baby is very irritable, cross, and uncivil. Child cannot bear to be spoken to. Child may experience diarrhoea during dentition that is greenish, hot, and verrucous.
It is sensitive, irritable, thirsty, hot, and numb; sluggish and constipated bowels contra-indicate chamomilla; toothache caused by taking anything warm, on entering a warm room, taking coffee, and also during menses or pregnancy; toothache relieved in wet weather; pains are unbearable, associated with numbness; chamomilla also helps with earache in teething children; and child convulsions.
Chamomilla is also recommended for rheumatism and menstrual cramps, as well as for acidity, belching, dyspepsia, cramps, and other conditions brought on by anger.
Mind
– Nervous system irritability and anger.
– OVERSENSITIVE to outside stimuli (light, noise).
– VERY HIGH SENSITIVITY TO PAIN (Acon., Coff., Hep., Nux-v.).
– Irritated and aggressive when in pain.
Intractable pain.
– IRRITABILITY, aggressive rage.
– Whining, agitation, and whining.
– Short-tempered, impatient, and snappish.
– Irritable; sends nurse and doctor away; and engages in heated arguments.
-Intolerance for interruptions or speaking to.
– Resistance to touch and observation.
– Arbitrarily demanding something and then discarding it after receiving it.
– Delusions; believes that he has been vexatiously offended; and of offenses.
– Crying out in the night.
– Aversion to wind.
CHILDREN: CHILDREN
– Capricious (quick, erratic mood or behavior changes).
– Irritable and angry, and the kids want to be carried.
– During transport, kicks and stiffens.
– Disturbed.
Generalities
– Warm-blooded
– Night, DENTITION, wind, drugs, worse at 9 a.m. (9 p.m.).
With the exception of toothaches, warm applications are better.
– ANGER AND VEXATION-RELATED COMPLAINTS.
– Spasms and Cramps.
– After the mother becomes angry, nursing babies experience convulsions.
beverages and food
– Longing for cold beverages
Improved by coffee.
Head
– Morning headache made worse when I thought about it at 9 p.m.
Eye
– Disturbance.
– Clenched lips.
– Heat that burns.
Ear
– OTITIS MEDIA, which causes ear pain and inflammation.
Warmth helps the pain, while wind, noise, and touch make it worse.
Face
– ONE PALE, ONE RED CHEEK.
– Twitching and jerking.
– Headache and sweat that is very hot.
– Body is cold with a hot face.
– Sweat that follows a meal or beverage.
Mouth
– Is warm.
Teeth
– Difficult, painful dental work.
Pain is alleviated by drinking cold liquids; it is made worse by drinking warm liquids and eating warm food; by touching; by being in a warm environment; by coffee; and by being pregnant.
Stomach
– Hungry.
– Coffee aftertaste and drug withdrawal.
– A fit of colic.
Abdomen
– COLIC, flatulent, worse with touch, anger, and menstruation; improved by warm applications.
Rectum
– DIARSOM WHILE GETTING A DENTIST
– Stool hot, green like chopped spinach, and smelling like scrambled eggs.
genitalia of women
– DYSMENORRHEA: cramping and labor-like pains that radiate into the thighs (Xanax); worsened by rage.
– INTOLERABLE LABOR PAIN
– Excruciating afteraches.
– Cramps when a baby is nursing.
Respiration
– Spells that keep your breath.
– Anger-related asthma.
Cough
– A scratchy, irritating, dry cough.
– Worse between 9 and 12 o'clock in the afternoon and while you're sleeping.
– Croup, which causes breathing problems in children by inflaming the larynx and trachea.
Extremities
– REMOVES FOOTWEAR AT NIGHT.
– Nighttime rheumatic pains force you to get out of bed and go for a walk.
– Infants fist-pushing.
– In the afternoon, the ankles sag.
– Forearm numbness when grabbing something.
– Thumbs drawn in, arm cramps, and convulsions.
Sleep
– Unable to sleep due to heat and agitation.
– nightmares
Skin
– Biliousness following rage.
– Ragging on young children and nursing mothers.
– Nighttime scratching.
– Being excessively touchy.
Compl: Compl
aconite, belladonna, calcea carbonica, mag-carb, pulsatilla, sanicula, and silica.
Terms and Conditions
Homeopathic medicines have a variety of uses and are prescribed based on symptom similarity; it is assumed that you have sought medical advice before purchasing this medication and are not self-medicating.
Attributes
Brand
SBL Dilutions
Remedy Type
Homeopathic
Country of Origin
India
For Use By
Children
Homeo Forms
Dilution
Potency
30 CH / 30CH
Price
₹ 80