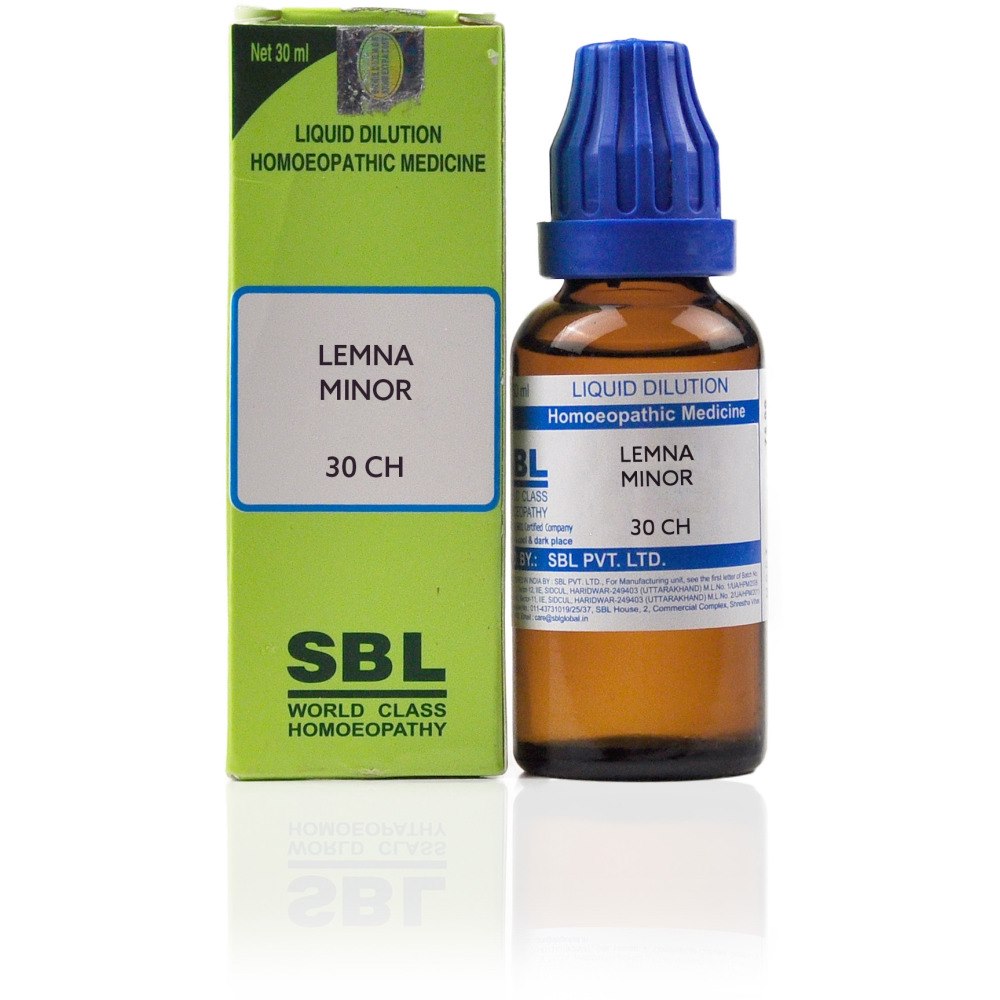 SBL Lemna Minor 30 CH (30ml) : Nasal Polyps, Breathing Difficulties, Dryness of Throat, bad breatht
Also known as
M Lemna
Properties
Potency
82 (gms)
Dimensions
3.5 cm by 3.5 cm by 9.5 cm
About SBL Lemna Minor (Dilution)
Common Name: Duckweed
Causes & Symptoms for SBL Lemna Minor (Dilution)
When complaints arise as a result of exposure to damp, chilly, or foggy weather, Lemna Minor can be helpful.
Wintertime nasal congestion
Lemna Minor treats rhinitis, which worsens in wet, rainy weather, especially heavy rains, and causes excessive sneezing and breathing problems.
Action of SBL Lemna Minor(Dilution)
Head: Reduces the daytime and nighttime restlessness that is present. Headache that is most common during rainy seasons.
Eyes: head-related discomfort
Nose: In cases of polyps, Lemna provides tremendous relief by shrinking the swelling, polyps in the nose, and nasal complaints related to diarrhoea. It reduces nasal obstruction, relieves abundant crusts and muco-purulent discharge from the nose, and reduces foul smell and taste in the morning after waking.
Throat: Intense laryngeal and pharyngeal dryness, along with a foul aftertaste.
Abdomen: Bowels moved freely and heated up in the anus, causing diarrhea and bowel pains that got worse after eating.
General: minimizes sensitivity to moisture.
Side effects of SBL Lemna Minor(dilution)
Although there are no such side effects, it is still important to take each medication according to the instructions.
Dosage and rules while taking SBL Lemna Minor (Dilution)
Three times per day, mix five drops in a half cup of water.
The globules can also be used as medicine; take them as directed by your doctor, usually three times per day.
We advise you to use medical advice when taking.
Interactions and Reactions of SBL Lemna Minor(Dilution)
When pregnant or when suffering from other serious illnesses, it should not be taken.
Most effective with
When used in polyps after Calcarea Carb, it produces positive results.
Terms and Conditions
Homeopathic medicines have a variety of uses and are prescribed based on symptom similarity; it is assumed that you have sought medical advice before purchasing this medication and are not self-medicating.
Attributes
Brand
SBL Dilutions
Remedy Type
Homeopathic
Country of Origin
India
Homeo Forms
Dilution
Potency
30 CH / 30CH
Price
₹ 90