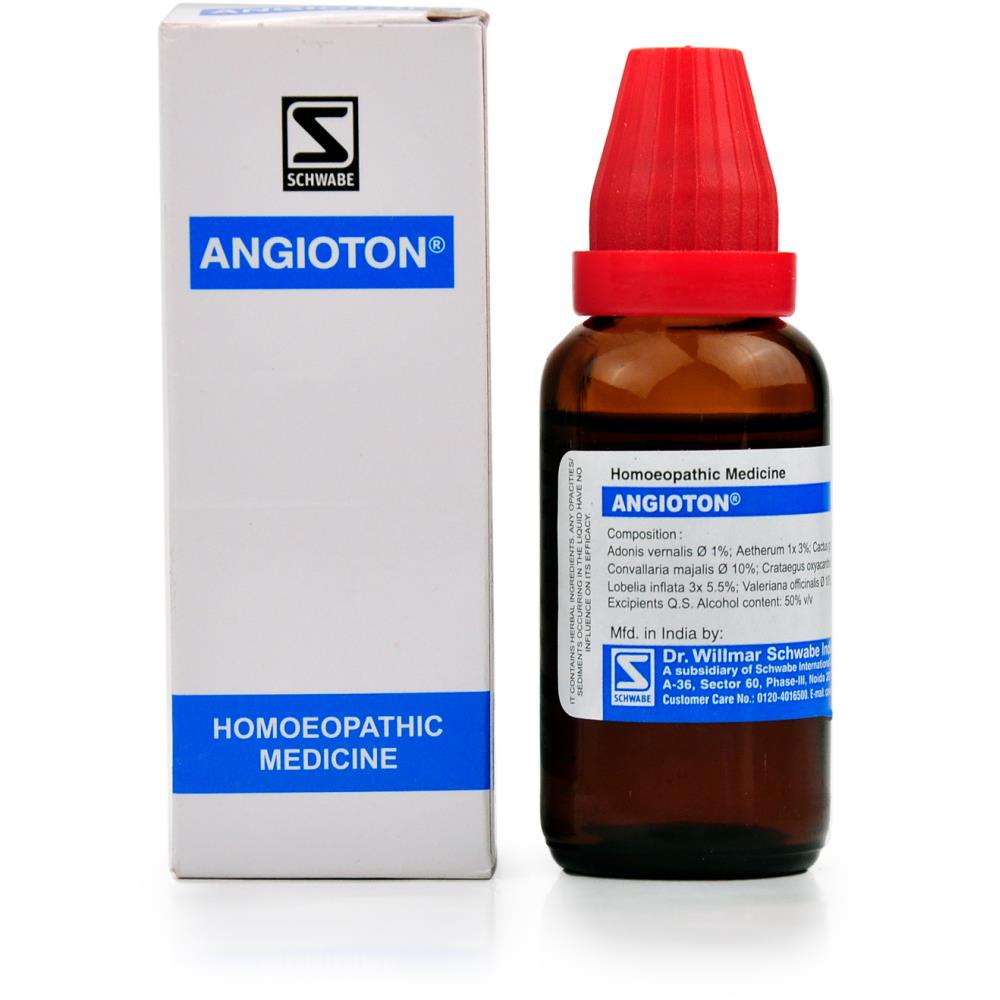 Willmar Schwabe India Angioton Drops (30ml) : Regulates Blood pressure, Hypotension, Palpitation, Weakness
Also known as
Angio
Properties
Form
Drops
Weight
90 (gms)
Dimensions
3,6,3, and 9,5 millimeters
About Angioton Drops
raises circulation while restoring blood pressure
regulates the heartbeat and strengthens the force of heart contractions
Precordial pain, palpitations, dyspnea, and vertigo upon rising are all indicated symptoms.
has a positive impact on cold extremities, a weak and low pulse, and venous stasis.
controls low blood pressure and serves as a vaso-motor stimulant.
Composition of Angioton Drops
10% ethanol
Cactus grandiflorus Q 3%: Oppressed breathing as if there were a weight on the chest. Constriction in chest. Chest pains, with suffocation, cold sweat, Constriction, very acute pains and stitches in the heart.
Convallaria majalis Q 10%: Dyspnea, an irregular, rapid heartbeat, and palpitations with minimal effort
Crataegus oxyacantha Q 50%: Cardiac dropsy, valvular affections with dyspnea, and other heart conditions are specifically treated with this herb because it affects the heart muscles.
Lobelia inflata 3x 5.5%: Feels as if heart is going to stop; chest pressure or weight; better with brisk walking.
Valeriana officinalis Q 10%: Irritability with regards to all complaints and choking while asleep.
50% by volume of alcohol in the excipient Q.S.
Direction of use
Dosage: Angioton® must be taken as directed unless otherwise specified by a doctor.
Before each meal, take 10–20 drops.
Half of the adult dosage should be given to children.
Note: Please be aware that this product contains alcohol if you are using it to treat children, women who are pregnant or nursing, or anyone who has serious liver or alcohol issues.
Side effects: Angioton® has no recognized side effects.
Contra-indications: Angioton® usage is not known to have any contraindications.
Interactions: Angioton® and other products do not appear to interact in any way.
Terms and Conditions
Before purchasing this medication, we have assumed that you sought medical advice and are not using it for self-medication.
Attributes
Brand
Dr. Willmar Schwabe India
Remedy Type
Homeopathic
Country of Origin
India
Form Factor
Drops
Price
₹ 155