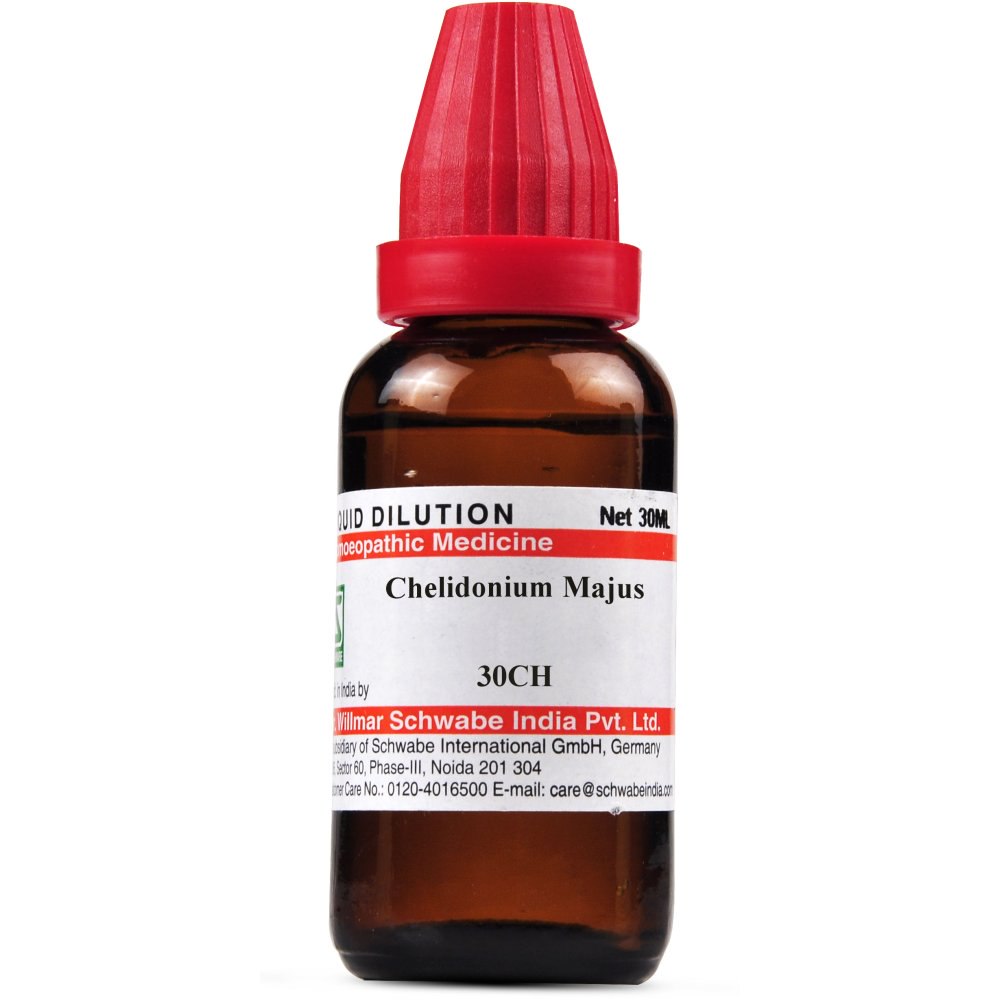 Willmar Schwabe India Chelidonium Majus 30 CH (30ml) : Jaundice, Warts and corns, ringworm, Loss of appetite, Nausea Vomiting
Also known as
CHELIDONIA M
Properties
Potency
30 CH
Weight
75 (gms)
Dimensions
3 x 3 x 9 centimeters
CHELIDONIUM MAJUS (Celandine)
Helps in jaundice where there is constant pain under the lower and inner angle of the right scapula, yellow-gray color of the entire skin, and sluggish liver with great fermentation and accumulation of gas in the abdomen. A CHELIDONIUM MAJUS has a prominent liver remedy, covering many of the direct reflex symptoms of diseased conditions of that organ.
Indications for CHELIDONIUM MAJUS include serous effusions, hydrocele, and bilious complications during pregnancy. Symptoms include constipation with hard stools that are round like a ball or resemble sheep's dung, alternate with diarrhea, and are brought on or renewed by changes in weather. Patients may also experience paralytic drawing and lameness in specific areas.
The lower lobe of the right lung is typically affected by pneumonia, which presents with dyspnea, quick and sharp inspiration, pain in the right side of the chest and shoulder on inspiration, and spasmodic cough with sputum production. Chelidoneum Majus is also useful in gall stone colic, which presents with sharp, lancinating pain in the gall bladder region, nausea, and bilious vomiting.
Mind
– Autocratic and in charge.
– Reliable and straightforward.
– Worry about other people.
– A delusion that he has damaged his health, coupled with fear.
Generalities
The RIGHT SIDE is worse.
– Change of weather at 4 a.m., 2 p.m., or 4 p.m.; cold, wet weather makes it worse.
– Improved through food.
beverages and food
– Craving cheese, dairy products, and hot beverages/food.
– Dislikes: Spinach and cheese.
Warm food, beverages, and milk are preferable.
Head
– RIGHT SIDE HEADACHE.
– Right eye discomfort.
– Pressing above the eyes that feels like a band; improved by closing eyes.
Eye
– Right side, worsening orbital neuralgia.
– A yellowish taint.
Nose
– Wings flapping.
Face
– Right side neuralgia extending into the teeth and eye; liver issue.
– Yellow
Mouth
– Yellow tongue with teeth-like traces.
– Astringent flavor.
Stomach
– Warm beverages, especially milk, relieve stomach pain;
Eating can provide temporary improvement (relief).
– Warm drinks are better for nausea and vomiting.
– Sewing a back pain extension.
Legs drawn up while lying on the left side of the body reduces cramping pain.
Abdomen
Gall-colic, acute hepatitis, jaundice, complaints about the liver and gallbladder.
Right hypochondrium pain extending to the right scapula.
Eat something, sit on a stool, drink something warm, and lie on your left side with your legs raised to relieve abdominal pain.
– Transverse pain that is present.
Rectum
– Diarrhea followed by periods of constipation.
Urine
– Yellow
genitalia of women
– Vaginal burning at the exact same hour every day.
Respiration
Dyspnea, or difficulty breathing.
– Inspirations that are brief and snappy.
– Rumbling
Cough
As if made of dust
– There is expectoration.
Little expectoration despite a lot of rattling.
– When coughing, mucus shoots from the mouth.
Chest
– Affected right lung.
– When moving, inhaling, or coughing, the stitching hurts more.
– Right-sided intercostal neuralgia that is worsening.
Back
– PAIN IN RIGHT SHOULDER'S INFERIOR ANGLE (Ferr-m, Sang C).
– Back pain that worsens with bending over.
Extremities
– ONE HAND OR FOOT IS COLD, the fingertips are cold.
– A DISCOLORATION OF YELLOW ON THE HAND PALMS.
– Lower limb rheumatism, particularly in the right ankle, is worse.
Sleep
on the LEFT SIDE of the room.
– Not energizing.
Dreams about wakes and bodies.
Fever
– Hands emitting intense heat that spreads throughout the body.
Skin
— JAUNDICE
Terms and Conditions
Homeopathic medicines have a variety of uses and are prescribed based on symptom similarity; it is assumed that you have sought medical advice before purchasing this medication and are not self-medicating.
Attributes
Brand
Dr. Willmar Schwabe India
Remedy Type
Homeopathic
Country of Origin
India
Homeo Forms
Dilution
Potency
30 CH / 30CH
Price
₹ 90