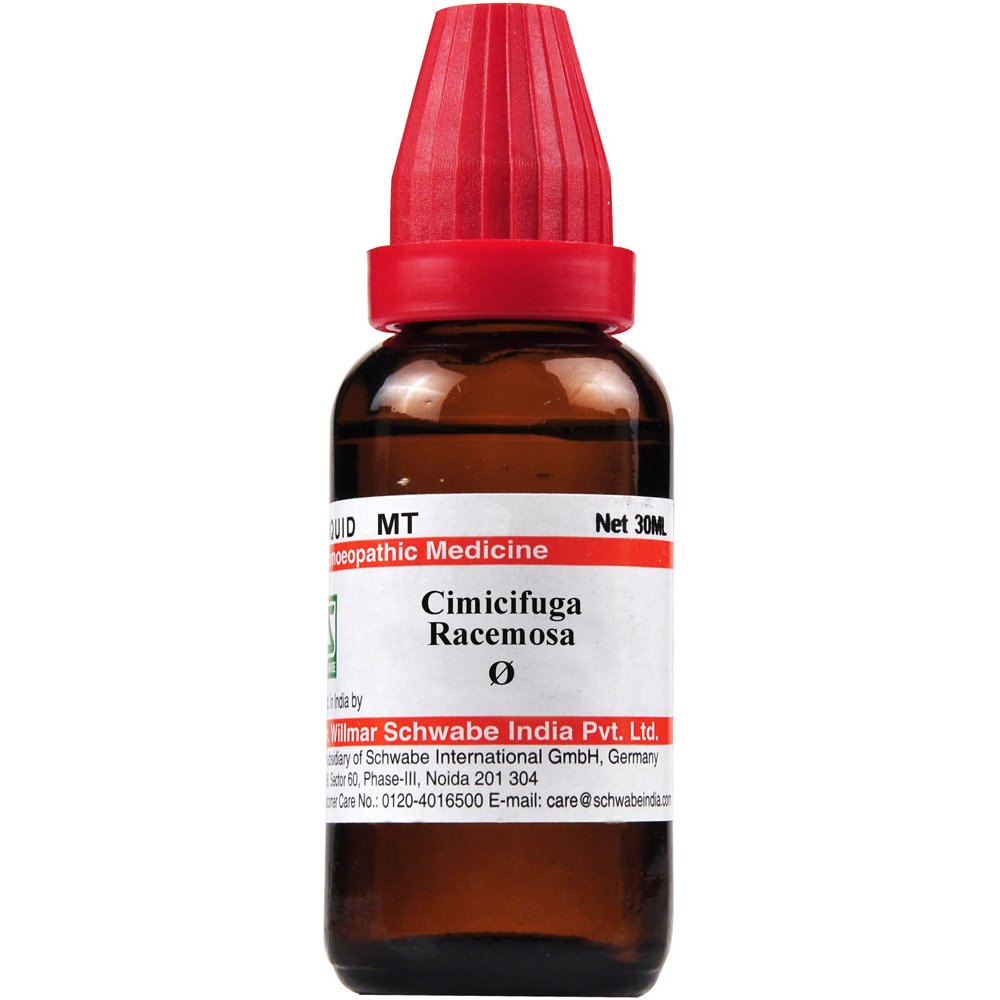 Willmar Schwabe India Cimicifuga Racemosa 1X (Q) Mother Tincture (30ml) : For Back pains, Colic, Cramps, Headaches, Menstrual disorders, Joint Pain
Also known as
Rac Cimcifuga
Properties
Potency
1X (Q)
Weight
75 (gms)
Dimensions
3, 3, 3, and 9.4 centimeters
Willmar Schwabe Cimicifuga Racemosa (Mother Tincture)
Actaea racemosa, also known as the black snake-root
Causes & Symptoms for Willmar Schwabe Cimicifuga Racemosa (Mother Tincture)
General
Cimicifuga Racemosa has a broad range of effects on the uterus, ovaries, and cerebrospinal and muscular systems.
It works particularly well for rheumatoid, anxious patients who have ovarian irritation, uterine cramps, and heavy limbs.
In nearly every area of the body, Cimicifuga Racemosa is characterized by muscular and cramping pains, which are typically of neurotic origin.
This treatment is indicated by anger and pain.
Migraine, sporadic electric-shock-like pains, and symptoms that could be linked to the pelvic organs, which are prominent in Cimicifuga Racemosa.
Mental
Cimicifuga Racemosa is characterized by severe depression and fears of being forced to jump out of a closed carriage.
Ears and the Head
After mental worry, excessive study, or a reaction to uterine disease, cimicifuga racemosa relieves shooting and throbbing headache pains.
This treatment is indicated by tinnitus and ears that are sensitive to even the slightest noise.
Eyes
Cimicifuga Racemosa is effective at treating eye pain that is both deep-seated and shooting, as well as photophobia brought on by artificial light.
It eases severe eye pain and head pain that radiates from the eyes to the top.
Stomach
Gnawing pain, a pointed tongue, and trembling are symptoms of Cimicifuga Racemosa, which relieves nausea and vomiting brought on by pressure on the spine and cervical region.
Female
It helps with amenorrhea complaints, including pain that radiates up and down the front of the thighs from the ovarian region.
Pain before periods is immediately relieved by cimicifuga racemosa.
Cimicifuga Racemosa is effective in reducing the frequency and severity of menstrual cramps that are heavy, dark, coagulated, offensive, and always irregular.
Cimicifuga Racemosa is the cause of ovarian neuralgia, which manifests as pain from hip to hip across the pelvis.
Respiratory
The herb cimicifuga racemosa alleviates coughs that are dry, short, spasmodic, dry, and accompanied by muscular soreness and nervous irritability as well as throat tickling.
Heart
A Cimicifuga Racemosa pulse is irregular, slow, and trembling.
It helps with left arm numbness and side-to-side binding.
Back
Cimicifuga Racemosa eases neck and back tension and stiffness.
It provides relief for rheumatic pains in the neck and back muscles, the lumbar and sacral region, the thighs, and the hips.
Extremities
Muscle ache and a general feeling of unease and restlessness in the limbs.
muscle belly rheumatism, especially with regard to large muscles.
Cimicifuga Racemosa is effective at relieving lower-extremity heaviness, aching, and pain.
Sleep
Cimicifuga Racemosa is indicated by children's lack of sleep and brain irritation during dentition.
Skin
For ivy poisoning, both externally and internally.
Aggravation
The worst times are early in the morning, when it's cold (aside from headaches), and when a woman is menstruating.
Amelioration
Warmth, improvement, and food.
Side effects of Willmar Schwabe Cimicifuga Racemosa (Mother Tincture)
Although there are no such side effects, it is still important to take each medication according to the instructions.
Dosage and rules while taking Willmar Schwabe Cimicifuga Racemosa (Mother Tincture)
Three times per day, mix 10 drops in a half cup of water.
We advise you to use medical advice when taking.
Terms and Conditions
Homeopathic medicines have a variety of uses and are prescribed based on symptom similarity; it is assumed that you have sought medical advice before purchasing this medication and are not self-medicating.
Attributes
Brand
Dr. Willmar Schwabe India
Remedy Type
Homeopathic
Country of Origin
India
For Use By
Women / Female
Homeo Forms
Mother Tincture
Potency
1X (Q) / Mother Tincture, 1X
Price
₹ 130