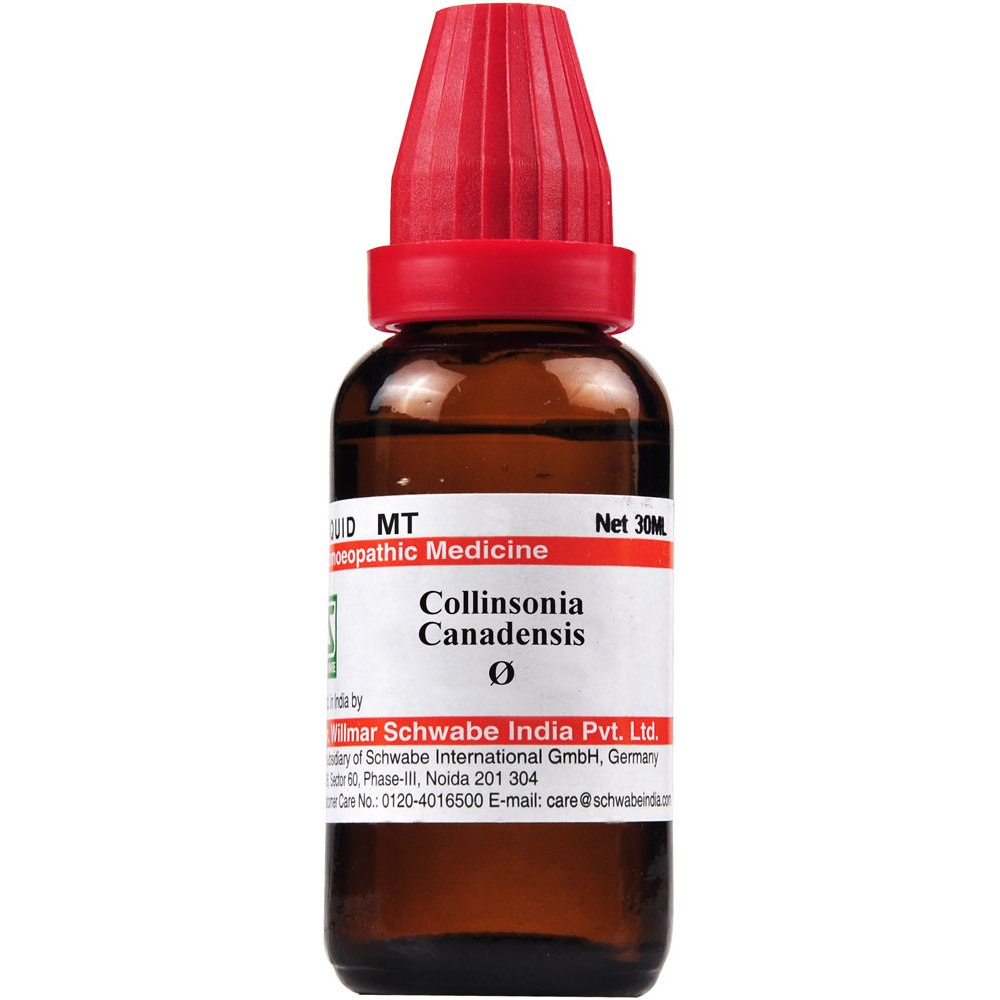 Willmar Schwabe India Collinsonia Canadensis 1X (Q) Mother Tincture (30ml) : For Bleeding piles, Colic, Pain during menses, Vaginal Itching, Numbness
Also known as
Can you say Collinsonia?
Properties
Potency
1X (Q)
Weight
75 (gms)
Dimensions
3, 3, 3, and 9.4 centimeters
Willmar Schwabe Collinsonia canadensis(Mother Tincture)
freshly made root tincture.
Common Name: Stone-root, richweed, and horsebalm.
Causes & Symptoms for Willmar Schwabe Collinsonia canadensis
It is an effective treatment for long-term catarrhal conditions, particularly those affecting the stomach, bowels, and bladder as well as the nose, pharynx, and larynx.
At night and in the early morning hours, the symptoms are worse.
Collinsonia is used in the treatment of dysmenorrhea, pelvic and portal congestion, menstrual pain, hemorrhoids, and piles.
Collinsonia is effective at treating hemorrhoids, particularly in the final trimesters of pregnancy.
The symptoms are made worse by even the slightest mental excitement or emotion.
Body and Mind
unmotivated and depressed.
Collinsonia is used to treat frontal headaches brought on by piles or constipation.
Collinsonia provides pain relief for bilious headaches.
Face and Mouth
Collinsonia treats tongue coating that is yellow at the base or center and has a bitter taste and decreased appetite.
Facial and lip flushing from heat.
belly and stomach
Having stomach pains and heat while vomiting, as well as sharp stomach cutting while seated.
nausea and flatulence associated with colic.
Anus and Stool
Collinsonia is characterized by colic and constipation.
This medication is indicated for chronic, painful, bleeding piles that feel like they have sand, gravel, or sticks stuck in them.
Continual pressure in the rectum, a dragging, heavy ache in the pelvis, and hard, lumpy, knotty stools are all symptoms of unmoved bowels for days.
With Collinsonia, bloated, bleeding, or protruding piles caused by constipation or even diarrhea can be relieved.
Anus swelling and burning or itching.
issues that men have
Exceptionally constipated and varicocele.
women's grievances
Hemorrhoids and pruritus vulvae, intense vaginal itching and swelling, and menstrual period redness.
Collinsonia helps to relieve genital discomfort while sitting.
stomach gas during painful periods.
issues with the heart
attacks of oppression and faintness that come and go and are worse with motion.
Collinsonia is characterized by palpitations in pile subjects that return after heart relief.
Generalities
Limbs become numb and feel pinched
Both knees are torn, and a dull frontal headache and leg pain while seated are also present.
Side effects of Willmar Schwabe Collinsonia canadensis
Although there are no such side effects, it is still important to take each medication according to the instructions.
Even if you are taking other forms of medication, such as those obtained through allopathy, ayurveda, etc., it is safe to take the medication.
The effectiveness of other medications is never hampered by homeopathic remedies.
Dosage and rules while taking Willmar Schwabe Collinsonia canadensis
Three times per day, mix 10 drops in a half cup of water.
We advise you to use medical advice when taking.
Precautions while taking Willmar Schwabe Collinsonia canadensis
If you take medication, make sure to wait 15 minutes between eating and taking it.
Consult a homeopathic doctor prior to use if you are pregnant or nursing.
While taking medication, refrain from consuming alcohol or tobacco.
Terms and Conditions
Homeopathic medicines have a variety of uses and are prescribed based on symptom similarity; it is assumed that you have sought medical advice before purchasing this medication and are not self-medicating.
Attributes
Brand
Dr. Willmar Schwabe India
Remedy Type
Homeopathic
Country of Origin
India
For Use By
Women / Female
Homeo Forms
Mother Tincture
Potency
1X (Q) / Mother Tincture, 1X
Price
₹ 195