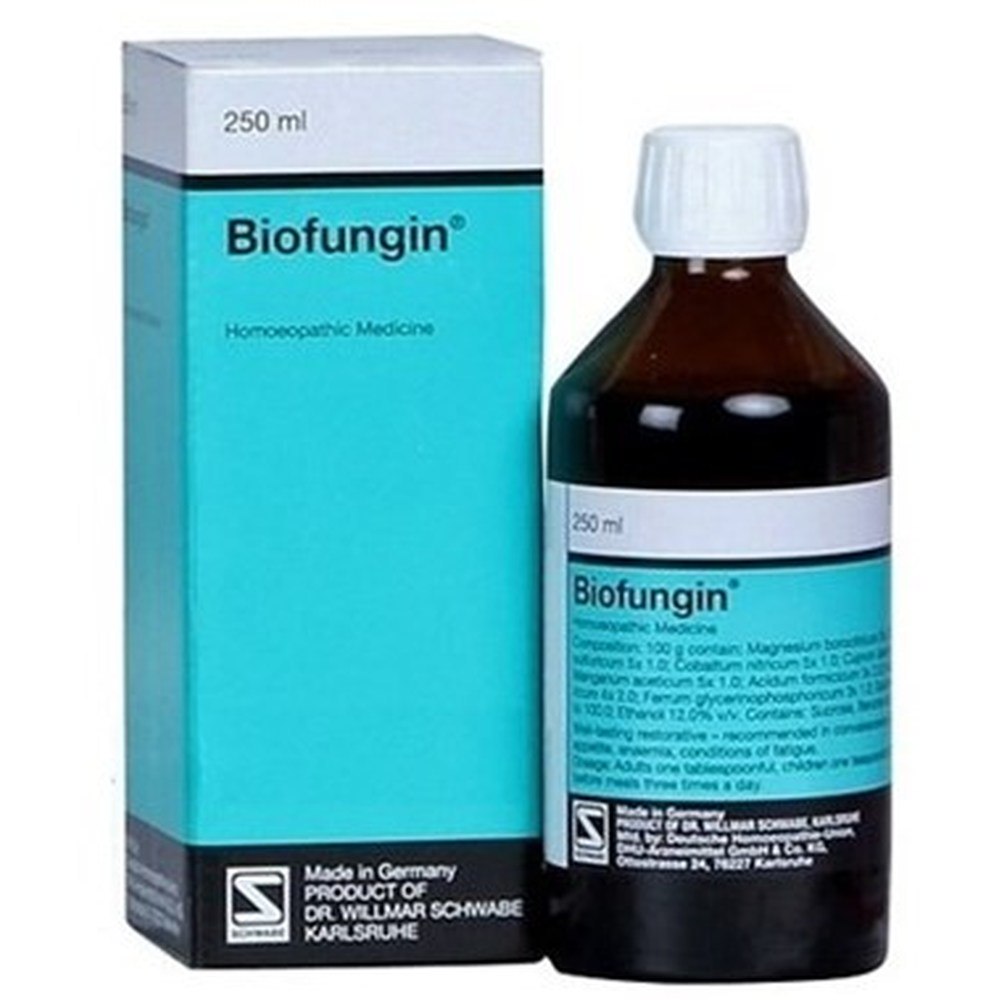 Willmar Schwabe Germany Biofungin (250ml) : Restorative Tonic in Lack of Appetite, Anemia, Fatigue, Sleeplessness
Also known as
Biofung
Properties
Form
Syrup
Weight
450 (gms)
Dimensions
Dimensions: 6.7 x 6.7 x 16.6 cm
About Biofungin
a delicious restorative tonic used to treat fatigue, anemia, and conditions causing loss of appetite while recovering from illness.
Composition of Biofungin
100 g include
5x 2.0 Magnesium Boron Citrate
5×1 zinco-sulfuric acid
5 times one cobalt nitrate
5×1.0 Cuprum Aceticum
5 times one manganum aceticum
Formicicum acidum 5x 2.0
Tartaric acid, 4 times 2.0
3 times one ferrum glycerinophosphoricum
Q.S. to 100.0 for excipients
Dosage/Direction for use of Biofungin
Adults: single tablespoon.
Children: three times a day, one teaspoonful 30 minutes prior to meals.
Action of composition used in Biofungin
Magnesium borocitricum: Numerous symptoms, such as nervousness, irritability, fatigue, sadness, anxiety, insomnia, cramping in the muscles or during menstruation, and trembling or twitching in the muscles, are all reduced.
Zincum sulfuricum: It helps with trembling, leg and arm cramps, and the nervous headaches that accompany weakness.
Cobaltum nitricum: Anxiety, depressive state with difficulty concentrating, poor memory, and trembling of hands are covered. It is claimed in homoeopathic literature to cause an increase of red corpuscles 12 and useful in anaemia.
Cuprum aceticum: It is recalled in cases of anemia, chlorosis, poor memory, and impaired mental abilities.
Manganum aceticum: It is recommended for people with general anemia and is helpful when menstruation is irregular, early, or scant.
Acidum formicicum: It is recommended for failing vision and helps with chronic muscle pain and soreness by boosting muscular strength and resistance to fatigue.
Acidum tartaricum: It is useful in paralytic debility, head confusion with dizziness, frequent yawning, and great weakness, dullness, and lassitude, as mentioned in literature.
Ferrum glycerinophosphoricum: A decrease in immune function, which increases susceptibility to infection, is also helped by increasing hemoglobin levels. These conditions are also indicated for children who are still developing socially and cognitively slowly.
Terms and Conditions
Before purchasing this medication, we have assumed that you sought medical advice and are not using it for self-medication.
Attributes
Brand
Schwabe Germany
Remedy Type
Homeopathic
Country of Origin
Germany
Form Factor
Tonic
Price
₹ 847