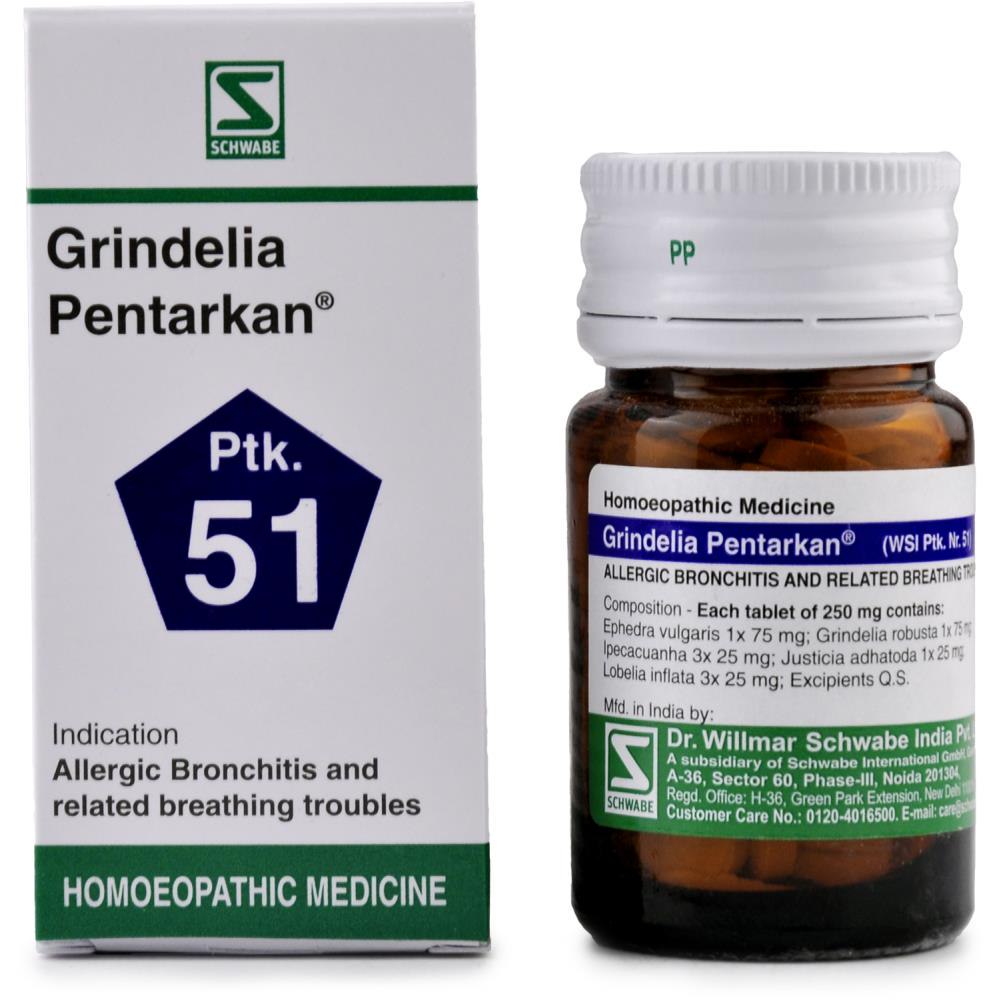 Willmar Schwabe India Grindelia Pentarkan Ptk 51 (20g) : Used in Asthma, Allergic Bronchitis, Wheezing, Dry Cough
Also known as
Grindingely Ptk
Properties
Form
Tablet
Weight
80 (gms)
Dimensions
4, 4, 4, and 7.7 millimeters
About Grindelia Pentarkan
in the event of allergic bronchitis and difficulty breathing
beneficial for expectoration, relaxation, and congestion
corrects alterations in metabolism
suppresses chest pressure and wheezing under a layer of thick mucus
Additionally recommended for dry cough, spasmodic cough, cough with nausea and vomiting, and persistent chest tightness
Composition of Grindelia Pentarkan
Each tablet of 250 mg contains:
Ephedra vulgaris 1x 75 mg: Congestion and headaches are frequently present together.
Grindelia robusta 1x 75 mg: When lying down, one cannot breathe.
Ipecacuanha 3x 25 mg: Each time you breathe in, you cough, and it's a violent, dry, spasmodic, constrictive, asthmatic cough that's constant and violent.
Justicia adhatoda 1x 25 mg: sternal area, spreading across the chest with a dry cough.
Lobelia inflata 3x 25mg: continuous coughing, accompanied by pain, and persistent difficulty breathing.
q.s. excipients
Direction of use of Grindelia Pentarkan
Dosage: It is recommended to take Grindelia Pentarkan (WSI) as follows unless otherwise directed by a doctor:
3 doses of 2 tablets per day are recommended.
Half the adult dose should be given to children between the ages of 6 and 12 years.
Side effects: Grindelia Pentarkan(WSI) doesn't have any known side effects.
Contra-indications: Children under the age of six should only use this product with a doctor's advice and oversight.
Interactions: Grindelia Pentarkan (WSI) and other products do not appear to interact with one another.
Terms and Conditions
Before purchasing this medication, we have assumed that you sought medical advice and are not using it for self-medication.
Attributes
Brand
Dr. Willmar Schwabe India
Remedy Type
Homeopathic
Country of Origin
India
Form Factor
Tablet
Price
₹ 170