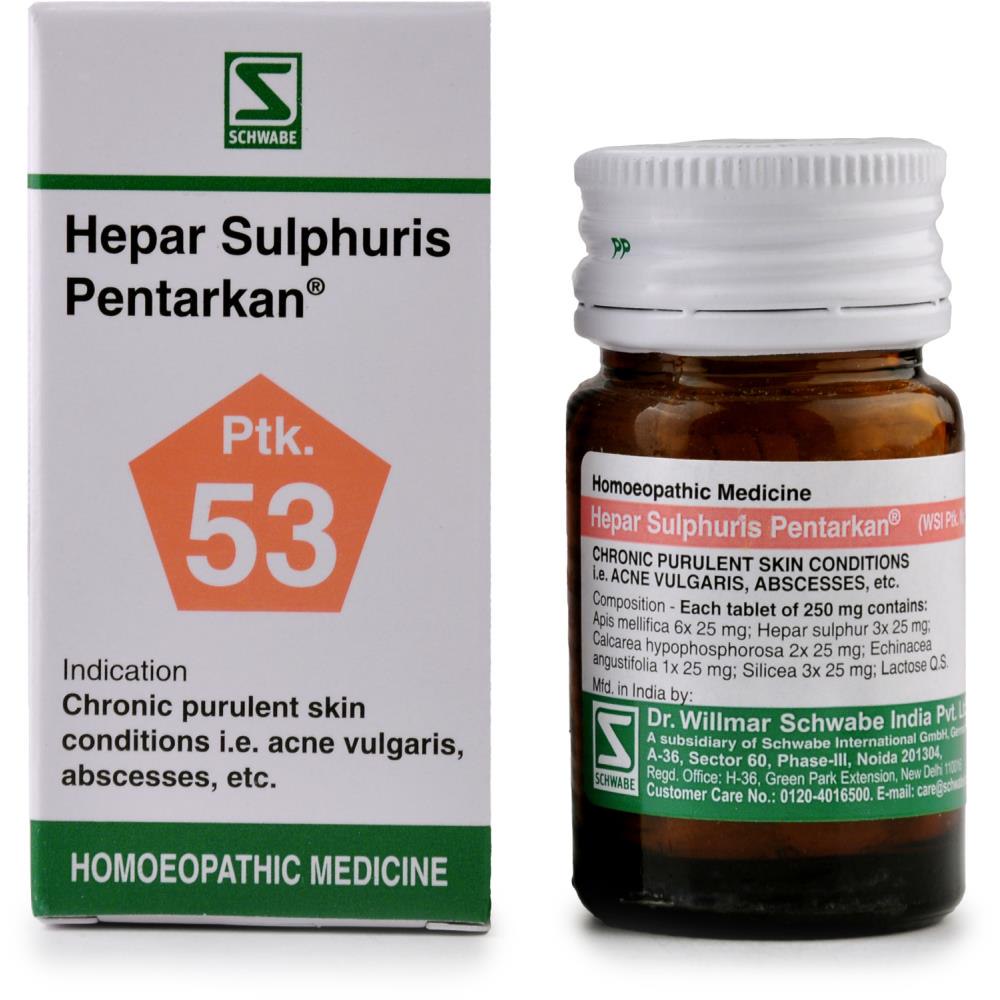 Willmar Schwabe India Hepar Sulphuris Pentarkan Ptk 53 (20g) : Reduces Acne, Pimples with Pustules, Painful Boils with Pus, Abscess
Also known as
Hepar Sodium Ptk
Properties
Weight
80 (gms)
Dimensions
4, 4, 4, and 7.7 millimeters
About Hepar Sulphuris Pentarknan
Promotes healthy skin and successfully treats acne and other inflammatory skin conditions
minimizes pus production
increases physiological function to support healthy skin
promotes abscess healing
Composition of Hepar Sulphuris Pentarknan
Each tablet of 250 mg contains:
Apis mellifica 6x 25 mg: After bites, there are swellings that are sore, sensitive, stinging, and carbuncle-like. The knees are also shiny, sensitive, sore, and swollen, and the feet are swollen and stiff.
Hepar sulphur 3x 25 mg: It is beneficial to treat burning body itchiness that results in white vesicles after scratching.
Calcarea hypophosphorosa 2x 25 mg: This medication works well to treat multiple abscesses that are located all over the body or near joints.
Echinacea angustifolia 1x 25 mg: Snake bites, as well as other types of bites and stings, can benefit from this.
Silicea 3x 25 mg: Boils that recur frequently and do not heal completely.
lactic acid Q.S.
Direction of use of Hepar Sulphuris Pentarknan
Dosage: If symptoms do not improve after taking the recommended dosage, see a specialist. Unless otherwise directed by a doctor, take 1-2 tablets three times daily. In acute conditions, take two tablets every hour for three days. For children, take one tablet three times daily.
Side effects: Hepar Sulphuris Pentarkan [WSI] doesn't appear to have any negative side effects.
Contra-indications: Hepar Sulphuris Pentarkan [WSI] does not appear to have any contraindications.
Interactions: Hepar Sulphuris Pentarkan [WSI] has no known interactions with other products.
Terms and Conditions
Before purchasing this medication, we have assumed that you sought medical advice and are not using it for self-medication.
Attributes
Brand
Dr. Willmar Schwabe India
Remedy Type
Homeopathic
Country of Origin
India
Form Factor
Tablet
Price
₹ 170