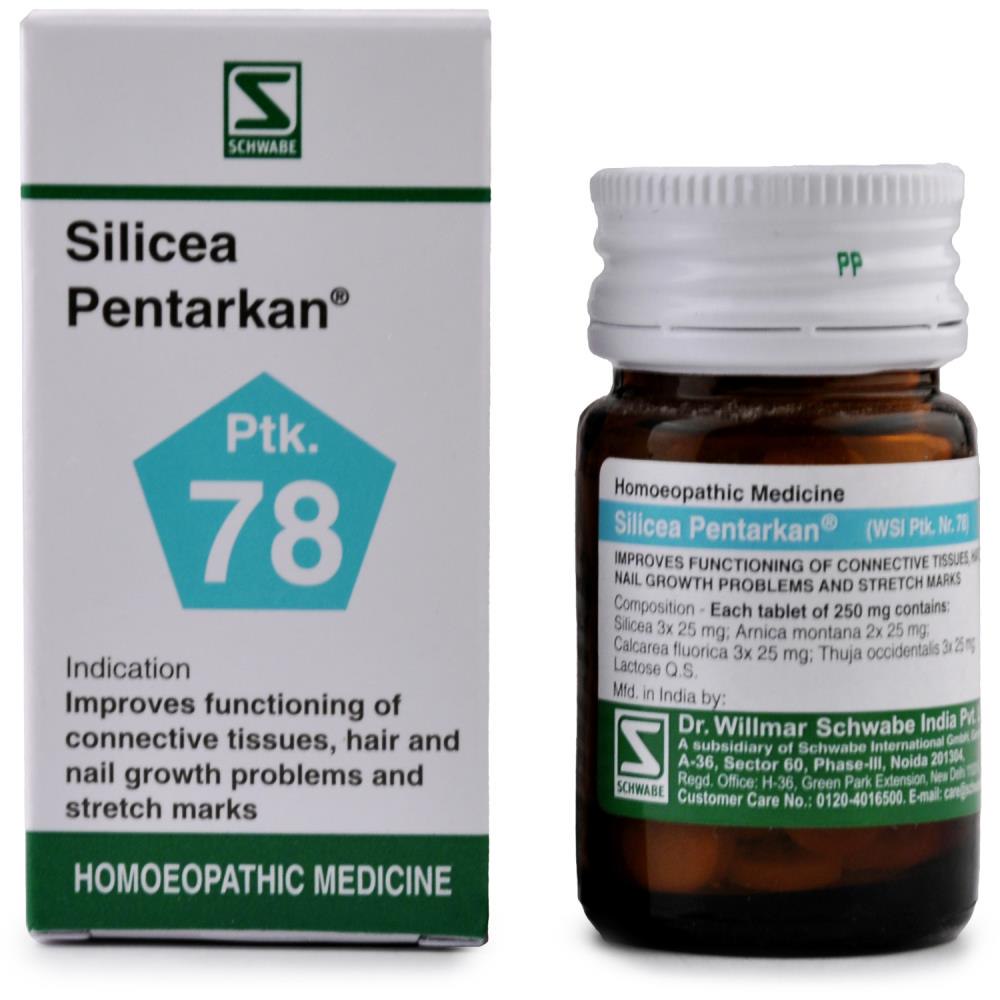 Willmar Schwabe India Silicea Pentarkan Ptk 78 (20g) : Helps Healing Wounds, Fistula Openings, Hair and Nail Growth Problems
Also known as
Ptk Silicea
Properties
80 (gms)
Dimensions
4, 4, 4, and 7.7 millimeters
About Silicea Pentarkan
In the event of post-delivery issues like skin loosening
following childbirth, distention marks
Organs that have moved downward
a lack of muscle
Obstacles to healthy hair and nails
Composition of Silicea Pentarkan
Each tablet of 250 mg contains:
Silicea 3x 25 mg: Even the smallest wound develops suppurations, sweating palms, hangnails, and a sensitivity to cold.
Amica montana 2x 25 mg: After traumatic injuries, overuse of any organ, strains, and injuries from falls, blows, or blows to the head, it is helpful.
Calcarea fluorica 3x 25 mg: When taken after operations, Calcarea Fluorica lowers the propensity for adhesions and alleviates skin whiteness, chaps, and cracks.
Thuja occidentalis 3x 25 mg: Very sensitive to touch, brown spots on hands and arms, eruptions only on covered parts, worse after scratching.
lactic acid Q.S.
Direction of use of Silicea Pentarkan
Dosage: If symptoms are not relieved after taking 1 to 2 tablets 3 times per day for a while, unless otherwise directed by a doctor, see a specialist.
Side effects: Silicea Pentarkan® [WSI] has no known adverse effects.
Contra-indications: Silicea Pentarkan® [WSI] has no known contraindications for use.
Interactions: The Silicea Pentarkan ® [WSI] product has no known interactions with other medications.
Terms and Conditions
Before purchasing this medication, we have assumed that you sought medical advice and are not using it for self-medication.
Attributes
Brand
Dr. Willmar Schwabe India
Remedy Type
Homeopathic
Country of Origin
India
Form Factor
Tablet
Price
₹ 170