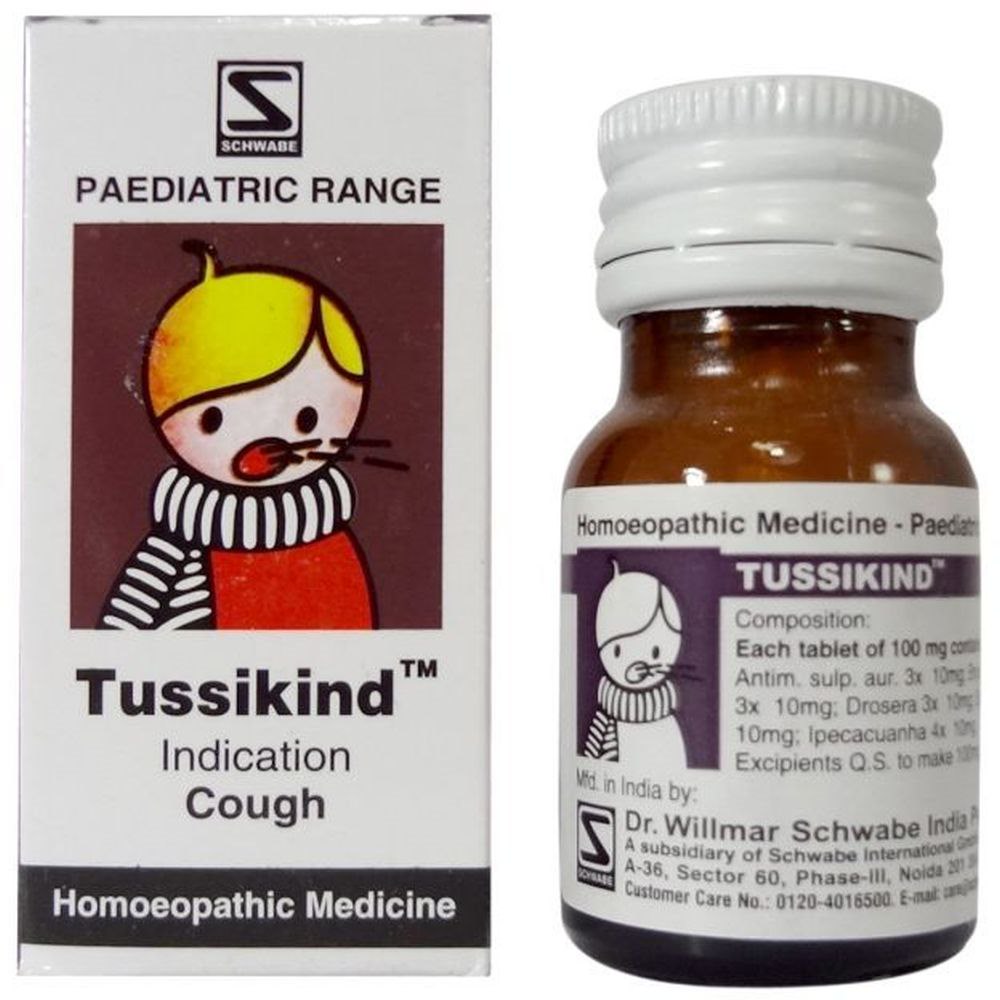 Willmar Schwabe India Tussikind (10g) : Relieves Dry Irritable Cough, Wheezing, hoarse voice
Also known as
Tussi
Properties
Form
Tablet
Perfect For
Baby & Children
Weight
60 (gms)
Dimensions
Measures 3.5 by 3.5 by 8 centimeters
About Tussikind
Children's congestion and coughing should be treated quickly and effectively
controls cough, encourages expectoration, and reduces laryngeal and tracheal irritation
reduces bronchial pressure and constriction, which releases congestion.
reduces the wheezing, hoarseness, and dysphonia symptoms
additionally reduces whooping cough spasms and early symptoms.
Composition of Tussikind
Antimonium sulphuratum aureum 3x 10 mg: A wonderful treatment for many types of bronchial and nasal catarrh that persists over time.
Bryonia alba 3x 10 mg: Dry, hacking cough from irritation; must sit up; worse after eating or drinking; accompanied by vomiting; accompanied by stitches in the chest; and expectoration of rust-colored sputum.
Drosera rotundifolia 3x 10 mg: Deep, hoarse voice, hoarseness, laryngitis, hoarse cough that gets worse after midnight, yellow expectoration that includes bleeding from the mouth and nose, and retching are other symptoms.
Spongia tosta 3x 10 mg: All air passages are extremely dry, and the cough is dry, barking, croupy, with a sensitive larynx and a weak chest that makes it difficult to speak.
Ipecacuanha 4x 10 mg: Continuous sneezing, coryza, wheezing cough, violent coughing with every breath, dyspnea, and throat constriction are all symptoms of cough, as are persistent nausea and vomiting.
q.s. excipients
Direction of use of Tussikind
Dosage: If symptoms do not improve, see a specialist. Unless otherwise directed by the doctor, take 1 to 2 tablets every hour, three times per day, for a prolonged period of time.
Side effects: We are not aware of any Tussikind side effects.
Contra-indications: It is unknown whether Tussikind has any contraindications.
Interactions: Tussikind and other products don't appear to interact with one another.
Terms and Conditions
Before purchasing this medication, we have assumed that you sought medical advice and are not using it for self-medication.
Attributes
Brand
Dr. Willmar Schwabe India
Remedy Type
Homeopathic
Country of Origin
India
Form Factor
Tablet
Price
₹ 115