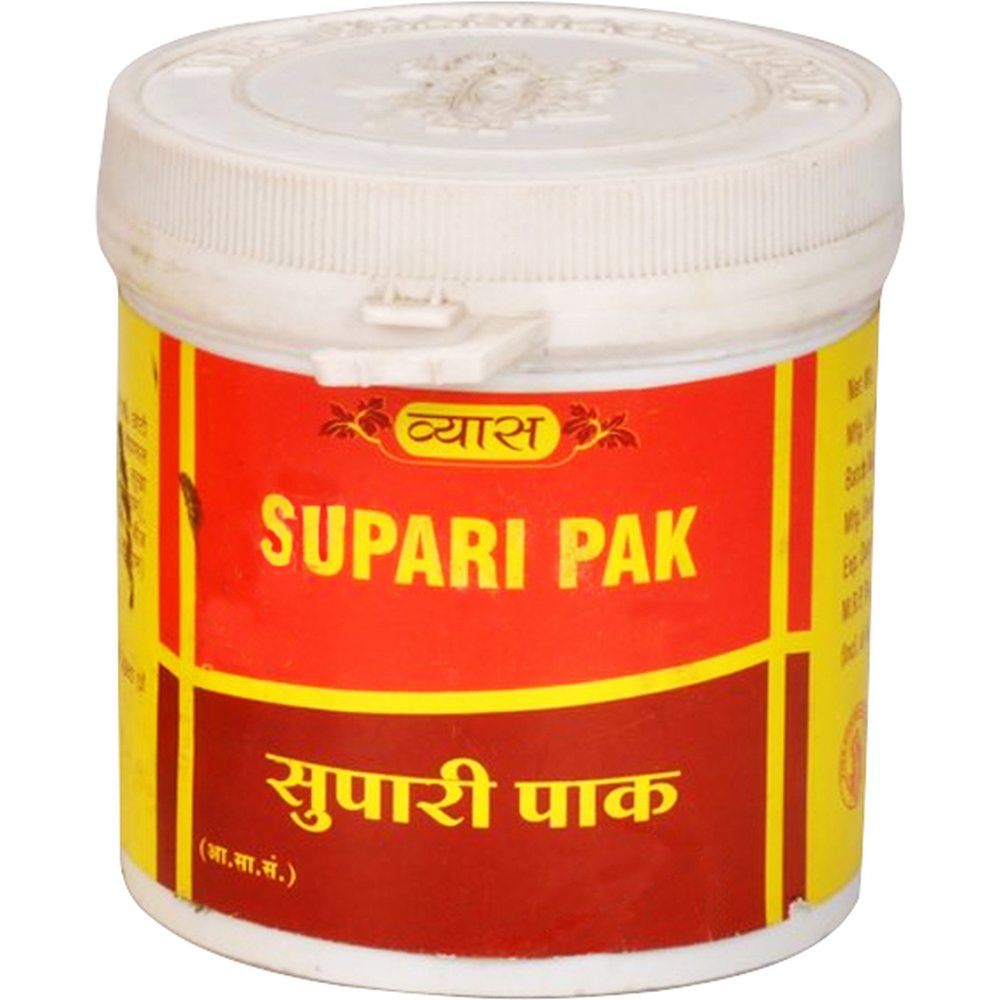 Vyas Supari Pak (100g) : Maintains Health of Female Hormones, Eases Menopause and Support Female loss of interest
Properties
Weight
130 (gms)
Dimensions
7, 7, 7, and 7.5 centimeters
About Supari Pak
Supari Pak is a balancing and revitalizing formula for the female reproductive system that works as an alternative, is indicated in leucorrhoea, and is used as an uterine tonic after delivery. It also gently maintains the healthy production of female hormones while relieving blood and abdominal congestion.
Supari Pak is a traditional remedy that has been used to treat leucorrhoea, as well as general physical weakness, facial paleness, and anaemia. It is a nervine tonic that also treats backaches, pain in the shins, anxiety, and uneasiness. It also relieves physical fatigue. Supari Pak can also be used by men to treat spermatorrhoea (the uncontrollable discharge of sperm).
Ingredients of Supari Pak
Betel nut: Supari – Areca Catechu
Animal Milk
Cattle ghee
Sugar
Elettaria cardamomum is known as Elaichi (cardamom).
Grewia Populifolia, found in Nagabala
Sida Cordifolia's Bala, also known as country mallow root
Long pepper, also known as pippali, is a plant.
Myristica Fragrans' Jaiphal (Nutmeg)
Bryonia Laciniosa's Shivlingi
The scent of mace is called Javitri.
Cinnamomum Tamala, also known as Tejpata (Indian Bay Leaf).
Abies Webbiana's Talispatra, also known as the Indian Silver Fir
Cinnamomum zeylanicum, also known as dalchini,
Zingiber Officinale, known as Sonth (dried ginger
Vetiveria Zizanioides, also known as Ushira or Khas
(Valeriana Wallichii) Tagara
Rotundus of Cyprus known as Mustak
Terminalia chebula's Haritaki, also known as the Chebulic Myrobalan
Bibhitaki, Terminalia Billerica (Beleric Myrobalan)
Emblica officinalis, also known as amla (Amalaki or Indian Gooseberry).
Vanshlochan, or "Bamboo Manna" or "Bamboo Internal Secretions," is a species of Bambusa Arundinacea.
Racemosus asparagus and shatavari
Purified Cow-Itch Plant Seeds are available as Shuddha Kaunch Beej (Mucuna Pruriens).
Vinifera munakka, or raisins
Talmakhana
Tribulus terrestris – Gokshura
The dates of Khajoor
Coriander is Dhania.
Kaseru
Mulethi, also known as yashtimadhu or licorice, is a plant.
Trapa Bispinosa Singhara, also known as the water chestnut
cumin (jeera)
Amomum Subulatum's Badi Elaichi, also known as black cardamom or nepal cardamom,
Trachyspermum Ammi Ajwain (Carom Seeds)
Kushba ke beej
Nardostachys Jatamansi is the scientific name for Jatamansi.
Foeniculum vulgare Seeds, also known as saunf (fennel seeds).
Trigonella Foenum-Graecum, also known as methi (fenugreek),
Pueraria tuberosa, also known as "Vidarikand,"
Safed Musli – Adscendent Asparagus
Withania Somnifera, also known as Indian ginseng, or ashwagandha
Kachur
Mesua Ferrea – Nagkesar
Black pepper, or Kali Mirch, is Piper Nigrum.
Buchanania Lanzan, also known as Charoli,
еа ее
Gajpippali – Official Scindapsus
Lotus Seed, Kamal Gatta (Nelumbium Speciosum)
White Sandalwood's Safed Chandan's Santalum album
Red sandalwood, or Lal Chandan (Pterocarpus Santalinus),
Syzygium Aromaticum, also known as Laung
R. Sindoor
Asma Bang
Bhasma Naga
LOHAH BHASM
Bhasma Abhrak
Deer Musk's Kasturi
Cinnamomum camphora, also known as kapur or kapoor, is a plant.
Medicinal Properties of Supari Pak
Astringent
Aphrodisiac
Antibacterial
Antispasmodic
Analgesic
Anti-inflammatory
Anti-fungal
Antioxidant
Adaptogenic
Enhancer of fertility
Anxiolytic
Indications of Supari Pak
The following situations call for the use of Supari Pak
Women's Health Conditions
Leucorrhoea
weak across the board
pelvic conditions and a low backache
Disease of Pelvic Inflammation (PID)
(Along with Ashwagandha) Recurrent miscarriage
Infertility
aging too soon or too soon
Men's Health Conditions
Discharged too soon or too soon
For raising effectiveness
physical sluggishness
Spermatorrhea
An erection problem
oligozoa and infertility
Benefits & Uses of Supari Pak
Supari Pak is a well-known ayurvedic medicine that is used to treat women's health issues, particularly for the management of leucorrhoea. It contains a number of ingredients that have antimicrobial properties, so it helps to get rid of infections of the reproductive organs. Additionally, it improves blood circulation to the pelvic organs and Supari Pak contains Loha Bhasma, which helps to increase hemoglobin level and blood formation. It also acts
Leucorrhoea
It has a soothing effect on the mucous membranes and provides relief from irritation, which helps to reduce associated inflammation. Supari Pak's antibacterial and antimicrobial actions eliminate the bacterial infections, so it helps to reduce all symptoms of irritation, white discharge, foul odor, and other unpleasant symptoms.
The following symptoms are also present in many women who have leucorrhoea.
Energy loss
Weakness
exhaustion following light work
headache
Leg and foot discomfort
small back pain
loss of enthusiasm for routine activities
Laziness
Anxiety
Vertigo
heavy head feeling
Along with leucorrhea, these symptoms are also diminished and eliminated by Supari Pak, which also maintains optimum health by regaining strength and energy.
Based on the predominant symptoms, additional medications may be needed, such as those listed below: Supari Pak alone can be effective in treating mild cases of leucorrhea.
Pelvic Inflammatory Disease (PID)
The most frequent cause of Pelvic Inflammatory Disease (PID) is bacterial infections; Supari Pak's antibacterial action eliminates the bacteria and prevents their growth; its anti-inflammatory action lessens swelling and restores the health of the pelvic organs; its antispasmodic action lessens pain in the lower abdomen and pelvis; and its astringent effects lessen offensive odor and discharge. When Supari is combined with Ashokarishta, it also helps to
Recurrent Miscarriage
The main treatment for recurrent miscarriage is Ashwagandha (Withania Somnifera), which is given with Misri (sugar) and cow's milk. For additional supports, Supari Pak is used to tone the uterine musculature and restore its natural functions. Recurrent miscarriage is thought to occur when the uterine musculature is unable to implant the fertilized egg appropriately. It occurs due to the weakness of the uterus and
Dosage & Administration of Supari Pak
teen (5 grams) (13 to 19 years old)
10 grams for adults
20 grams (divided) per day is the highest dosage possible.
With cow's milk twice daily
Side Effects of Supari Pak
If Supari Pak has caused you any discomfort despite there being no known side effects, kindly share your insightful feedback in the comments.
Pregnancy & Lactation
Supari Pak contains ingredients that are categorically forbidden during pregnancy and lactation and has an adverse effect on the reproductive system, particularly the uterus.
If you are using Supari Pak to treat infertility, you should stop using it two weeks before trying to get pregnant or after learning you are pregnant. If you skipped this step, you should stop using Supari Pak right away.
Terms and Conditions
Before purchasing this medication, we have assumed that you sought medical advice and are not using it for self-medication.
Attributes
Brand
Vyas Pharma
Remedy Type
Ayurvedic
Country of Origin
India
Form Factor
Pak
For Use By
Women / Female
Price
₹ 120