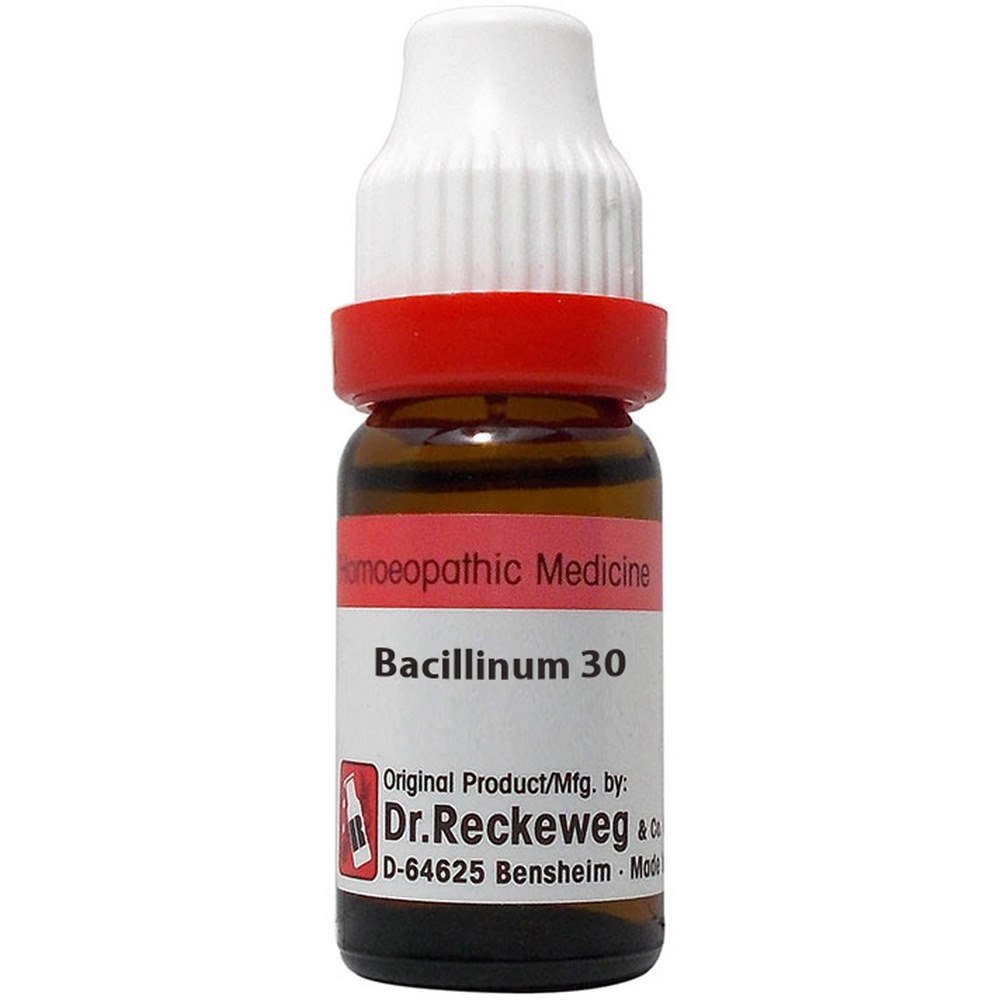 Dr. Reckeweg Bacillinum 30 CH (11ml) : Cough, teeth complaints, enlarged glands, ringworm, eczema
Also known as
Bacillin
Properties
Potency
30 CH
Form
Liquid
Weight
40 (gms)
Dimensions
3, 2, 3, and 7.4 millimeters
Dr. Reckeweg Bacillinum Burnett (Bacillinum)
Common Name: a no show
Causes & Symptoms for Dr. Reckeweg Bacillinum
The treatment of bloody vomit cough has been accomplished with the help of bacillinum.
Many chronic non-tubercular diseases, especially when bronchorrhoea and dyspnea are present, are positively influenced by Bacillinum. Respiratory pyorrhoea. The patient expectorates less. Its positive effects are visible in the change of the sputum, which becomes decreased, more aerated, and less purulent.
Suffocative catarrh, attacks of suffocation at night with a difficult cough, and chronic catarrhal condition in the lungs of elderly people with impaired pulmonary circulation are treated best with bacillinum.
teeth tartar tends to fall off more easily, and you have a cold all the time.
Head:
Depressed, irritable, and experiencing a severe headache that feels like a tight hoop.
Ringworm.
eyeslid eczema.
Abdomen:
abdominal discomfort, groin enlargement, and mesentery tumors
diarrhea that came on suddenly before breakfast.
annoying flatulence and obstinate constipation.
Respiratory:
Oppression.
dyspnea due to catarrh.
asthma brought on by humidity.
Rales that burble and expectoration that is muco-purulent.
Note: Bacillinum is truly indicated (Cartier) because it frequently relieves lung congestion, opening the door for other treatments for tuberculosis. This muco-purulent expectoration of bronchitic patients is equally poly-bacillary; it is a mixture of various species.
Skin:
Pityriasis; ringworm.
eyeslid eczema.
Neck glands are tender and enlarged.
Modalities:
Even worse are the cold morning and evening hours.
Side effects of Dr. Reckeweg Bacillinum
Although there are no such side effects, it is still important to take each medication according to the instructions.
Even if you are taking other forms of medication, such as those obtained through allopathy, ayurveda, etc., it is safe to take the medication.
The effectiveness of other medications is never hampered by homeopathic remedies.
Dosage and rules while taking Dr. Reckeweg Bacillinum
Three times per day, mix five drops in a half cup of water.
The globules can also be used as medicine; take them as directed by your doctor, usually three times per day.
We advise you to use medical advice when taking.
Precautions while taking Dr. Reckeweg Bacillinum
If you take medication, make sure to wait 15 minutes between eating and taking it.
Consult a homeopathic doctor prior to use if you are pregnant or nursing.
While taking medication, refrain from consuming alcohol or tobacco.
Terms and Conditions
Homeopathic medicines have a variety of uses and are prescribed based on symptom similarity; it is assumed that you have sought medical advice before purchasing this medication and are not self-medicating.
Attributes
Brand
Dr. Reckeweg
Remedy Type
Homeopathic
Country of Origin
Germany
Homeo Forms
Dilution
Potency
30 CH / 30CH
Price
₹ 125