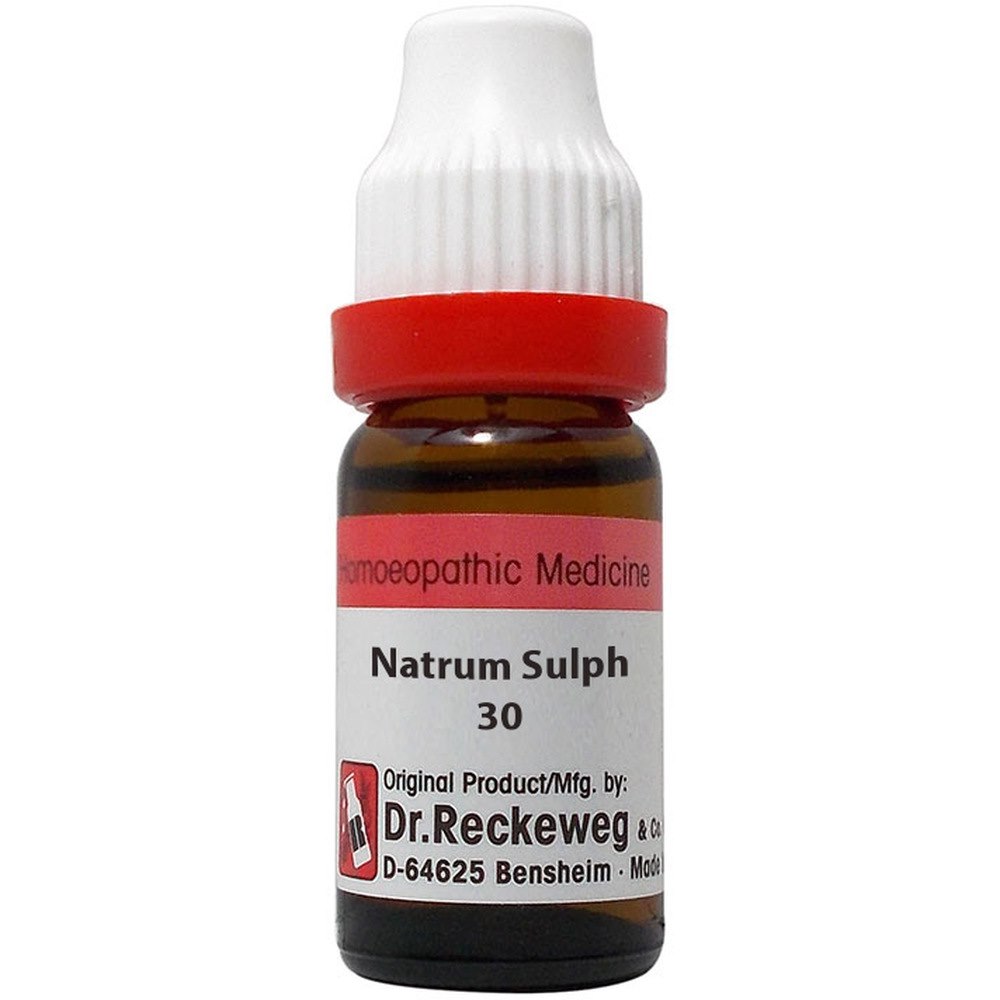 Dr. Reckeweg Natrum Sulphuricum 30 CH (11ml) : For Uric acid, Breathlessness, High Cholesterol, Dry skin, Swellings
Also known as
Natrum Sulphurica, Ns, Nat Sulph, and Nat Sulf
Properties
Potency
30 CH
Form
Liquid
Weight
40 (gms)
Dimensions
3, 2, 3, and 7.4 millimeters
Dr. Reckeweg Natrum Sulphuricum
Common Names: Glauber's Salt, Sal Mirabile, sodium sulfate, and soda vitriolata.
Causes & Symptoms for Dr. Reckeweg Natrum Sulphuricum
Natrum sulph eliminates extra water from the blood, maintaining normal bile consistency while regulating the flow of water and bile.
A sodium sulphate imbalance results in swelling of the tissues, dry skin, and watery eruptions. Natrum sulph is the water-removing tissue salt, which is helpful for water retention that occurs in the body.
Humidity-related breathing difficulties point to this treatment.
Natrum sulph may be used to treat head injuries' effects.
Detoxification is aided by its removal of toxic substances.
Natrum Sulph treats ailments related to gout, rheumatoid, pancreatic, liver, and kidney complaints.
The symptoms of jaundice, pancreatitis, kidney and pancreas problems, as well as high blood sugar, are all well indicated by natrum sulph.
It helps with gallstones, hiccups, and bitter belching.
This medication should be taken if you have bitter-tasting pregnancy vomiting.
It is recommended for hangovers, morning sickness, and cellulite and supports the hepato-biliary (LIVER), lymphatic, and colon systems.
Natrum Sulph is indicated by excessively yellow mucus, rattling coughing, and acute humid wheezing.
Minor back or joint pain is particularly common, as is downward-extending low back pain.
Natrum Sulph works well in cases of the flu, high body temperatures, and ague in all stages accompanied by vomiting and other bilious symptoms.
This salt is great for treating edema or any type of watery swelling in the body because it removes extra fluid from the body. It also works well with Nat Mur.
Natrum sulph has been used to treat warts and overgrown tissue in the past.
Aches and pains that are made worse by high humidity can be effectively treated with natrum sulph.
Head
It eases morning headaches when you first wake up.
Natrum sulph is indicated by convulsions brought on by head injuries.
Eyes
Natrum Sulph soothes burning in the eyes, which can occur sometimes in the morning and evening along with severe dryness or excessive lachrymation (accompanied by a discharge of burning water and decreased vision).
When you first wake up in the morning, it is especially recommended for photophobia, weak eyes, and dim vision.
Ears
It helps with right ear piercing pain, lightning-like stitches in the ear, discomfort moving from a cold environment to a warm one, discomfort in damp conditions, discomfort from living on wet ground, etc.
It relieves the ringing and tinkling in the ears that are caused by bells.
Nose
Coryza that makes it difficult to breathe due to a blocked nose.
Nose bleeding occurs before, during, and frequently after periods (in the afternoon).
Fluent coryza alleviates sneezing.
Teeth
It is recommended for toothaches that are relieved by smoking tobacco and cold air but still have looseness and a feeling of length.
toothache that is pulsating, throbbing, and agitated at night, made worse by warm beverages.
Natrum sulph is indicated by a toothache that is relieved by gargling with cold water.
Throat
Deglutition (the urge to swallow saliva) is painful and obstructed, and the uvula is inflamed and swollen. The throat frequently contracts while walking.
It relieves tonsil ulcers and causes relief for throat constriction, dryness, and mucus buildup that is worse at night and comes up in the morning.
Abdomen
It is exhibited by the hepatic region's painful sensitivity to touch, movement, or sudden jars.
Natrum sulph is indicated by a burning or digging pain in the abdomen during the evening hours of menstruation.
This remedy is very effective at treating flatulent colic, which is characterized by abdominal pinching that is worse before breakfast and better in the afternoon when flatulence is released.
Anus and Stool
Feces that are pressured and are hard and knotty and frequently contain blood and mucus.
It is recommended for chronic diarrhea, tuberculosis abdominalis, constant bloating and urges to urinate, after-stool burning, and itching of the anus.
The morning, after eating vegetables and other fibrous foods, and in the chilly evening air are all times when diarrhea is worse in wet weather.
urethral organs
It is useful when there is a lot of yellow or brick-like sediment in the urine that is frequently emitted.
It effectively relieves burning in the urethra, pain in the small of the back from urine retention, and both after and during urine emission.
the male genitalia
It stops the intense rubbing that occurs in the penis or the genitals (glans).
In the evening, sweat on the scrotum is a sign that this remedy is working.
feminine genitalia
It alleviates headache and epistaxis during menstruation in women who have scanty, delayed, colic-related, suppressed, or hard stools.
It is recommended for Leucorrhoea that is pungent, corrosive, inflamed, swollen, covered in vesicles the size of lentils, and filled with pus (following delivery).
breathing systems
It should be used if you have a dry cough that gets worse at night and gets better when you get out of bed and hold your chest with both hands. The cough should be triggered by tickling and have roughness in the trachea and your chest.
When sitting, when yawning, or during an inspiration, a loose cough with expectoration, shortness of breath, and a shooting pain in the left side of the chest are symptoms of natrum sulph.
Back and Neck
Nighttime stitches at the base of the neck, relief from neck and back pain.
Limbs
It relieves limbs' painful sensibility, which makes them feel worn out or bruised.
It helps Prostration, tiredness, and weary muscles, particularly in the knees.
Generalities
It is helpful for shooting, tearing, or jerking in limbs and other parts, especially at night and in the evening.
It provides back, side, and abdominal pain relief.
Natrum sulph controls trembling throughout the body and spasmodic muscle movements.
Skin
It is beneficial for itchiness, including itchiness in pimples that burn when scratched.
Natrum sulph is helpful for Eczema that is itchy while dressing, moist, and oozing profusely, as well as for wart-like, raised, red lumps all over the body.
Side effects of Dr. Reckeweg Natrum Sulphuricum
Although there are no such side effects, it is still important to take each medication according to the instructions.
Dosage and rules while taking Dr. Reckeweg Natrum Sulphuricum
Three times per day, mix five drops in a half cup of water.
The globules can also be used as medicine; take them as directed by your doctor, usually three times per day.
We advise you to use medical advice when taking.
Terms and Conditions
Homeopathic medicines have a variety of uses and are prescribed based on symptom similarity; it is assumed that you have sought medical advice before purchasing this medication and are not self-medicating.
Attributes
Brand
Dr. Reckeweg
Remedy Type
Homeopathic
Country of Origin
Germany
For Skin Type
Dry Skin
Homeo Forms
Dilution
Potency
30 CH / 30CH
Price
₹ 125