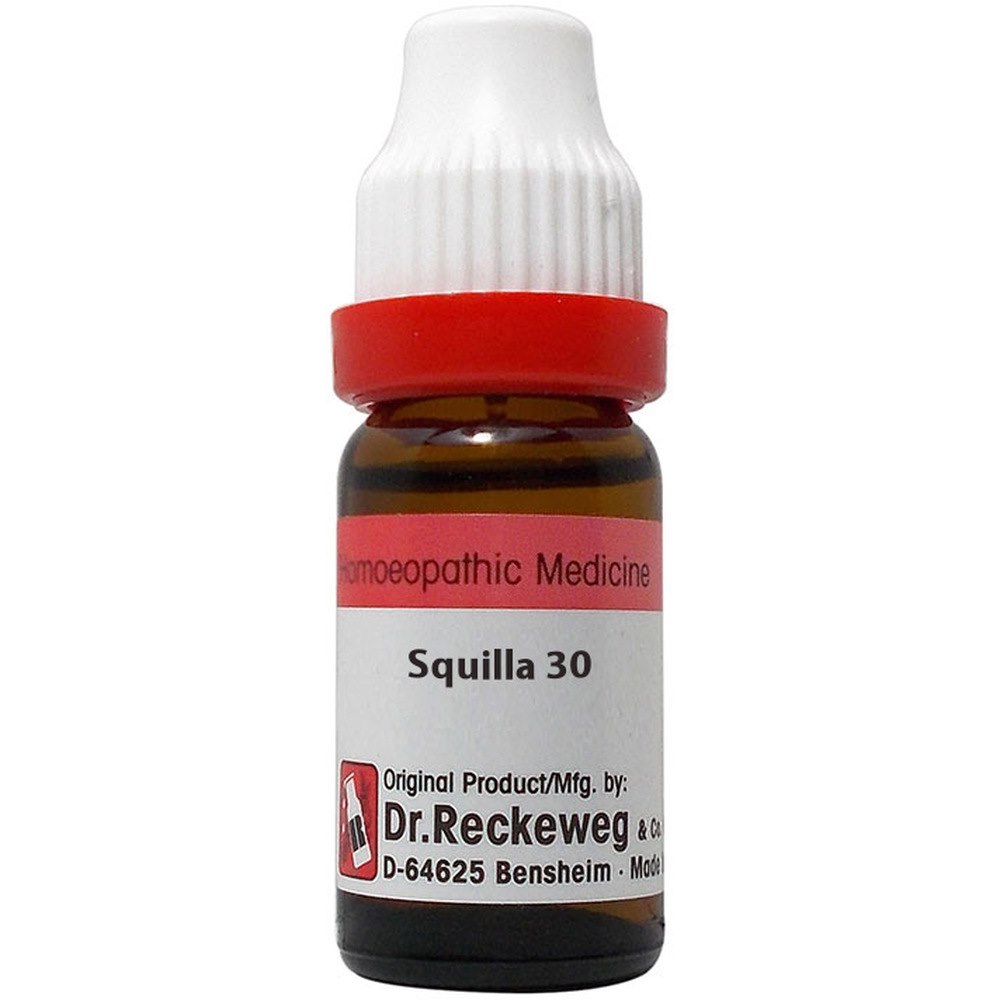 Dr. Reckeweg Squilla 30 CH (11ml) : Frequent urination, corn, wart, cough, standing pain, Difficult breath
Also known as
Squil
Properties
Potency
30 CH
Form
Liquid
Weight
40 (gms)
Dimensions
3, 2, 3, and 7.4 millimeters
Dr. Reckeweg Squilla(Dilution)
Common Name: Ocean onion
Causes & Symptoms for Dr. Reckeweg Squilla
This remedy has the quality of completely stopping sweating.
Stitches under the left free ribs; a spleen medicine with a slow onset of action.
vital kidney and heart medications.
Corns, warts, and ulcer complaints can benefit from it.
specifically affects the digestive and respiratory tracts' mucous membranes.
The tickling, creeping sensation in the chest as well as the spasmodic cough brought on by mucus in the trachea are relieved.
a heart stimulant that has an impact on coronary arteries and peripheral blood vessels.
Dyspnea, inability for the child to consume fluids, and evening dry cough with sweet expectoration
bladder issues
Urine spurts out during a hard cough, which also causes coughing, gag reflexes, and sneezing.
One of its crucial symptoms is colorless urine.
Squilla can be identified by frequent nighttime urination calls and large amounts of urine passed.
Extremities
Standing makes your feet hurt, and your hands and feet are freezing cold despite your body's overall warmth.
Generalities
The patient coughs so much that he starts to perspire.
Side effects of Dr. Reckeweg Squilla
Although there are no such side effects, it is still important to take each medication according to the instructions.
Even if you are taking other forms of medication, such as those obtained through allopathy, ayurveda, etc., it is safe to take the medication.
The effectiveness of other medications is never hampered by homeopathic remedies.
Dosage and rules while taking Dr. Reckeweg Squilla
Three times per day, mix five drops in a half cup of water.
The globules can also be used as medicine; take them as directed by your doctor, usually three times per day.
We advise you to use medical advice when taking.
Precautions while taking Dr. Reckeweg Squilla
If you take medication, make sure to wait 15 minutes between eating and taking it.
Consult a homeopathic doctor prior to use if you are pregnant or nursing.
While taking medication, refrain from consuming alcohol or tobacco.
Terms and Conditions
Homeopathic medicines have a variety of uses and are prescribed based on symptom similarity; it is assumed that you have sought medical advice before purchasing this medication and are not self-medicating.
Attributes
Brand
Dr. Reckeweg
Remedy Type
Homeopathic
Country of Origin
Germany
Homeo Forms
Dilution
Potency
30 CH / 30CH
Price
₹ 125