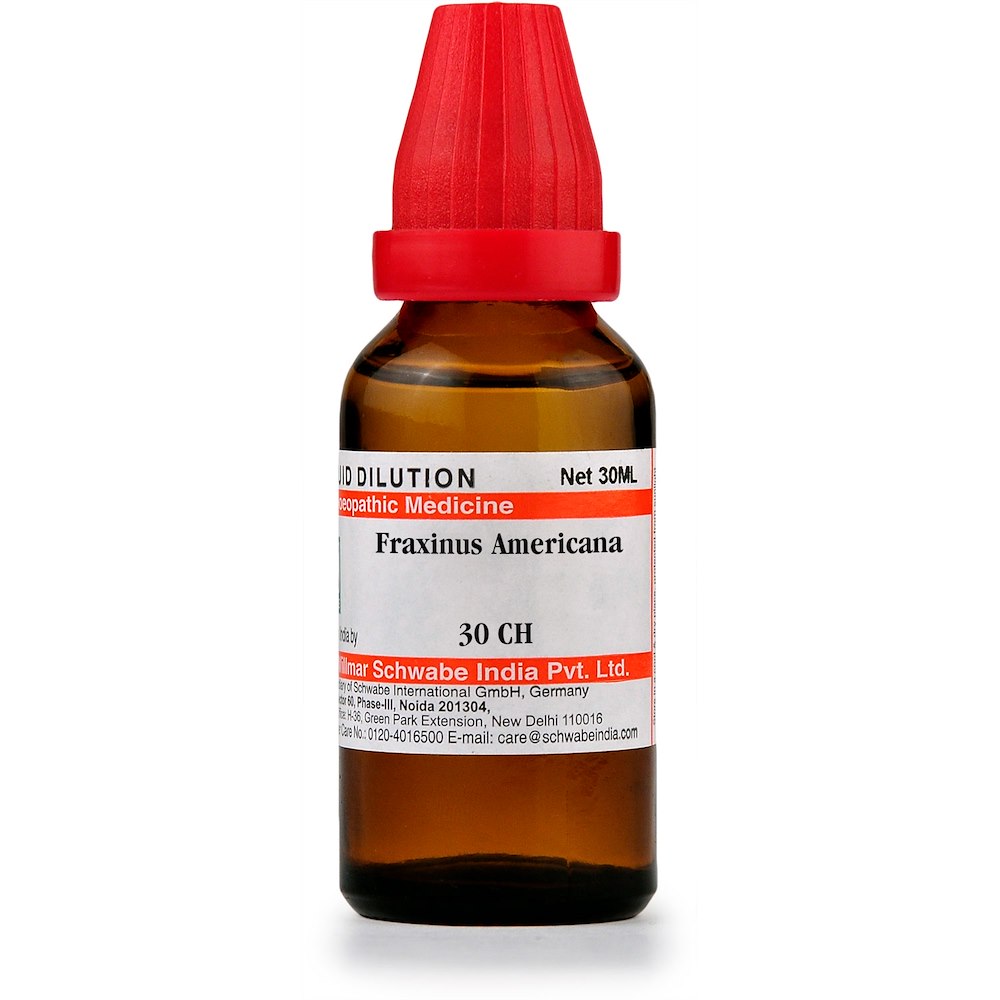 Willmar Schwabe India Fraxinus Americana 30 CH (30ml) : Reduces White discharge,Uterine inflammations, Urging to urine & Pain
Also known as
Ame Fraxinus
Properties
Potency
30 CH
Weight
75 (gms)
Dimensions
3-by-3-by-9.5 millimeters
Willmar Schwabe Fraxinus Americanus(Dilution)
The tincture is made using the bark.
Common Name: Black Ash and White Ash
Causes & Symptoms for Willmar Schwabe Fraxinus Americanus
When women complain of menstrual pain, associated headaches, and white discharge, it can help.
With the aid of Fraxinus Americanus, foot cramps and hot flashes can be successfully treated.
stomach pain that moves downward and causes sensitivity on the left side.
Head:
Constant headaches with throbbing pain in the top head and neck. Back of head and neck pain.
Fraxinus Americanus is an effective remedy for anxiety that is accompanied by nervousness and restlessness.
Face:
Patients exhibit sore lips along with an elevated body temperature.
Stool:
Fraxinus Americanus helps with constipated stools and alleviates abdominal fullness.
Urine:
Brown and sluggish urine
When there is a constant urge to urinate and no relief when it is passed, Fraxinus Americanus is helpful in easing the complaints.
Concerns raised by women
Fraxinus Americanus helps to alleviate the pain and heaviness experienced in the uterus.
Patients who require Fraxinus Americanus have drooping lower abdominal pains with significant weight, white discharge that does not itch, irregular lochial or menstrual discharge, and other symptoms.
With the aid of this medication, the feeling of hardness extending into the vagina is lessened.
Fraxinus Americanus is helpful for an enlarged uterus that feels like it is pressing down.
Sleep:
It is recommended for people who have sleep problems, wake up at midnight, dream about being scared, and have ongoing fear.
Side effects of Willmar Schwabe Fraxinus Americanus(Dilution)
Although there are no such side effects, it is still important to take each medication according to the instructions.
Dosage and rules while taking Willmar Schwabe Fraxinus Americanus
3 times a day, mix 5 drops with 1/4 cup of water.
The globules can also be used as medicine; take them as directed by your doctor, usually three times per day.
We advise you to use medical advice when taking.
Terms and Conditions
Homeopathic medicines have a variety of uses and are prescribed based on symptom similarity; it is assumed that you have sought medical advice before purchasing this medication and are not self-medicating.
Attributes
Brand
Dr. Willmar Schwabe India
Remedy Type
Homeopathic
Country of Origin
India
Homeo Forms
Dilution
Potency
30 CH / 30CH
Price
₹ 90