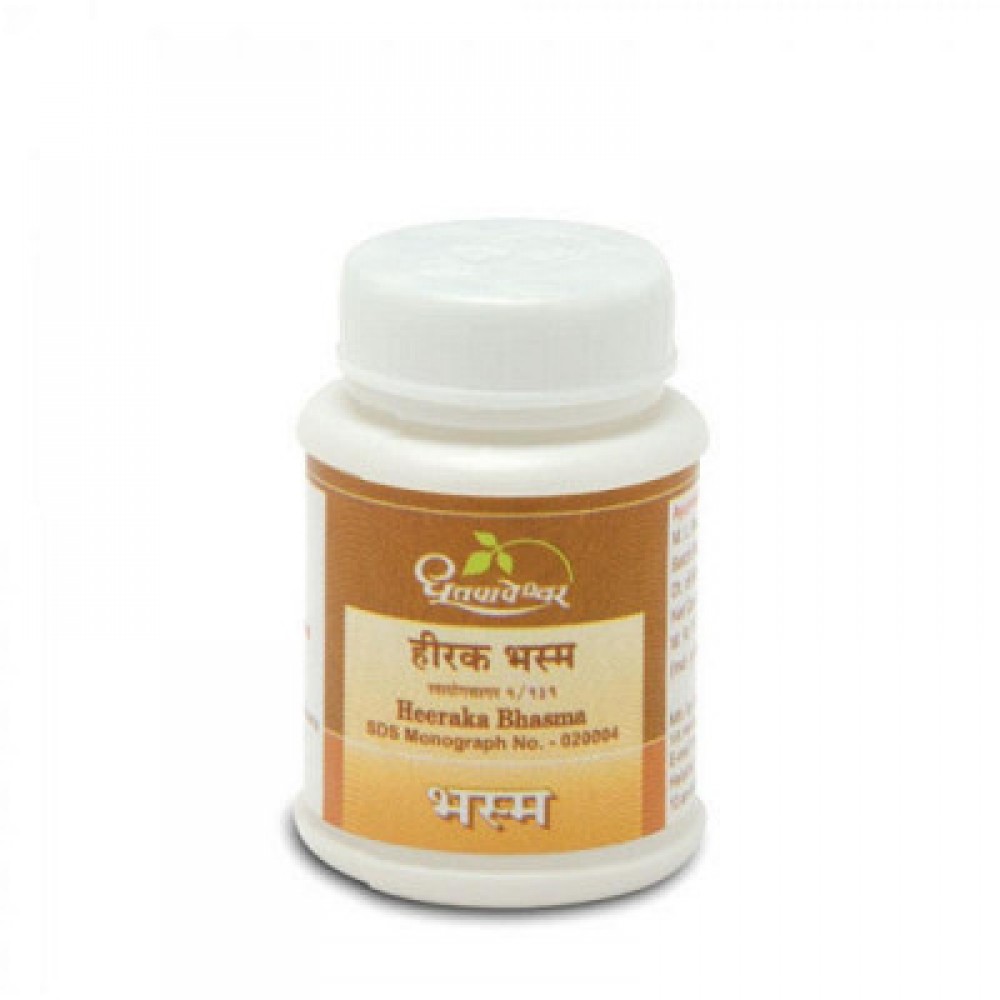 Dhootapapeshwar Heerak Bhasma (500mg) : Indicated In Internal Abscess, Tumor, Cancer, Angina Pectoris And Tuberculosis.
Hira(Vajra)Bhasma is an ayurvedic calcined medicine that has immunomodulator, anodyne, antimicrobial, antibacterial, anti-inflammatory, and anticancer action in the body. It also goes by the spellings Heerak Bhasma, Hirak Bhasma, Vajra Bhasma, Hira Bhasma, and Heera Bhasma or Diamond Bhasma.
Heerak Bhasma's Therapeutic Qualities
The following describe the healing qualities of Hira(Vajra)Bhasma.
Anticancer
Anti-mutagenic
Antianginal
Immunomodulator
Rejuvenative
Adaptogenic
Antioxidant
Anti-stress
Aphrodisiac
Anodyne or analgesic
Antibacterial
Antimicrobial
Antiviral
Anti-inflammatory
Anti-Obesity
Antitussive
Antiulcerogenic
Demulcent
Red blood cell production is aided by hematogenic substances.
heart elixir
Heerak Bhasma's medicinal applications
Hira(Vajra)Bhasma is used in conjunction with Swarna Bhasma and other ayurvedic medications to treat a variety of diseases; its primary indications are to increase immunity, improve the action of other medications, and remove toxin obstructions.
PECTORIS ANGINA
cardiac block
Cardiovascular Disease
Atherosclerosis
a poor state of mind
infirmity of the body
Fertility issues and impotence
Tuberculosis
Metastasis and Cancer
Obesity
Vertigo
Fistula
Urinating frequently
Diabetes
Anemia
illnesses of the abdomen
Mental Illnesses
Ankylosing spondylitis
Insufficiency of Bone Marrow
Heerak Bhasma's Health Advantages and Medical Uses
Hira(Vajra)Bhasma improves immunity, longevity, body strength, and general well-being. It balances all three Dosha and corrects metabolism. Using Hira(Vajra)Bhasma in the treatment of chronic diseases speeds up the healing process and improves action of the other medications given for the treatment. Therefore, it can be given to all patients with acute as well as chronic diseases.
Impact on the Mind
Many traditional ayurvedic doctors use the following combination of herbs to enhance children's mental abilities. Hira(Vajra)Bhasma effects on the mind begin to show after its consistent use for 4 to 8 weeks. It improves alertness, memory, attention span, and intelligence.
Vajra (Hira) Bhasma-1 mg
5 mg of Swarna Bhasma
10 mg of Manikya Pishti
10 mg of Raupya Bhasma
100 mg Mukta Pishti
Powdered Brahmi 100 mg
Licorice powder, 100 mg, Yashtimadhu (Mulethi)
PECTORIS ANGINA
Hirak Bhasma is the drug of choice in ayurveda for angina pectoris because it improves blood flow to the heart muscles, lessens chest pain, and even works in the acute phase of angina pectoris.
Hira(Vajra)Bhasma-4mg
Pushkarmool-250mg
125 mg of Shring Bhasma
1 teaspoon of honey
Metastasis and Cancer
The following ayurvedic combination is frequently beneficial for cancer when combined with other ayurvedic medications because it inhibits metastasis and helps with cancer.
Heerak Bhasma Administration & Dosage
Hira(Vajra)Bhasma can be taken in doses as low as 1.25 mg and as high as 10 mg twice daily.
newborns: 0.5 to 1.25 mg
for kids, 1 to 2.5 mg
2.5 to 6.25 mg for adults
Adults: 6.25 to 8 mg (in severe cases)
1-2 mg during pregnancy
elderly patients: 2.5 to 6.25 mg
The maximum dosage is 16 mg (given in divided doses) per day or per 24 hours.
Heerak Bhasma's safety precautions
There have not been any negative effects associated with using Hira(Vajra)Bhasma on a consistent basis, making it Possibly Safe.
There are no side effects noted when Hira(Vajra)Bhasma, Swarna Bhasma, etc., are used in full dosage treatment therapy for cancer patients for up to a year.
Only those who are strictly under a doctor's care should take this medication.
Using this medication on oneself could be hazardous.
Gastritis and serious side effects may result from overdosing.
Follow the doctor's advice and take this medication exactly as directed, for a short time.
Maintain a distance from children's eyes and reach.
Keep the items in a cool, dry area.
Attributes
Brand
Dhootapapeshwar
Remedy Type
Ayurvedic
Country of Origin
India
Price
₹ 4