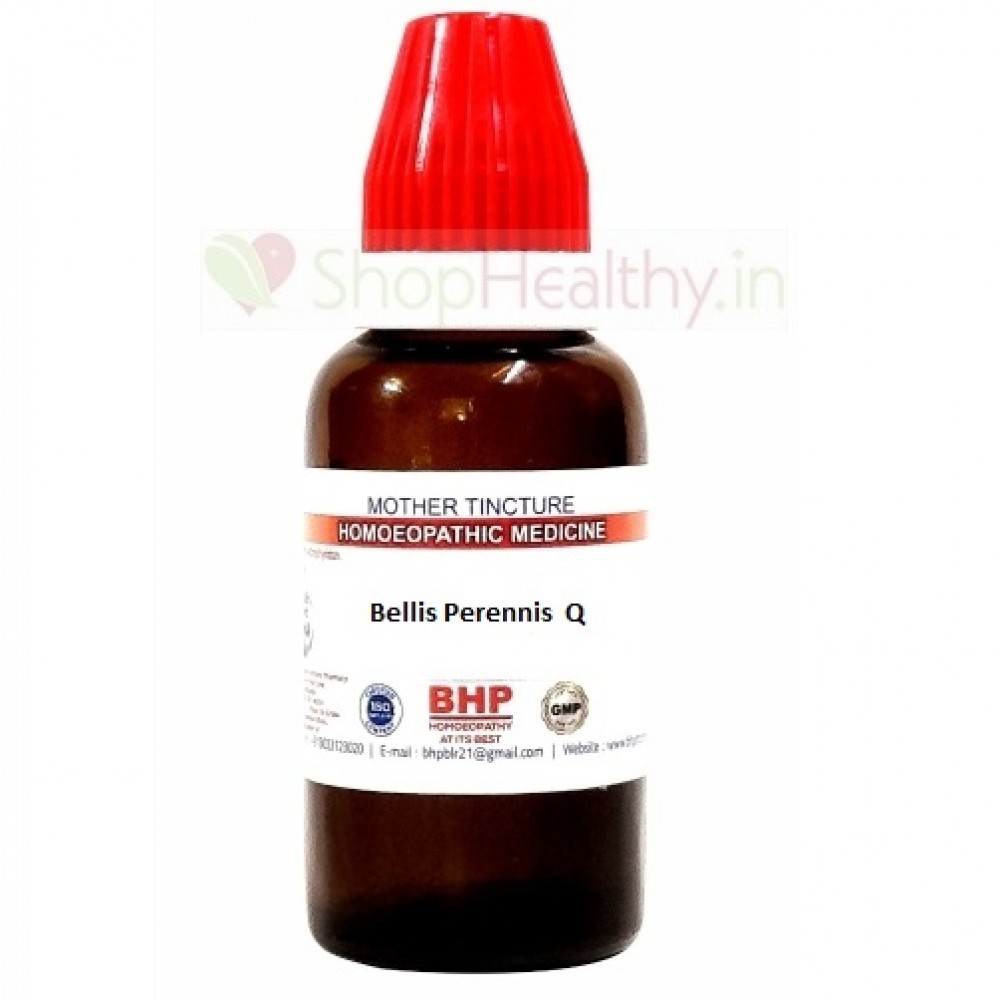 BHP Bellis Perennis 1X(Q) Mother Tincture (30ml)
Bellis perennis **BHP
Daisy, by default
Bellis perennis causes and symptoms
Bellis perennis acts on the blood vessel's muscular fibers, causing severe muscular soreness and lameness, mimicking sprains, injuries, and bone fractures.
Bellis Perennis also helps with muscle and joint aches, as well as sprains with extreme soreness. It also affects venous congestion brought on by mechanical causes.
Bellis Perennis is a popular treatment for boils, sore muscles, and acne with boils all over the body.
After major surgical procedures, bellis prennis is the first remedy used for injuries to deeper tissues. It is also effective in cases where there is limb weakness following gout, such as when nerve injuries result in severe pain and an intolerance to cold bathing.
The condition requiring this remedy, masturbation-related injuries, is expressed as auto-traumatism of the pelvic organs.
Bellis perennis is a great remedy for sprains and bruises. It also works wonders for affections brought on by cold wind and complaints brought on by cold food or drink when the body is heated.
It is a noble remedy for elderly laborers, especially gardeners, as exudations, stasis, and swelling fall within its scope.
Mind
Does not tell or demonstrate psychic trauma.
rigid in their thinking.
environment that is confusing.
Generalities
fractures in the bones, sprains, and other injuries.
Deeper tissue injuries following major surgery, particularly to the abdomen and pelvic organs, trauma to the pelvic organs following delivery, and a bruised or sore feeling around the uterus.
Worse: Effort too much
Ailments after: cold food and drinks that become colder after being heated.
Gardeners, business travelers, railroad spine, and overworked elderly laborers.
Abscesses and boils.
Head:
Seniors who experience vertigo.
Constricted headache that radiates from the forehead to the occiput.
Worse after a hot bath and in bed, the itching is in the back and around the scalp.
Face
Acne and more irregular menstrual periods.
Abdomen
an abdominal wall ache that makes it difficult to walk while pregnant.
Ice cream pain following.
after-effects of an abdominal surgery illnesses.
Gender of a man
kids being abused by boys.
genitalia of women
Menses:
Dysmenorrhea, suppressed by the cold.
pregnant women who experience uterine pain.
exertion-exacerbated metrorrhagia
disorders caused by a pause in conversation.
Engorged organs include the uterus and the breasts.
vein problems during pregnancy.
Walking difficulties and lame abdominal muscles during pregnancy.
The uterus feels tight and achy.
Chest
Breast cancer that developed after the breast was bruised and became indurated.
Back
Coccyx injuries (Hypericum is a recommended treatment for this kind of injury).
Sleep
is unable to fall back asleep after waking up early in the morning
Abdomen:
soreness in the uterus and the abdominal walls.
Yellow, asymptomatic diarrhoea with a foul odor that gets worse at night. Sore, enlarging stitches in the spleen.
swollen; bowel rumbling.
Skin
Ecchymosis, swelling, and boils. Extremely touchable.
mechanically-induced venous obstruction
Exudations, swellings, varicose veins that feel bruised, and acne.
Extremities
Muscle and joint aches.
the backs of the legs and their flexor surfaces itch.
Pain running down the front of the thighs. An elastic band around the wrist joint feels like it is contracting.
Railway spine sprains are extremely painful and feel like an elastic band has been wrapped around the joint.
Bellis perennis BHP side effects
Although there are no such side effects, it is still important to take each medication according to the instructions.
Even if you are taking other forms of medication, such as those obtained through allopathy, ayurveda, etc., it is safe to take the medication.
The effectiveness of other medications is never hampered by homeopathic remedies.
BHP Bellis Perennis dosage and guidelines
Three times per day, mix five drops in a half cup of water.
The globules can also be used as medicine; take them as directed by your doctor, usually three times per day.
We advise you to use medical advice when taking.
When taking BHP Bellis Perennis, take precautions
If you take medication, make sure to wait 15 minutes between eating and taking it.
Consult a homeopathic doctor prior to use if you are pregnant or nursing.
While taking medication, refrain from consuming alcohol or tobacco.
Rules and Regulations
The effectiveness of homeopathic remedies varies depending on the conditions and should be used based on symptom similarity.
Essential Details
Use only after speaking to a licensed medical professional.
Attributes
Brand
BHP (Bangalore Homoeo Pharmacy)
Container Type
Glass Bottle
Shelf Life
5 Years From Date Of Manufacturing
Remedy Type
Homeopathic
Country of Origin
India
Homeo Forms
Mother Tincture
Potency
1X (Q) / Mother Tincture
Price
₹ 140