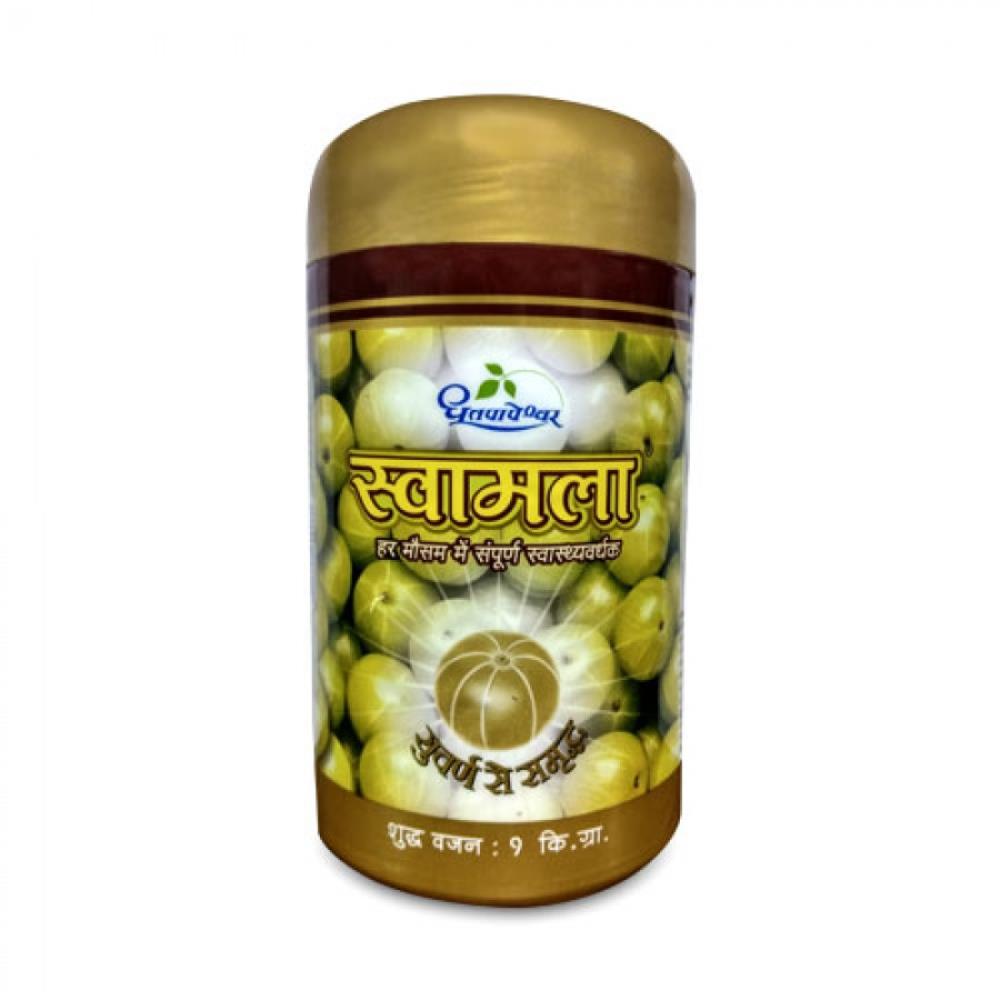 Dhootapapeshwar Swamala Compound (500g) : Indicated in General Debility, Helps Maintain Good Health
568 (gms)
Dimensions
Dimensions: 8.6 x 8.6 x 14.6 cm
About Dhootapapeshwar Swamala Compound
Batch to batch performance and complete trust of purity and safety are assured through advanced pharmaceutical technology at every stage of manufacturing. ISO 9001: 2000 certification awarded for design, manufacture, and marketing of herbal or Ayurvedic health care products. Dhooptapeshwar was established in the state of Maharastra before independence. It has distinguished itself as a distinctive brand in the field of ayurvedic market.
Ingredients of Dhootapapeshwar Swamala Compound
Amla
Vidarikand
Pippali
Chandan Safed
Elachi
Vasaka
Akarkara
Arjun
Ashwaganda
Shatavari
Brahmi
Tulsi
Hirda
Sounth
Manukka
Yasthimadhu
Kamalkeshar
Jatamansi
Nim
Gokhru
Bel
Giloy
Bhumiamla
Kachoor
Nagarmotha
Pushkarmul
Bala
Kakadsingi
Jivanti
Punarnava
Anjeer
Long
Dalchini
Tejpan
Nagkeshar
Keshar
1.0 mg Suvarna Bhasma (Gold)
Silver-based Raupya Bhasma, 1.0 mg
5.0 mg of mica-abhraka bhasma
(Iron) 10.0 mg Kantaloha Bhasma
(Poornachandrodaya) Makardhwaj 14.0 mg
Indicationsof Dhootapapeshwar Swamala Compound
weak across the board
Impotency
a poor state of mind
physical ilness
TB
excessive heat
Benefits of Dhootapapeshwar Swamala Compound
due to physical infirmities.
High energy is guaranteed in May, and it restores lost vitality and stamina.
for overall health and the body's defense mechanism.
helpful for the bones' and neuron system's healthy operation.
Dosage of Dhootapapeshwar Swamala Compound
On an empty stomach, consume 1 to 2 tablespoons twice daily, or as prescribed by an ayurvedic physician.
Precautions while using Dhootapapeshwar Swamala Compound
Use only as directed by a physician.
Try to stick to the dose that is advised.
Children should not have access to this.
In order to properly use the product, read the instructions.
Keep the item out of the sun and the heat in a cool, dry location.
Additional Information regarding Dhootapapeshwar Swamala Compound
Authentic Product, 100 %
Changing your diet and lifestyle could affect your results.
Before taking any medication or dietary supplement, pregnant or nursing women should consult their doctor.
The color of the product may slightly differ depending on the lighting and screen resolution.
Terms and Conditions
Before purchasing this medication, we have assumed that you sought medical advice and are not using it for self-medication.
Attributes
Brand
Dhootapapeshwar
Remedy Type
Ayurvedic
Country of Origin
India
Price
₹ 723