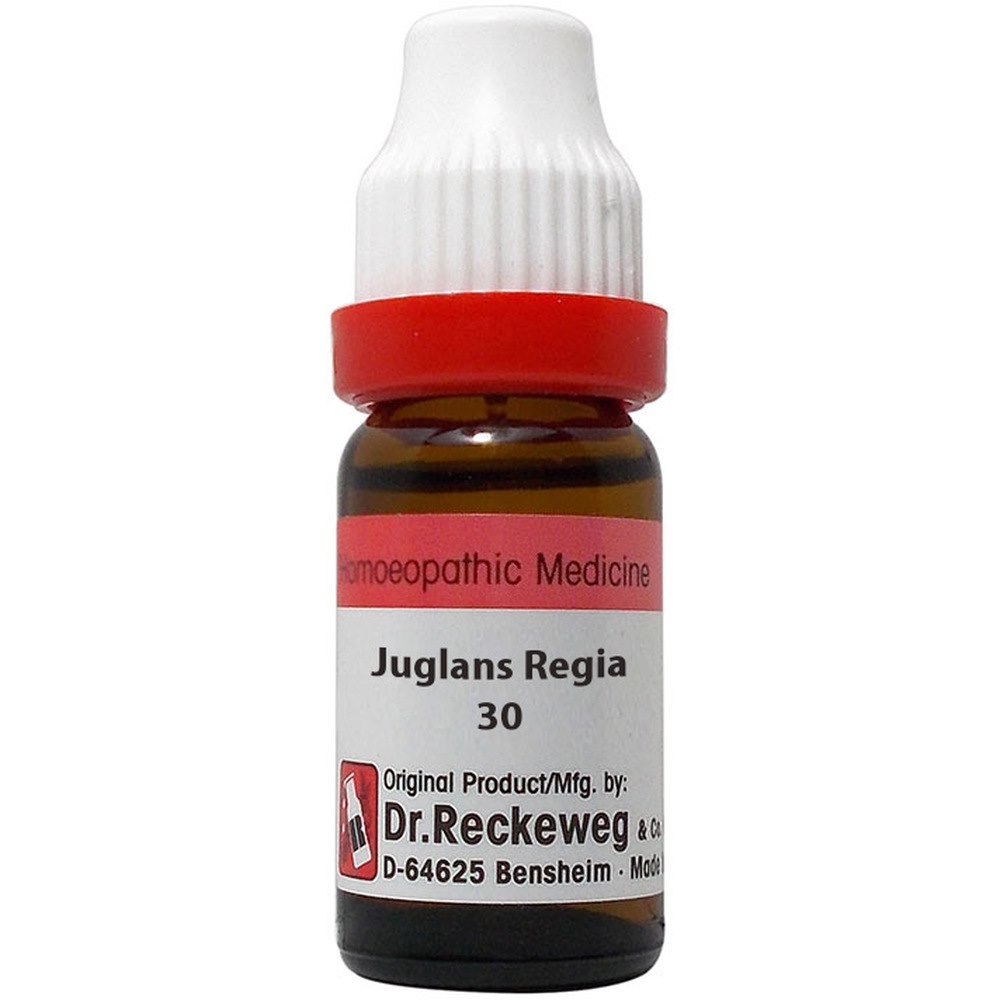 Dr. Reckeweg Juglans Regia 30 CH (11ml) : For Acne, Skin Conditions, Flatulence, Headache, Ringworm, Scurvy
Also known as
Judith R.
Properties
Potency
30 CH
Form
Liquid
Weight
40 (gms)
Dimensions
3, 2, 3, and 7.4 millimeters
Dr. Reckeweg Juglans Regia
Walnut is its usual name.
Causes & Symptoms for Dr. Reckeweg Juglans Regia
Skin eruptions are a common symptom of Juglans Regia's use in treating skin conditions.
It treats comedones and acne on the face.
Small red pustule eruptions and itching are both present.
The nighttime itching on my red, flaky scalp is severe.
Glands in the axilla suppurate.
Head
Vertigo, a headache in the evening and after dinner, and a flushed face can all benefit from Juglans Regia.
When entering a warm room, the throbbing in the temples returns along with a sharp headache in the front of the head.
This treatment is indicated for migraines that are causing speech impairment in the left parietal bone region.
Eyes
Burning in the eyes is soothed by Juglans Regia.
Left eye has pressing pain that is made worse by movement.
Ears
Juglans Regia treats inflammation of the external ear and two painful sores on it, as well as aching and fullness in the right and left ears. Both ears also discharge pus.
Burning in left ear, followed by redness and swelling, a pimple on the inside, a pus-filled discharge from both ears, and worse on the left with burning and redness of left external ear, as well as a soreness that prevents lying on the left side of the head.
Stomach
violent, frequent, loud eructations that taste like you just ate fat.
Eructations are preferable to feelings of satiety and bloating that keep a person from eating when they are hungry.
After eating, the cough gets worse.
After supper and at six in the morning, I felt sick.
Juglans Regia reduces abdominal distension and pain in the epigastric region.
Abdomen
Juglans Regia can help with fullness, bloating, tension, and heaviness in the abdomen as well as frequent urges to urinate. These symptoms can be relieved by eructations and the release of gas.
Juglans Regia relieves pain in the epigastric region that is grumbling, griping, and pressive.
Particularly when lying down, there is flatus emission.
Anus and Stool
Two times per day, liquid, thin, soft, large, and finally almost thin stools that are preceded or accompanied by abdominal pain.
Additionally helpful for constipation is Juglans Regia.
Evening itching in bed from the anus, accompanied by stitches, makes one move around.
urethral organs
Due to the sphincter's loss of tone, there is a constant urge to urinate as well as uncontrollable dribbling.
Daily and nightly micturition with very profuse discharge, as well as a constant urge to urinate.
feminine genitalia
Menstruation occurs too early and frequently, releasing a lot of black clots, and is accompanied by general exhaustion and appetite loss. The menstrual cycle is also preceded by pressive abdominal cramping that gets worse with movement.
breathing systems
Juglans Regia is useful for treating aphonia or extreme hoarseness.
Back
Stitches in the sacral region are relieved by Juglans Regia.
It can be used to check for aggressive stitches that make you shiver in the small of the back.
Arms and Legs
The axilla's skin is relieved of its itching by Juglans Regia (right), and later, (left), tetters form.
Right-hand weakness is relieved by it, as is sporadic pain in the right index.
Legs, lower
When walking is made difficult by hip or knee pain, Juglans Regia can help.
Juglans Regia is effective at relieving rheumatic knee pain that makes it difficult to move around.
Generalities
Relaxed muscles.
fatigue and a lack of interest in conducting business as usual.
A buzzed feeling, like you're flying, is present.
Skin
Children's ears are helped when using Juglans Regia.
It calms a body-wide itch outbreak.
Pimples on the face, red pimples on the face, neck, shoulders, and back, some containing thick fluid, pimples on the nape, and pimples that release moisture when scratched (similar to acne) can all benefit from Juglans Regia.
It alleviates painful, significant blood boils in the liver and shoulder areas.
Glandular swellings, also known as scrofulous swellings, can benefit from Juglans Regia.
Herpes, mercurial, and scrofulous ulcers are all relieved.
Side effects of Dr. Reckeweg Juglans Regia
Although there are no such side effects, it is still important to take each medication according to the instructions.
Even if you are taking other forms of medication, such as those obtained through allopathy, ayurveda, etc., it is safe to take the medication.
The effectiveness of other medications is never hampered by homeopathic remedies.
Dosage and rules while taking Dr. Reckeweg Juglans Regia
Three times per day, mix five drops in a half cup of water.
The globules can also be used as medicine; take them as directed by your doctor, usually three times per day.
We advise you to use medical advice when taking.
Precautions while taking Dr. Reckeweg Juglans Regia
If you take medication, make sure to wait 15 minutes between eating and taking it.
Consult a homeopathic doctor prior to use if you are pregnant or nursing.
While taking medication, refrain from consuming alcohol or tobacco.
Terms and Conditions
Homeopathic medicines have a variety of uses and are prescribed based on symptom similarity; it is assumed that you have sought medical advice before purchasing this medication and are not self-medicating.
Attributes
Brand
Dr. Reckeweg
Remedy Type
Homeopathic
Country of Origin
Germany
Homeo Forms
Dilution
Potency
30 CH / 30CH
Price
₹ 125