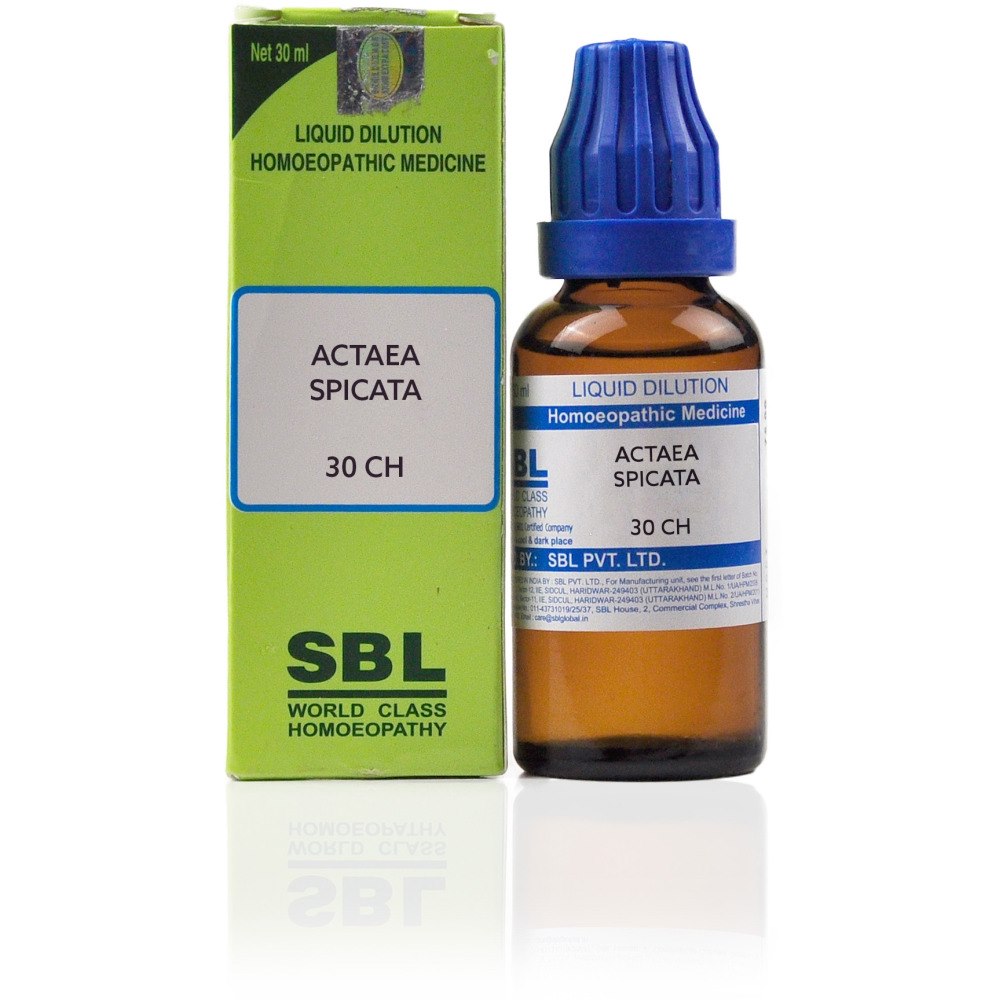 SBL Actaea Spicata 30 CH (30ml) : For small joint pain, writers cramp, neuralgic pains, menses irregular
Also known as
Actaea spi, spi
Properties
Potency
30 CH
Form
Liquid
Weight
82 (gms)
Dimensions
3.5 cm by 3.5 cm by 9.5 cm
About Actaea Spicata
Rheumatism Small joints, particularly the wrists, experience pain and swelling.
Actea spicata is a rheumatic remedy, especially for small joints; it is characterized by tearing, tingling pains. Wrist-rheumatism. Pulsations over the entire body, especially in the liver and renal region. Cardiovascular spasm. Pains worse from touch and motion. Extreme tenderness. Joints are tender to touch with weakness and tingling. The right arm and right wrist are particularly affected. Wrist is swollen, red
Mind
contact is made without difficulty, especially for sex.
Egotism, self-centeredness, and attention seeking are all characteristics of this person.
Easily agitated and ostentatious when circumstances don't go their way.
In relationships, flirtatious, unpredictable, and unreliable.
avoid thinking and seeks effortless enjoyment.
Death phobia, alone at night.
Generalities
Weakness.
Increasing fatigue and sudden weakening spells.
Frightened, I agg.
Cold, temperature change. Aggravating
Despite liking it, it's a lot of work.
Amel, with others.
Food and drinks
Alcoholic beverages, salty meats, tobacco, and fruits all add up.
Head
Walking at night and experiencing pain; after drinking coffee.
Vision
Face
Brutal, tearing pain that runs from the teeth or molars to the upper jaw and ends in the temples may be neuralgic or rheumatic; additionally, a light touch or muscle movement may be present.
Stomach
Hunger accompanied by a dislike of food; an absence of hunger.
Stitches, agg., and pains like a cramp.
Cancer.
Female genitalia
Menstruation suppressed by fear and the cold.
Extremities
Rheumatism causes pain in the small joints, particularly those in the wrists, fingers, ankles, and feet.
After a little bit of exercise, joints hurt and swell.
Rheumatism, gout: Affected fingers may occasionally become discolored, numb, or cold. agg. motion, pressure, and touch.
Finger joint arthropathy that is deforming and climacteric.
Complementary Remedies
Caul, Coloc, Sabin, Stict, and Viol.
Terms and Conditions
Homeopathic medicines have a variety of uses and are prescribed based on symptom similarity; it is assumed that you have sought medical advice before purchasing this medication and are not self-medicating.
Attributes
Brand
SBL Dilutions
Remedy Type
Homeopathic
Country of Origin
India
Homeo Forms
Dilution
Potency
30 CH / 30CH
Price
₹ 80