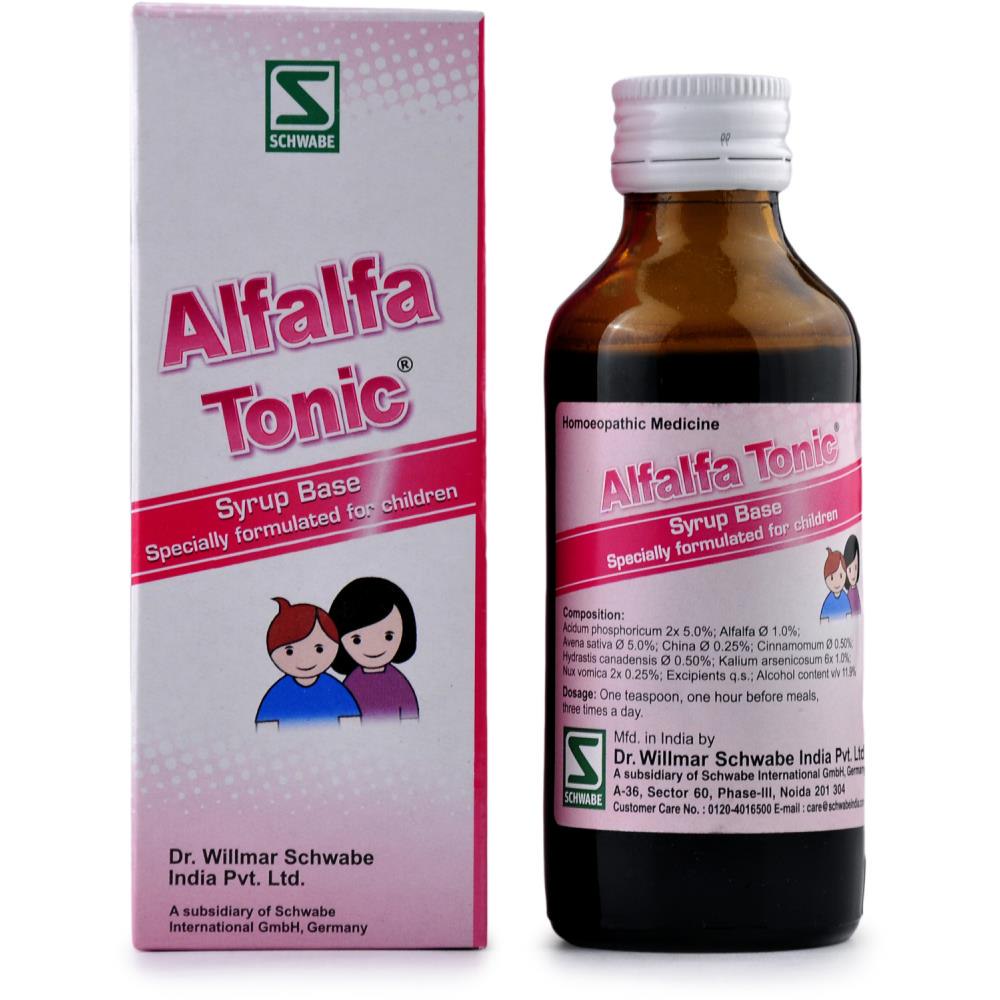 Willmar Schwabe India Alfalfa Tonic (Children) (100ml) : Health Tonic For General Weakness, Lethargy, Lack of Appetite
Also known as
Syrup A.L.F.
Properties
Perfect For
Baby & Children
Form
Syrup
Weight
250 (gms)
Dimensions
5, 5, 5, 13,2 millimeters
About Alfalfa Tonic (Children)
a tonic made specifically for kids with a syrup base
boosts mental and physical activity
by enhancing appetite, enhances nutrition
relaxes and calms the nerves
sleep quality
reduces sluggishness and debility
Despite prolonged medication, anaemic patients experience a remarkable improvement.
no negative effects
Composition
Phosphoric acid acidum 2x 5.0%
1.0% of alfalfa
5.0% of avena sativa
Q.5% China
0.5% of cinnamon
0.5 percent Hydrastis canadensis
6x 1.0% Kalium Arsenicosum
2.5% of nux vomica
Excipients range from 5% to 99%
12.0% by volume of alcohol
Direction of use
Dosage: Three times a day, one teaspoon an hour before meals; if symptoms persist, see a doctor.
Side effects: Alfalfa Tonic® by Dr. Willmar Schwabe has no known adverse effects.
Advantages: It is a non-toxic preparation that can be taken by people of all ages without risk, has a corrective effect on many bodily functions, and can be freely used as a general tonic thanks to improved processing technology that keeps the natural ingredients of the herbs at their highest levels.
Contra-indications: There are no known contraindications to using Alfalfa Tonic® by Dr. Willmar Schwabe.
Interactions: Alfalfa Tonic® by Dr. Willmar Schwabe and other products don't appear to interact with one another.
Attributes
Brand
Dr. Willmar Schwabe India
Remedy Type
Homeopathic
Country of Origin
India
Form Factor
Tonic
For Use By
Children
Price
₹ 120