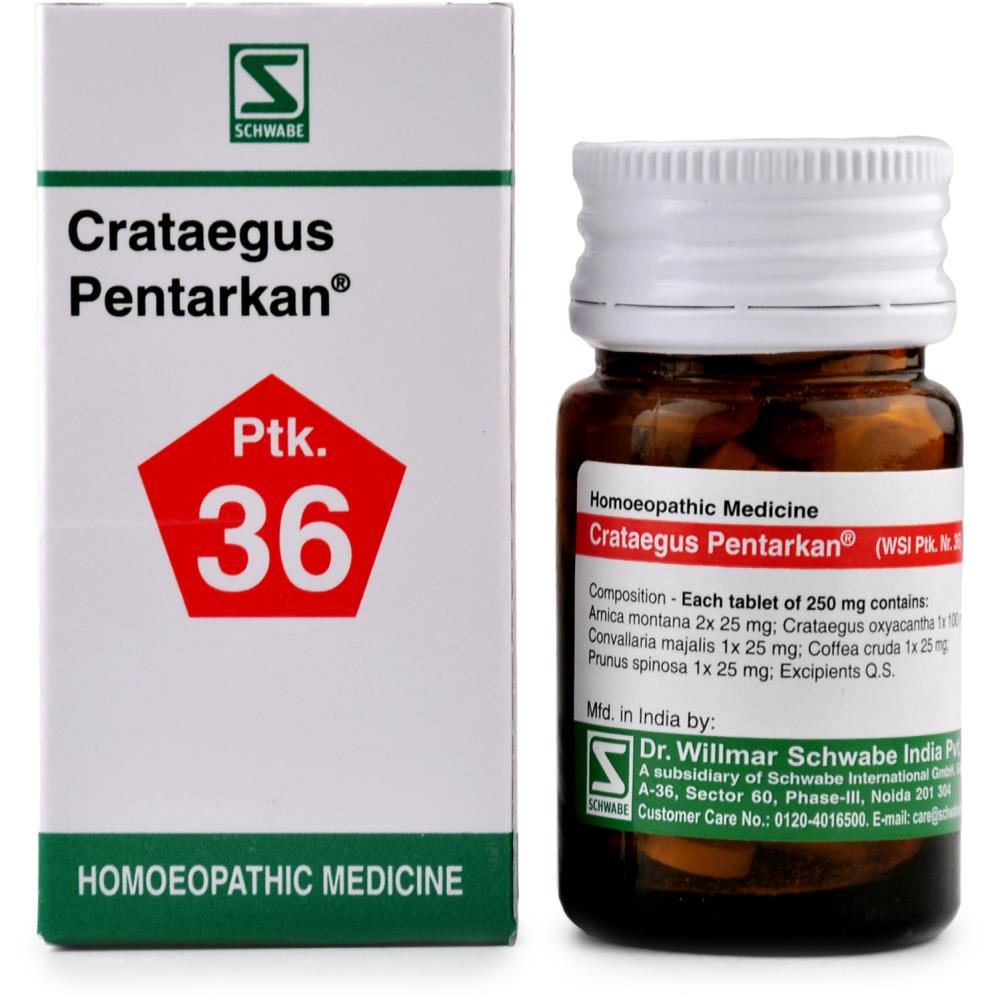 Willmar Schwabe India Crataegus Pentarkan Ptk 36 (20g) : Regulates Blood pressure, Breathlessness On Exertion, chest pain
Also known as
Citagus Ptk
Properties
Form
Tablet
Weight
80 (gms)
Dimensions
4, 4, 4, and 7.7 millimeters
About Crateagus Pentarkan
for elderly people with heart issues
treatment for cardiac weakness and circulation improvement
the presence of dyspnea and exhaustion with the least amount of effort in chronic cardiac weakness
strengthens and restores the heart's natural rhythm.
reduces the issue of cold extremities with oedema while assisting in pulse regulation.
Indicated in irregular palpitations and tachycardia brought on by even the smallest motion, especially after a stressful event.
Composition of Crateagus Pentarkan
Each tablet of 250 mg contains:
Arnica montana 2x 25 mg: Heart area stitching pain; weak, erratic pulse.
Crataegus oxyacantha 1 x 100 mg: Acts on the heart's muscle, causing cold extremities, pallor, an irregular heartbeat, blue fingers, and toes that turn blue when excited or exerted.
Convallaria majalis 1 x 25 mg: Heart palpitations, especially when brought on by smoking, an irregular and rapid pulse, and palpitations even with minimal effort.
Coffea cruda 1 x 25 mg: violent irregular heartbeat, especially after feeling too much joy or surprise.
Prunus spinosa 1 x 25 mg: Heartbeat that is rapid and burning in the chest.
Q. S. excipients for 250 mg
Direction of use of Crateagus Pentarkan
Dosage: Take Crataegus Pentarkan (WSI) as directed unless otherwise directed by a doctor.
3 doses of 1 tablet per day are recommended.
Side effects: Crataegus Pentarkan (WSI) doesn't appear to have any side effects.
Contra-indications: Children are not supposed to use this product.
Interactions: There are no known interactions between WSI and Crataegus Pentarkan.
Terms and Conditions
Before purchasing this medication, we have assumed that you sought medical advice and are not using it for self-medication.
Attributes
Brand
Dr. Willmar Schwabe India
Remedy Type
Homeopathic
Country of Origin
India
Form Factor
Tablet
Price
₹ 170