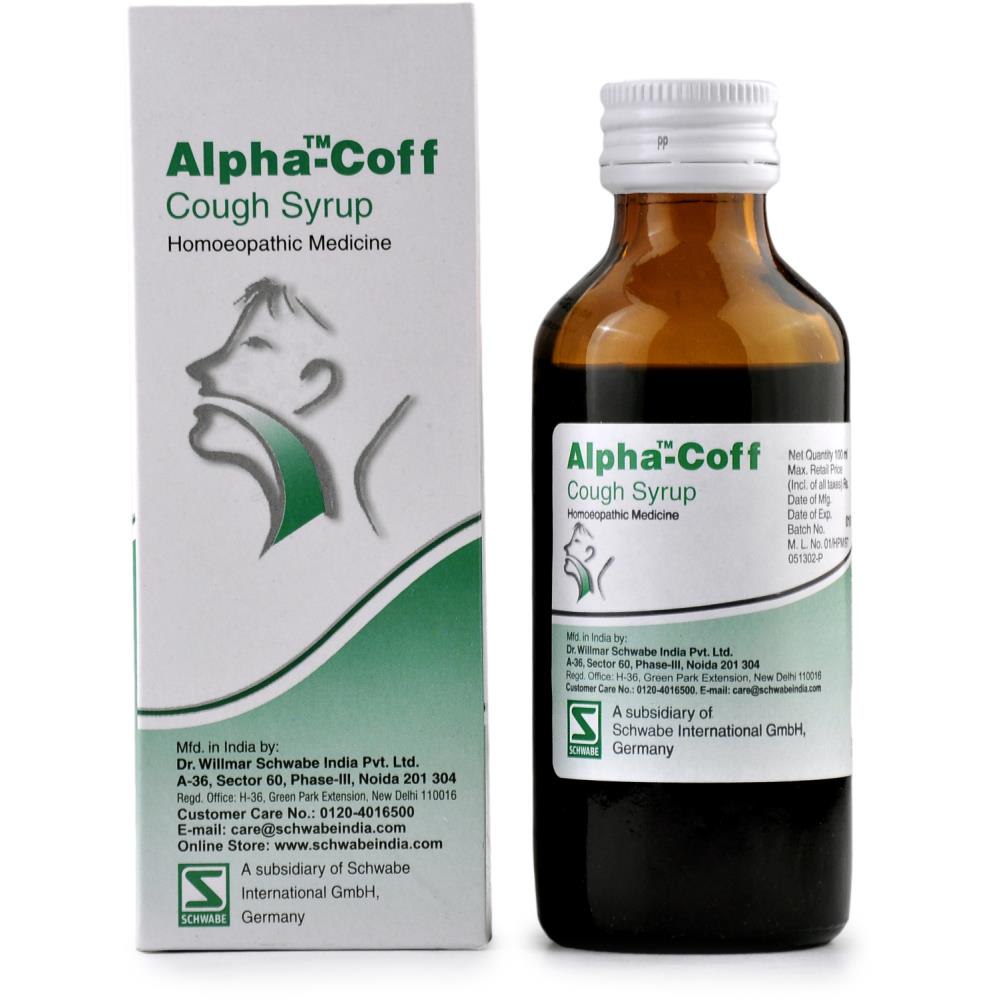 Willmar Schwabe India Alpha Coff (Cough Syrup) (100ml) : Helps in Bronchitis, Wheezing, Dry Cough with vomiting, breathless
Also known as
Albino coff
Properties
Form
Syrup
Weight
250 (gms)
Dimensions
5, 5, 5, 13,2 millimeters
About Alpha Coff (Cough Syrup)
In order to relieve the stinging cough that is persistent and bothersome
combats suffocating and spasmodic cough
decreases throat pain, soreness, and mucous membrane secretions, as well as those sensations
controls the dry, teasing cough that causes the throat to constantly tickle.
prevents vomiting and nausea brought on by a fitful cough
neither drowsiness nor the development of addiction
Composition
Rumex crispus 3x 1%: Pressure, talking, cool air, especially at night, and pressure-related coughing are all aggravating factors.
Justicia adhatoda Q 2%: Highly effective medication for suffocative attacks with obstruction to breathing and acute catarrhal respiratory conditions.
Ipecacuanha 1x 1%: Continuous sneezing, coryza, wheezing cough, violent coughing with every breath, dyspnea, and throat constriction are all symptoms of cough, as are persistent nausea and vomiting.
Spongia tosta 1x 1%: All air passages are extremely dry, and the cough is dry, barking, croupy, with a sensitive larynx and a weak chest that makes it difficult to speak.
Sticta pulmonaria 3x 1%: A loose cough in the morning, a dry, hacking cough at night that gets worse with inspiration, and pain running through the chest from the sternum to the spinal column.
Antimonium tartaricum 6x 0.5%: Cough triggered by eating, with pain in the chest and larynx. Coarse, rattling with wet sounding cough, but scanty, difficult expectoration, unable to get it out. Cough followed by vomiting or sleep. Coughing and gasping consecutively.
Coccus cacti 3x 0.5%: Whooping cough attacks end with the vomiting of this hard mucus. The suffocating cough is worse when first waking up and is accompanied by tough, white mucus that strangles.
Drosera rotundifolia Q 2%: Deep, hoarse voice, hoarseness, laryngitis, hoarse cough that gets worse after midnight, yellow expectoration that includes bleeding from the mouth and nose, and retching are other symptoms.
Balsam tolu Q 3%: Useful for treating nasal catarrh and a grating loose, short cough with scant expectoration.
Senega Q 3%: chest wall pain and bronchial catarrh
Alcohol content in excipients: 11% by volume.
Direction of use
Dosage:
1-2 teaspoons every three hours, unless the doctor prescribes something different.
If relief is not found, consult a specialist. Children should take half the dose prescribed for adults.
Note: Please be aware that this product contains sugar and a small amount of alcohol, which may not be suitable for patients with diabetes or serious liver or alcohol problems taking medication during pregnancy or lactation, or for patients with these conditions who are taking medication.
Side effects: Alpha-Coff has no known negative effects.
Contra-indications: The use of Alpha-Coff has no known contraindications.
Interactions: Alpha – Coff is not known to interact with any other products.
Terms and Conditions
Before purchasing this medication, we have assumed that you sought medical advice and are not using it for self-medication.
Attributes
Brand
Dr. Willmar Schwabe India
Remedy Type
Homeopathic
Country of Origin
India
Form Factor
Syrup
Price
₹ 105