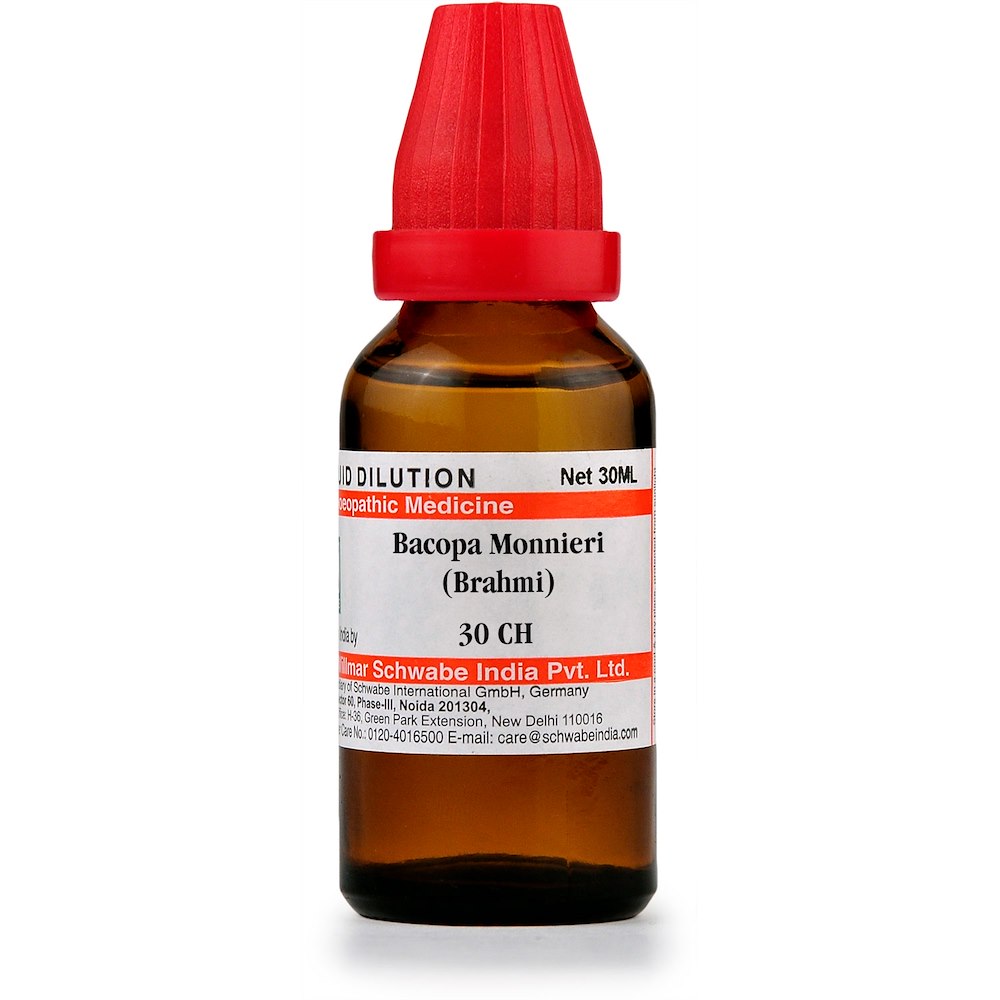 Willmar Schwabe India Bacopa Monnieri (Brahmi) 30 CH (30ml) : Enhances Memory, Improves concentration, Headache, Increase T3 and t4.
Also known as
Banyan and Brahmi
Properties
75 (gms)
Dimensions
3-by-3-by-9.5 millimeters
Bacopa Monnieri Dilution (Brahmi)
Brahmi, commonly known as
Causes & Symptoms for Bacopa (Brahmi)
It is a helpful drug for increasing brain activity and aids in concentration issues and memory problems in healthy people.
Increased learning efficiency and a decrease in Alzheimer's disease symptoms are both benefits.
Tonic for the brain made with homeopathic ingredients that improves memory and concentration.
It increases intelligence and helps kids remember things during tests.
To combat stress and anxiety generally, it is helpful.
It helps with complaints of joint pain, hoarseness, and backaches.
Brahmi helps with convulsions, improves female fertility, and helps the kidneys function effectively.
Bacopa helps prevent the negative effects of low blood sugar levels on developing bodies in newborns.
By doing so, the blood's levels of T3 and T4 are raised.
Side effects of Bacopa (Brahmi):
Headaches may result from exceeding the recommended dose.
You shouldn't take Brahmi if you have low heart rate symptoms.
Dosage and rules while taking Bacopa (brahmi)
Three times per day, mix five drops in a half cup of water.
The globules can also be used as medicine; take them as directed by your doctor, usually three times per day.
We advise you to use medical advice when taking.
Interactions and Reactions of Bacopa (Brahmi)
Take it only under a doctor's supervision as it may interact with thyroid medications.
If you take blood thinners, you should stay away from it.
Terms and Conditions
Homeopathic medicines have a variety of uses and are prescribed based on symptom similarity; it is assumed that you have sought medical advice before purchasing this medication and are not self-medicating.
Attributes
Brand
Dr. Willmar Schwabe India
Remedy Type
Homeopathic
Country of Origin
India
Homeo Forms
Dilution
Potency
30 CH / 30CH
Price
₹ 90