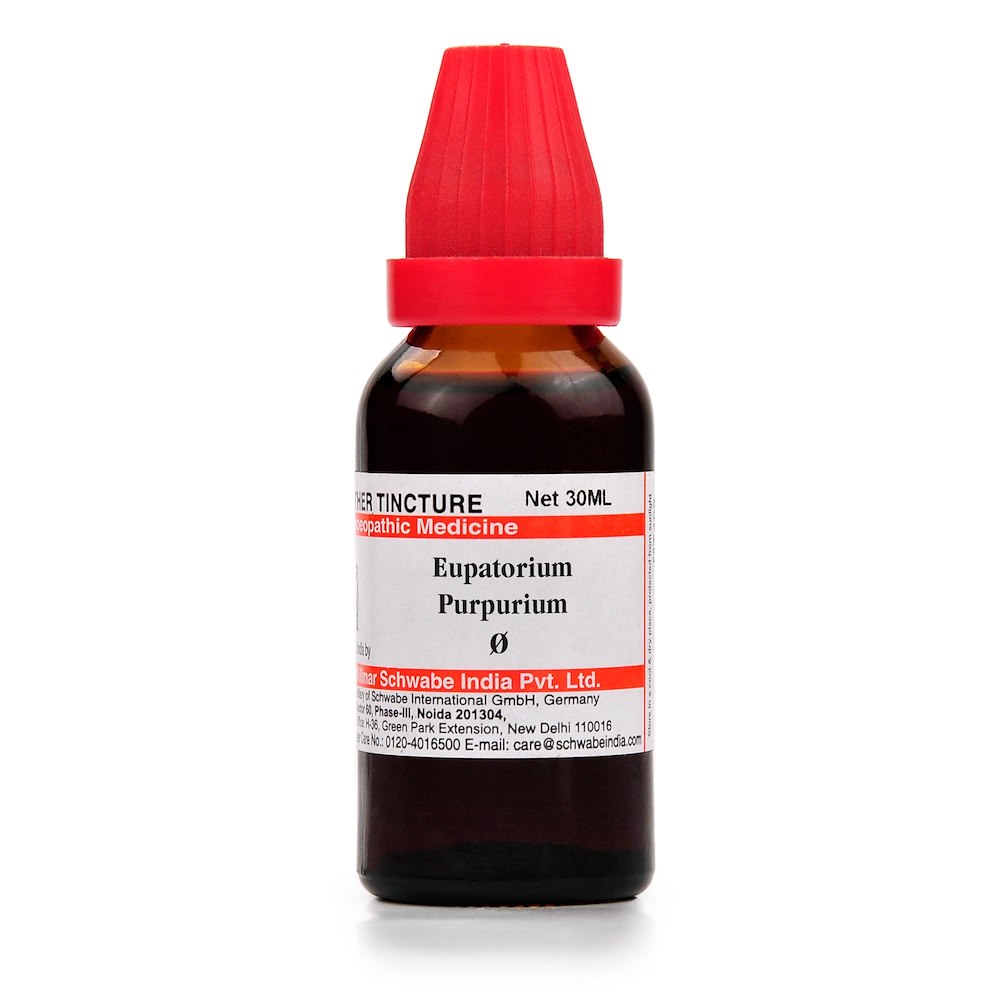 Willmar Schwabe India Eupatorium Purpurium 1X (Q) Mother Tincture (30ml)
Properties
Potency
1X (Q)
Weight
75 (gms)
Dimensions
3 x 3 x 9 centimeters
Eupatorium purpureum(Mother Tincture)
Rooibos root tincture.
Common Name: Queen of the Meadow, Joe Pye Weed, and Trumpet Weed
Causes & Symptoms for Eupatorium purpureum
This remedy should be used when symptoms in the sexual and urinary systems appear.
A key note of Eupatorium purpureum is "pains run upwards and there is much shaking with them."
Body and Mind
Homelessness even though she was residing in her own home, boring left side work, hammering, or sewing
Headache and frontal region constriction, intense fear of illness
Morning headache that gets worse in the afternoon and evening and gets worse in cold weather.
nose, ear, and eyes
Headache, red, swollen eyes, and ears that crackle more when you swallow
Throat and Mouth
The left side of the throat hurts and is sore when you swallow, and your tongue is numb before you get cold.
Coryza, hoarseness, a hacking, nighttime cough, along with bronchial soreness and heat.
belly and stomach
Swelling and fullness, nausea when around food or while it's being cooked.
Eupatorium purpureum helps to relieve abdominal pain and soreness.
Anus and Stool
weight and pressure on the rectus.
bladder issues
Eupatorium purpureum is used to treat calculous affections, urinary incontinence, and irritable bladder.
The bladder feels dull and there is constant desire; there is intense smarting and burning in the urethra.
The urge to urinate is constant, and only a few drops are passed at a time.
women's grievances
The numbness in the groin is worse, and the external genitalia feel wet. There is a sharp, stabbing pain two inches above the left ovary.
Back and Neck
Distressing pain in the lower back before a chill, labor-like pains, and cutting pains.
Back and loins are weighed down.
From the left shoulder to the occiput, there is a cutting neck pain.
Extremities
Before a chill, I experience pains in my arms and legs as well as bone pain and leg numbness.
Bone and joint pain, limb aches that feel like broken bones, sudden onset and disappearance of pain, extreme restlessness, and no improvement.
Sciatica on left side, excruciating shooting pains
Generalities
There is a feeling of falling to the left and worse symptoms on the left.
Excellent in renal dropsy, agitated, writhing, and unable to lie down.
Side effects of Eupatorium purpureum
Although there are no such side effects, it is still important to take each medication according to the instructions.
Even if you are taking other forms of medication, such as those obtained through allopathy, ayurveda, etc., it is safe to take the medication.
The effectiveness of other medications is never hampered by homeopathic remedies.
Dosage and rules while taking Eupatorium purpureum
Three times per day, mix 10 drops in a half cup of water.
We advise you to use medical advice when taking.
Precautions while taking Eupatorium purpureum
If you take medication, make sure to wait 15 minutes between eating and taking it.
Consult a homeopathic doctor prior to use if you are pregnant or nursing.
While taking medication, refrain from consuming alcohol or tobacco.
Terms and Conditions
Homeopathic medicines have a variety of uses and are prescribed based on symptom similarity; it is assumed that you have sought medical advice before purchasing this medication and are not self-medicating.
Attributes
Brand
Dr. Willmar Schwabe India
Remedy Type
Homeopathic
Country of Origin
India
Homeo Forms
Mother Tincture
Potency
1X (Q) / Mother Tincture, 1X
Price
₹ 300