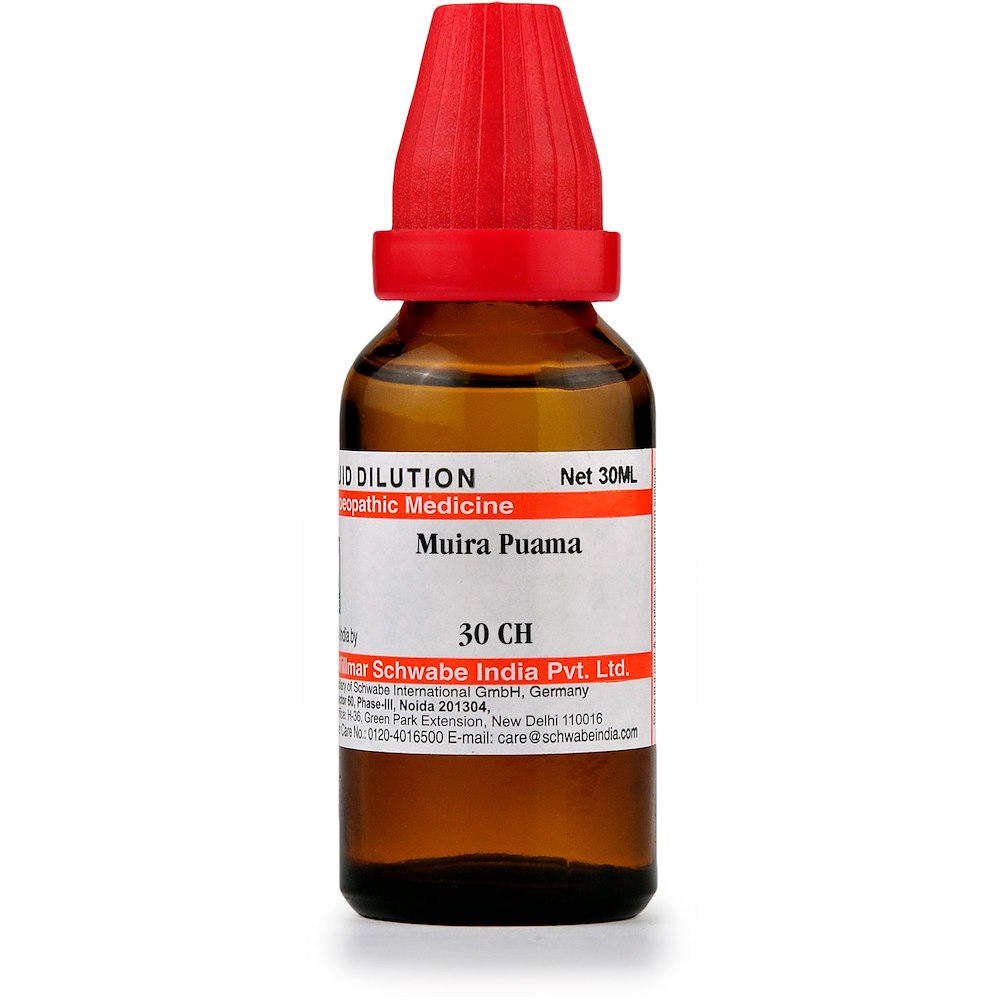 Willmar Schwabe India Muira Puama 30 CH (30ml) : Improves sexual desire in both men and women
Also known as
Pu Muira
Properties
Potency
30 CH
Weight
75 (gms)
Dimensions
3-by-3-by-9.5 millimeters
Willmar Schwabe Muira puama(Dilution)
When making medicine, the plant's roots are employed.
Known formally as: potency wood
Causes & Symptoms for Willmar Schwabe Muira puama
Muira puama boosts sex desire and revs up the nervous system's energy, and is used as a tonic for neuromuscular issues.
Both men and women who are frigid about having sex can benefit from muira puama's ability to increase their desire.
Mind:
When people experience stress or lose motivation, muira puama can help.
Stomach:
Muira puama is an effective remedy for mild exhaustion and indigestion.
Males:
It is believed that muira puama increases testesterone levels in the body, which increases sperm count and has positive effects on erectile dysfunction.
It aids in enhancing the
Females:
For issues related to your period, try muira puama.
It assists in lessening menstrual cramps.
As a result of helping the females, the vaginal discharge is improved.
It reduces the agitation and fatigue linked to numerous complaints.
Side effects of Willmar Schwabe Muira puama (Dilution)
Although there are no such side effects, it is still important to take each medication according to the instructions.
Dosage and rules while taking Willmar Schwabe Muira puama
3 times a day, mix 5 drops with 1/4 cup of water.
The globules can also be used as medicine; take them as directed by your doctor, usually three times per day.
We advise you to use medical advice when taking.
Terms and Conditions
Homeopathic medicines have a variety of uses and are prescribed based on symptom similarity; it is assumed that you have sought medical advice before purchasing this medication and are not self-medicating.
Attributes
Brand
Dr. Willmar Schwabe India
Remedy Type
Homeopathic
Country of Origin
India
For Use By
Women / Female
Homeo Forms
Dilution
Potency
30 CH / 30CH
Price
₹ 90