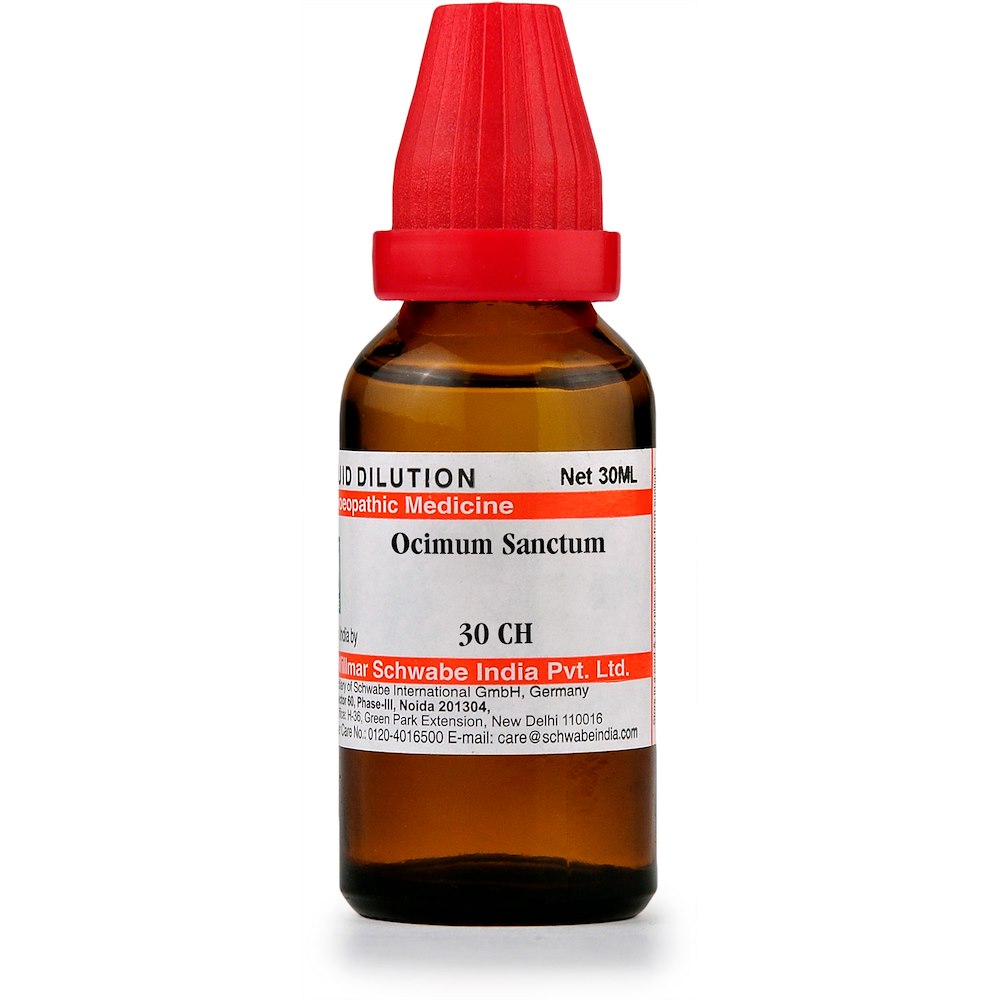 Willmar Schwabe India Ocimum Sanctum 30 CH (30ml) : Renal colic, Pain when breast feeding, Renal Pain, Vomiting, Ringworm
Also known as
Ocimum
Properties
Potency
30 CH
Weight
75 (gms)
Dimensions
3-by-3-by-9.5 millimeters
Willmar Schwabe Ocimum Sanctum(Dilution)
Fresh leaves are used to make the medicine.
Known as: Holy Basil or Tulsi
Causes & Symptoms for Willmar Schwabe Ocimum sanctum
In patients who are constipated, it helps with bowel evacuation as well as improving appetite.
Ocimum aids in simple digestion and absorption when given in the right dose and has anti-inflammatory and antioxidant properties.
Ulcers in the mouth can benefit from it.
When someone complains of vomiting and renal pain, it can help.
It serves as a repellent for mosquitoes and lowers the number of malaria complaints by
Acne, ringworm, and other skin issues can be helped by occimum.
Brain:
It works as a nerve tonic and aids in memory improvement.
Eyes:
Ocimum helps to relieve red eyes, conjunctivitis problems, and sore eyes.
breathing problems:
In cases of cold, cough, and fever complaints, occimum is effective.
It aids in easing complaints of sore throat and cough.
issues with the urine:
Cramping pains, violent vomiting, and burning pains when urinating.
Ocimum effectively combats unpleasant urine odor.
Concerns raised by women
Ocimum helps to lessen breast itching, pain, and tenderness that is triggered by even light touch.
Issues raised by men
Following administration of Ocimum, testicular pain is lessened.
Side effects of Willmar Schwabe Ocimum Sanctum
Although there are no such side effects, it is still important to take each medication according to the instructions.
Dosage and rules while taking Willmar Schwabe Ocimum Sanctum
Three times per day, mix five drops in a half cup of water.
The globules can also be used as medicine; take them as directed by your doctor, usually three times per day.
We advise you to use medical advice when taking.
Interactions and Reactions of Willmar Schwabe Ocimum Sanctum
Ocimum can lower blood sugar levels, so diabetic patients should use caution when taking it.
It is also advised that pregnant women and nursing mothers take medication under supervision.
Terms and Conditions
Homeopathic medicines have a variety of uses and are prescribed based on symptom similarity; it is assumed that you have sought medical advice before purchasing this medication and are not self-medicating.
Attributes
Brand
Dr. Willmar Schwabe India
Remedy Type
Homeopathic
Country of Origin
India
For Use By
Women / Female
Homeo Forms
Dilution
Potency
30 CH / 30CH
Price
₹ 90