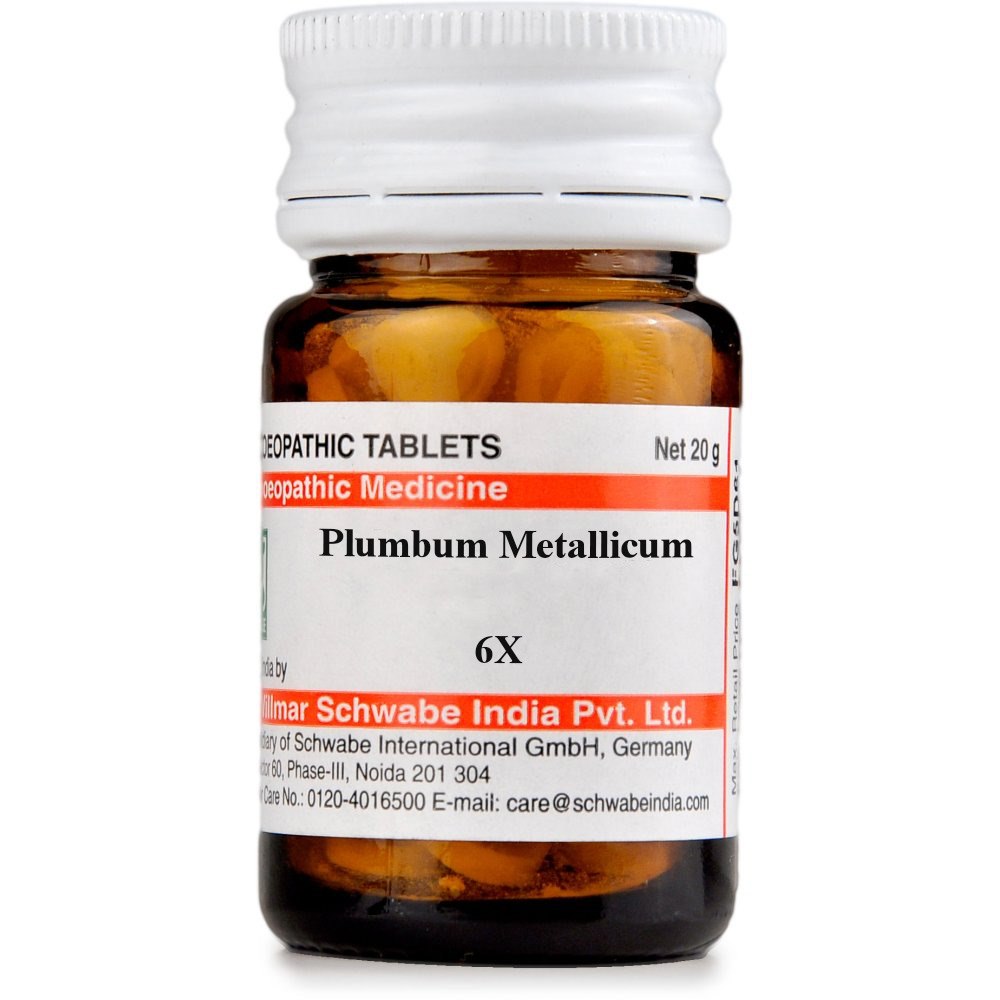 Willmar Schwabe India Plumbum Metallicum 6X (20g) : For muscle & Limb weakness, Loss of sensation touch, Gout, Hard Stools
Also known as
Plum met, followed by Plumbum.
Properties
Potency
6X
Weight
75 (gms)
Dimensions
measuring 3.2 by 3.2 by 6.7 centimeters
PLUMBUM METALLICUM
Uses of Plumbum Metallicum (3X – 6X)
The three main organ systems in which Plumbum Metallicum acts are the nervous, gastrointestinal, and blood systems.
This remedy works well when there is a rapid reduction in the number of red blood cells, leading to pallor, icterus, and anemia.
Common symptoms of Plumbum Metallicum (3X – 6X)
a rapid and excessive loss of weight.
Radiating throughout the body, excessive colic
Intense colic, obstructed flatus, and persistent vomiting.
Important indicated symptoms of Plumbum Metallicum (3X – 6X)
Muscle mass loss and progressive muscle wasting are both referred to as atrophy.
Any dysfunction may result in multiple sclerosis symptoms. Plumbum Met acts on the neuraxous and anterior horns.
The body's processes, including its organs' operations, move more slowly.
The nerves don't communicate as frequently as they normally do.
Movement from the muscles is sluggish and slow.
Food cannot be digested in the stomach, and assimilation and absorption of nutrients are also ruined.
Plumbum Metallicum provides relief for tearing, colic-like abdominal pains that double the patient up.
Legs that are cramping, tearing, stinging, numb, or trembling.
Plumbum Metallicum effectively relieves the most stubborn constipation, including blackish stools and a persistent, ineffective desire to eject feces (stools).
Complaints
worse after
evening movement
better from
rub, exerting force.
Reactions with Plumbum Metallicum (3X – 6X)
Because homeopathic medicines never interfere with the action of other medications and have no side effects, it is safe to take the tablets even if you are currently taking another type of medication, such as an allopathic or ayurvedic one.
Dosage of Plumbum Metallicum (3X – 6X)
Dissolve tablets under the tongue after placing them in your mouth.
Twelve-year-olds and older adults should take 2 to 4 tablets, four times per day, or as directed by their healthcare provider.
Two tablets twice a day for children (under 12 years old).
Every hour or two in acute cases.
Every ten to fifteen minutes in cases of intense, painful affections.
1 to 4 doses per day for chronic afflictions.
Precautions
If you take medication, make sure to wait 15 minutes between eating and taking it.
Consult a homeopathic doctor prior to use if you are pregnant or nursing.
While taking medication, refrain from consuming alcohol or tobacco.
Terms and Conditions
Before purchasing this medication, we have assumed that you sought medical advice and are not using it for self-medication.
Attributes
Brand
Dr. Willmar Schwabe India
Remedy Type
Homeopathic
Country of Origin
India
Homeo Forms
Biochemic Tablet
Potency
6X
Price
₹ 125