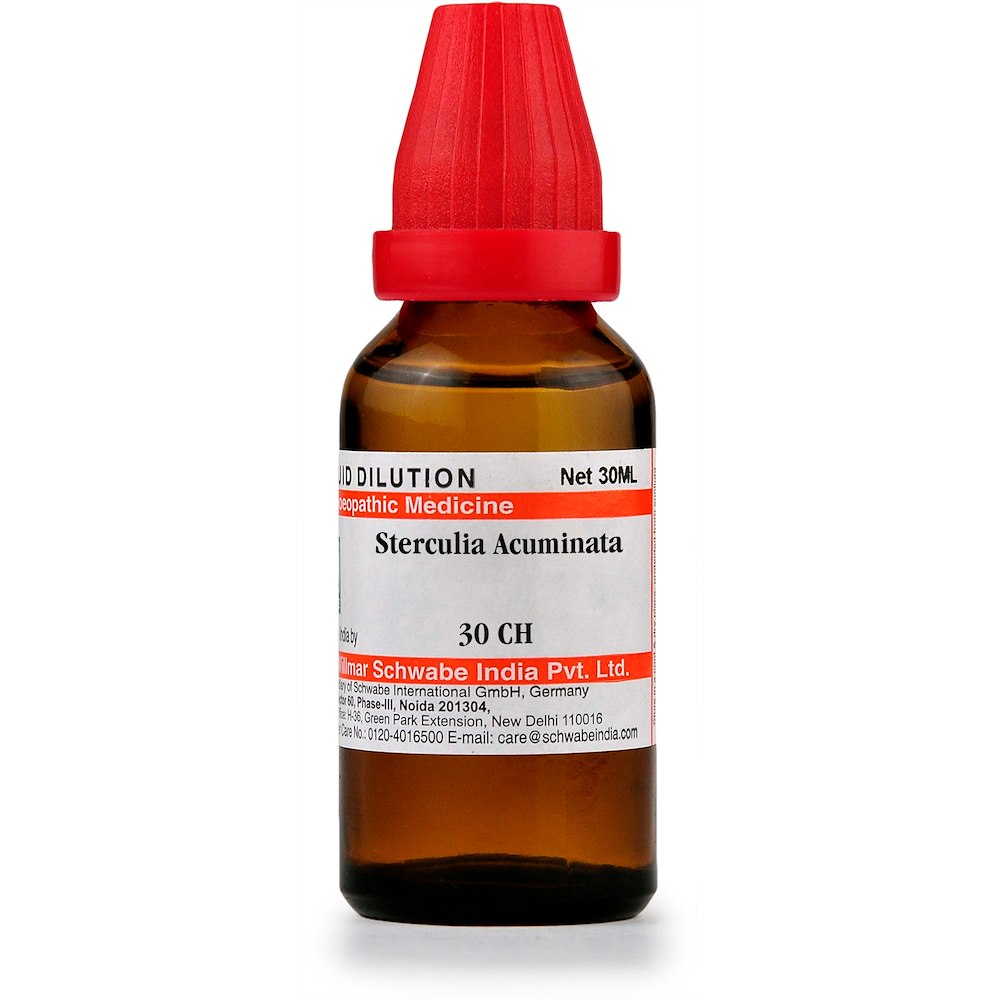 Willmar Schwabe India Sterculia Acuminata 30 CH (30ml) : Boosts energy, relieves weakness, Heart tonic, lowers alcohol drinking
Properties
Potency
30 CH
Weight
75 (gms)
Dimensions
3-by-3-by-9.5 millimeters
Sterculia Accuminata(Dilution)
Common Name: Kola-nut
Causes & Symptoms for Sterculia Accuminata
The herb sterculia, also known as kola, is a helpful treatment for nervous system apathy and aids in the body's ability to regain its vitality.
With the aid of sterculia (Kola), the pulse rate and circulation are both controlled.
has a diuretic effect and controls cardiac rhythm.
Drinking habit relief is provided by sterculia (Kola).
It aids in the asthma-related difficulties with suffocation and difficult breathing.
Body and Mind
The symptoms of sterility (Kola) include dullness, a lack of assurance, indifference, brooding, and a tendency to be more reserved.
Children who are hyperactive, arrogant, and overconfident will find it suitable.
belly and stomach
The bacterium sterculia (also known as kola) increases appetite, aids in proper food digestion, and lessens motion sickness.
Generalities
Numerous issues, such as headaches and loose motions, are treated with sterculia (Kola).
It is a trait of Sterculia (Kola) and lessens the desire for alcohol.
The stimulant sterculia (also known as kola) helps people stay awake and alert while overcoming fatigue and sleepiness.
Enhancing muscle power and boosting energy levels are both benefits.
Sterculia (Kola) is indicated by a weak and erratic heartbeat as well as generalized muscular weakness.
It gives power and aids when one is weak.
Side effects of Sterculia Accuminata
Although there are no such side effects, it is still important to take each medication according to the instructions.
Even if you are taking other forms of medication, such as those obtained through allopathy, ayurveda, etc., it is safe to take the medication.
The effectiveness of other medications is never hampered by homeopathic remedies.
Dosage and rules while taking Sterculia Accuminata
Three times per day, mix five drops in a half cup of water.
The globules can also be used as medicine; take them as directed by your doctor, usually three times per day.
We advise you to use medical advice when taking.
Precautions while taking Sterculia Accuminata
If you take medication, make sure to wait 15 minutes between eating and taking it.
Consult a homeopathic doctor prior to use if you are pregnant or nursing.
While taking medication, refrain from consuming alcohol or tobacco.
Terms and Conditions
Homeopathic medicines have a variety of uses and are prescribed based on symptom similarity; it is assumed that you have sought medical advice before purchasing this medication and are not self-medicating.
Attributes
Brand
Dr. Willmar Schwabe India
Remedy Type
Homeopathic
Country of Origin
India
Form Factor
Tonic
Homeo Forms
Dilution
Potency
30 CH / 30CH
Price
₹ 90